Also looking at adding dance as a sports option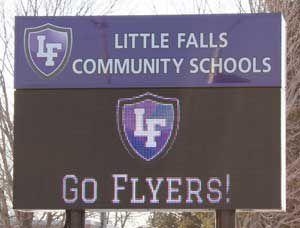 Little Falls may be partnering with Pillager for three fall and four winter sports. The teams would remain under the moniker of the Little Falls Flyers.
Currently, Pillager partner with Brainerd for several sports, but Flyers Activities Director Kevin Jordan said at $300 per activity, the cost was too high for families. In Little Falls, the cost is $75 for high school and $50 for middle school athletes.
Supt. Steve Jones told the Little Falls School Board Monday, that Pillager is very excited about the possibility. Pillager families would be responsible for transportation of their students to any games, matches or meets.
The sports being considered under the partnership would be grades 7-12 girls' tennis and swimming; middle school wrestling; grades 7-12 gymnastics, Nordic ski — and a sport currently not offered at Little Falls — dance.
Jordan said for several years since he's been activities director, dance has been a request. Every other year, the district takes an activities survey, asking students what activities they are involved in and what activities they would like to see. Dance is a sport many students wish was available at Little Falls.
In mid-May, Jordan said 17 families attended a meeting with school administrators and himself, and were given a survey to share with others interested.
The result was 46 families expressing interest in dance, 70 students, 25 in grades 7-12, a significant number he said.
School Board Member Brad Laager asked about gym space.
That is one concern, since dance would need gym space, that is already stretched, because as Laager pointed out, additional gym space was not approved in the school's referendum.
Jones said gym space has been part of the discussion from the beginning, and that gym space would be required, especially for competition.
"Dance programs will use a major gym for competition. If you host the competition for dance, it's a gazillion people that are there, so you need seating available," he said.
Most dance competitions are held Saturdays, so it could work out he said.
Jordan and Jones will meet again with Pillager and come back to the Little Falls School Board with a formal request for partnering with Pillager and the dance program in July.
---
Little Falls School Board Briefs
---
In other business at Monday's meeting, the Little Falls School Board:
• Heard a construction update from Larry Filippi, including the installation and/or replacement of doors and hardware; enclosing classrooms and the building of paths, a concession stand and bathrooms at Belle Prairie Park, where the soccer/baseball fields are located. It was noted there was some confusion from the public about a dog park. That is being considered by the city of Little Falls, not by the Little Falls School District;
• Approved hiring Dwight Ballou as high school assistant wrestling coach; Haley Chace as Spanish teacher at the middle and high schools; Sarah Filippi as high school assistant swimming coach; Jessica Larson, special education teacher at Lindbergh Elementary; Brett Lawrence, assistant varsity football coach; Leslie McCoy, Kids Korner lead at Lindbergh Elementary; Kassondra Robinson, health/foods and nutrition teacher at the middle school; Lorraine Schmidt, cleaner at Lincoln; and Jennifer Wamre, school health paraprofessional at Lindbergh;
• Accepted the resignations of Nick Abbott as head boys track coach; Dwight Ballou, middle school assistant wrestling coach; Dean Baumgarten, assistant varsity football coach and head girls track coach; Michelle Bjorklund, language arts at middle school; Michelle Brekken, co-WEB adviser; Sheila Henry – transportation assistant; Greg Jamison, special education teacher at middle school; Leslie McCoy, PCA/EP at Lincoln; Robin Pohlman, boys basketball assistant varsity coach; Brenda Przybilla, Early Childhood Family Education teacher at Lincoln;
• Accepted the retirement of Mary Gaffke as secretary 1 at Lindbergh;
• Approved of the termination of AnnMarie Lyon, food service kitchen assistant;
• Accepted the following gifts: $600 from Flyer Athletic Boosters for the Al Bauman Memorial Scholarship; $500 from Camilla Larson, $100 from Paul and Ami McKinley and $100 from Ted Pollard, for the "Take a Seat" program; $100 from Greg and Vicki Spofford to the Early Childhood Center for the playground; $240 from Zion Lutheran Church for the Flyer Pride Pack Weekend Food Backpack Program; two award-winning books from the Friends of the Little Falls Carnegie Library to each school media center; and $1,000 each from CoBank ACB and Sunrise Ag Cooperative, for the Little Falls FFA Program;
• Learned from Supt. Steve Jones about changes made by the Legislature, including a per pupil increase (2 percent increase in funding formula) in per pupil funding, which Jones said is still $750 below the state average per pupil spending, which shows the district takes its fiscal responsibility seriously. The Legislature also increased state funding for special education. Jones said the Little Falls School District will likely receive $400,000 to $450,000 more state funding, due to the changes;
• Learned from Jones that the summer food service program is under way, with 408 breakfasts and 918 lunches served during the first week (four days). He gave kudos to Gail Johnson and her staff for the program;
• Learned from Jones that about 80 students will be involved in the AVID (Advancement Via Individual Determination) program next year, as it has been expanded into the seventh grade. He said 25 staff members will attend AVID training in July; and
• Set a special Board meeting for Thursday, June 27, at 9 a.m. in the middle school media center. The purpose is to approve the annual budget.
The next regular meeting of the Little Falls School Board is Monday, July 15, at 5 p.m. in the media center at the Little Falls Community Middle School.