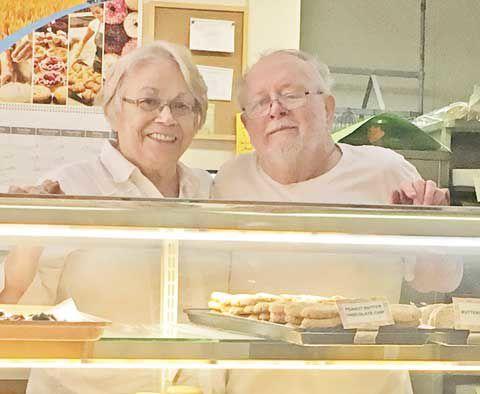 After 34 years, Little Falls' local bakery, Pete and Joy's, is closing its doors for the final time under its current owners.
In 1985, Pete and Joy Kamrowski, who at the time owned a bakery in Foley, purchased Sanitary Bakery on the corner of Second Street Northeast and Broadway Avenue.
There was one request people had when the Kamrowskis took over the business, Joy said.
"Everyone said, 'Please, just change that name,'" she said.
And so, Pete and Joy's Bakery in Little Falls was born.
At the time, downtown Foley seemed to be dying, while Little Falls was thriving, Joy said.
"It was booming up here," she said.
Almost three-and-a-half decades later, Joy said she is still in love with Little Falls and feels it has a lot of potential for success for businesses.
"I think we have a gold mine here with all the attractions," Joy said.
For a year, the family lived in a third floor apartment in town which was bad for Pete, Joy said.
"After Pete had worked so many hours, then he had to climb up three flights of stairs to get to our apartment," she said.
For a while, the only thing it seemed the two did was work as they owned the Little Falls, Pierz, Foley and Long Prairie bakeries, Joy said.
While larger big box stores coming in led to other businesses closing, it had little effect on their bakery, Joy said.
"People that want quality would come here," she said.
Over the years, few things have changed at Pete and Joy's in terms of recipes, Joy said.
While they have added recipes gained from fellow bakers they met at events, Pete is a certified master baker who previously sat on the National Bakery Association, many of their own recipes remain the same, Joy said.
As the years went on, the couple purchased the storefront next to their original one to expand the business into what it is today and have added a few more items.
When the couple volunteered in Poland, they received a parting gift of a Polish pottery tea set.
"We both just thought that was so beautiful," Joy said.
When one of their daughters told them service members stationed in Poland were collecting the pottery, Pete and Joy partnered with a lady in North Dakota to order items from Poland for resale.
When the first shipment came in, Pete marked it down 50 percent to get rid of it and it sold out within two days.
Polish pottery isn't the only thing out of the couple's personal lives to make its way into the bakery.
In the dining room of the bakery, a model train runs along a track above the tables and booths, while photos of trains line the walls.
"Pete's always loved trains," Joy said. "It's his passion."
Within the Kamrowski home, Pete keeps his model trains, complete with towns and scenery he has built.
"It saved his sanity, I think. Every night he would go down and work on them," Joy said.
After their baker left the business, Pete, who is almost 80, had to go back to working nights, Joy said.
Depending on how busy the bakery is, he can work from 11 p.m. to noon some days, she said.
In addition, the construction on Broadway this summer has accelerated the couple's plans to retire, Joy said.
When they went through a similar situation 13 years ago, business took a large hit as people did not want to go through the hassle of getting around construction downtown, she said.
The couple is hoping to sell the business, building and all, to someone who would want to continue it as a bakery.
Seeing the reaction of people who have come in to get baked goods before the shop closed June 1, brought mixed feelings for Joy.
"It's wonderful, but at the same time it breaks my heart. I'm going to miss everybody," she said.
Especially on Saturdays, going to the bakery has been a tradition for many patrons, some of whom went to Pete and Joy's as children and who took their own children as they got older.
Pete said he is very thankful for all the customers who have come out to say goodbye to them. While he is looking forward to retirement, he is not quite sure what he'll do with his newfound free time.
"We appreciate everyone coming in," Pete said. "We want to wish everyone well."
On Friday, May 24, as seniors from Little Falls Community High School filled the bakery to get a doughnut before their final day of class, Larry Engel sat at a table in at the bakery enjoying a cup of coffee.
The bakery has been one of the places he and friends have met for coffee at for several years. The retired teacher also remembers having rolls from Pete and Joy's delivered to the high school for staff to enjoy.
Not having Pete and Joy's will affect a lot of people, Engel said.
"It's been here for so long. Everyone is going to miss it," he said. "It's going to be a very sad time."
Over the years, it hasn't been the doughnuts, sandwiches or cookies which have been the best part of Pete and Joy's, but rather the wonderful service from people who worked there, Engel said.
Pete and Joy's Bakery closed for the final time at 2 p.m. Saturday, June 1.