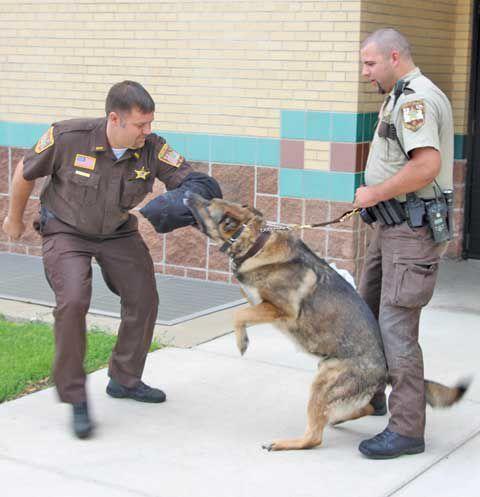 For Morrison County Sheriff's deputies Austin Scherping and Rick Mattison, being K9 handlers is an incredible job and an important responsibility.
The two and their canine (K9) partners Rocky, Scherping's canine, and Gator, Mattison's, form the Morrison County Sheriff's Department's K9 unit.
For Mattison, the road to becoming a member of the Morrison County Sheriff's Department began after he left the military and became a part-time jailer in 2004.
After being on active duty military service from 1995 to 2004, Mattison enjoyed the camaraderie of the military and was looking for something similar in his next job.
Within six months of leaving the military, Mattison began working at the Morrison County Jail.
"I've never stopped wearing a uniform since I was 17 years old," Mattison said. "I like to say I've been wearing boots now on my feet for 22 to 23 years."
In 2009, Mattison graduated from Central Lakes College and became a deputy with the county.
When former handler Dan Rocheleau's K9 retired and he did not want to take a new partner, Mattison asked to become the new K9 handler.
Scherping's time at the office started in 2012, when he started as a dispatcher, before eventually becoming a full-time deputy.
Around the same time Mattison filled one of the K9 handler slots, another opened up after the second handler left the department due to health issues.
That handler was Scherping's father Dave, and the K9 who needed a new partner was Rocky.
His dad being a handler was one of the reasons Scherping wanted the job.
"It just drove me to want to apply for that K9 handler position," he said.
Scherping had done a lot of training with his dad and Rocky, including decoy work.
"I was the only person that could really handle Rocky," he said.
Some dogs are able to be handled by different people, while others only follow one.
While the two had their struggles in training, Rocky ended up liking Scherping enough to work with him.
Having a father in law enforcement is also what drove Scherping to go into the field in the first place.
When he was younger, he would go on ride-alongs with his dad and see what the job was like and the camaraderie between members of law enforcement.
"It's a brotherhood and sisterhood," Scherping said. "It's like a family."
When the two were selected to be the next K9 handlers, they were sent to training at McDonough K9 in Blaine.
During the 13 1/2 week course, Scherping, Rocky, Mattison and Gator trained to work together in both finding narcotics and criminal apprehension or tracking missing persons.
The instructor at the center focuses on teaching law enforcement how to survive situations and be the best that they can be, Scherping said.
"It is very intense, very labor intensive. He wants to make sure you are committed to this K9 assignment," he said.
Both handlers put on hours off the clock to work with Rocky and Gator to make sure they are the best teams they can be, Scherping said.
For law enforcement, the K9 unit is a top-tier position and is coveted by members of the department, Mattison said.
It also means committing to eight years of working with a dog.
The dog and handler end up spending a lot of time together over those years, Mattison said.
"That dog is just like one of my children. I spend more time with my dog than I do my wife," he said.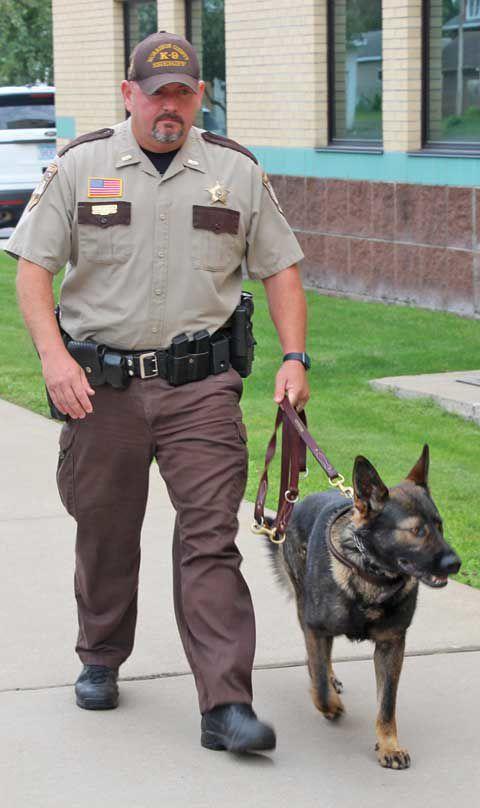 Officers need to take the opportunity to get into the K9 handler position when they can, because it does not come around often, Mattison said.
For Mattison and Scherping, being a K9 handler in Morrison County means being part of a legacy that includes notable former handlers like Pierz Police Chief Eric Hanneken, former Sheriff Michel Wetzel, Rocheleau, Dave Scherping and more, Mattison said.
"It's a big responsibility because when you are a K9 handler you are up front," he said.
Nobody wants to be the officer that leads to the program being disbanded, Mattison said.
Part of the training is commanding complete obedience from the dog.
"It's very, very important and it doesn't come over night," Mattison said.
Whereas police dogs used to be taught obedience through painful reprimands, today, they are taught through a reward system. If they are good, they get treats, toys or work to do. If they are not listening, they stay in the car.
"They love to work," Scherping said.
Every day during training, the teams would work on something to do with obedience.
When dealing with dogs that are trained to bite and hold someone if needed, it is incredibly important that when the handlers tell the dog to stop, it stops, Mattison said.
"If I tell him to let go and he doesn't, that is excessive force," he said.
In a situation like that, Mattison or Scherping would likely lose his badge and Morrison County would face a lawsuit, Mattison said.
He said he would like to never have a person get bit by the dogs, but things do not work out like that.
Contrary to what people may think, the dogs almost never bite people. The one time in their 18 months as partners that Gator has bitten someone was when that individual came at Mattison with a steel rod, he said.
At other times, Gator enjoys being social and having students at area schools pet him, Mattison said.
"He doesn't turn on that mode until he has to," he said. "The main thing I want the public to know is that these dogs are not killers, they're not vicious."
At home, both Gator and Rocky follow their handlers and family around, the deputies said.
The dogs are like any other until it is time to go to work, Mattison said.
If someone is bit, he said they usually suffer the majority of their injuries trying to tear their arm out of the dog's mouth.
The dogs are trained to bite once and then hold onto the individual.
If Scherping or Mattison are out with Rocky or Gator and not working a case, people should approach and ask the handler if they can shake their hand or pet the dog, Scherping said.
If people get too close too fast, the dog could see it as a threat to them or the handler, he said.
Rarely, if ever, will people see Rocky and Gator in the same place at the same time, Mattison said. Unlike their handlers, the two are not friendly with one another.
"We're like brothers and our wives are very close too, our dogs do not get along. They're both alpha males so you can't have two of them together," Mattison said.
If the teams are tracking someone, they will leapfrog off of one another, with one team starting and getting to a certain point before taking a break for the dog and handler to rest, while the next team takes over from where they left off.
Having control of the dogs is important in these situations because if they had their way, they would keep tracking until they dropped from exhaustion, Mattison said.
"There is nothing these dogs want more than to work," he said.
To teach the dogs how to track by sniffing, the handlers would put a piece of food in front of the dog, have it go to it, then repeat the process for up to half a mile before eventually getting the dog to follow a scent without there being food.
When Rocky and Gator retire, they will likely stay with Scherping and Mattison to live out the rest of their lives, Mattison said.
At the end of this assignment, Mattison said he would likely not get another dog as he will be approaching the end of his career in law enforcement, while Scherping said he would do it all over again.
Both men said they are honored to serve Morrison County as deputies and K9 handlers.