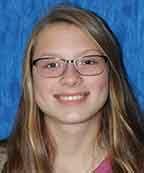 Swanville Public School is has announced the October Junior High student of the month as ninth grade student Lauren Miller. She ren is the daughter of Jeff and Renee Miller.
Miller said her favorite thing about school is participating in sports and learning new things. Her advice to other students is: "Study for tests, ask questions and stay organized."
Outside of school she is a volunteer for Vacation Bible School, Swanville Athletic Boosters Club and served on a mission team at her church. She has previously won the Student of the Month award as a seventh grader and is on the honor roll.
Miller plays basketball, softball and volleyball and is also currently serving on the Student Council. She is also in band.
"Lauren is a wonderful student to have in class. She sets high academic standards for herself and works extremely hard to achieve them. She is a very mature young lady who never complains or makes excuses when things do not go as planned," said social studies teacher Tom Bzdok. "Lauren always has a smile on her face and puts everyone around her in a pleasant mood. She always has a positive attitude, an eagerness to learn and encourages her classmates in a positive manner. Lauren is well liked by her classmates because she is kind and friendly towards everyone she meets. Lauren is the type of student who will make the right decisions in life and is sure to put a smile on everyone's face."
Miller enjoys reading, playing cards and hanging out with friends. She plans to attend college to pursue a career that will enable her to work with kids.