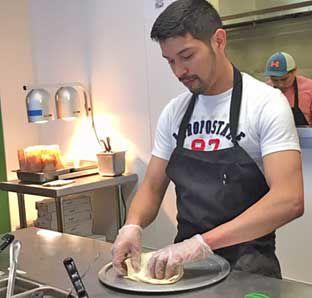 Local growers, makers and musicians will make an appearance at the monthly Sprout Growers & Makers Marketplace.
Each of the markets highlight various cultural food, music and dance. The free community event Saturday, Feb. 23, 10 a.m. - 3 p.m. will showcase Latin American cuisine and music with new restaurant Sanchez Burrito in the kitchen and bands Los Plebes De La Sierra and jazz group the Jones Street Trio on the stage.
Advert Sanchez is owner of Sanchez Burrito, which opened in Little Falls in October 2018 along with his two brothers, Yunior and Olvin. The three brothers, originally from Honduras, gained cooking experience at a number of Mexican restaurants. While Sanchez Burrito mainly serves Mexican style food, Advert said that they hope to add more Honduran flavor in the future.
"The food in Honduras is not as spicy as it is in Mexico. The steak I make in the restaurant is similar to how my mom would make it in Honduras with achiote," said Advert.
At noon during Sprout's Feb. 23 market, Advert will demonstrate the steak recipe learned from his mother as well as his favorite salsa recipe with a Honduran twist. The community is invited to watch the demonstration in the kitchen, enjoy samples and purchase lunch from Sanchez Burrito at the Sprout market.
The cooking demonstration is a regular feature at the monthly Sprout markets in addition to local vendors selling handmade, homegrown food, art and other products.
Los Plebes De La Sierra, led by Richmond resident Margarito Santos, plays a mix of Mexican music genres from Norteño, which has influences of polka, and Tejano which blends more American rock and country music. Los Plebes De La Sierra will play from 10 a.m. to noon. Jones Street Trio jazz group will play a selection of Latin Jazz tunes from 1 p.m. - 3 p.m.
Families and individuals who are eligible for the Supplemental Nutrition Assistance Program (SNAP) can double their dollar at the Sprout Growers & Makers Marketplace. Residents can find out if they qualify for SNAP, by calling the Minnesota Food HelpLine at 1 (888) 711-1151 or by visiting mnfoodhelpline.org for more information.
Interested shoppers, growers, artists, chefs, and educators who want to learn more, visit www.SproutMN.com.
Sprout is located at 609 13th Ave. NE, Little Falls. Enter at Door 8.