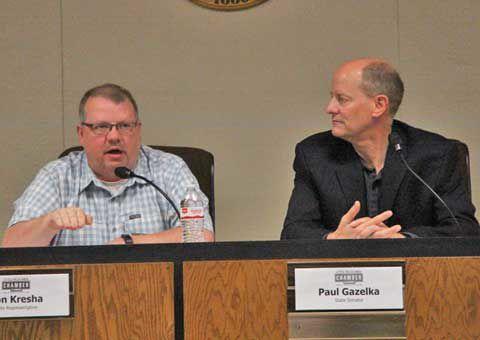 At the annual Little Falls Area Chamber of Commerce's spring legislative update, Rep. Ron Kresha, R-Little Falls, and Sen. Paul Gazelka, R-Nisswa, gave their take on the Legislature's session, answered questions and listened to comments.
For Kresha, the laws and budget passed this session were what he expected to happen going into it.
"If I look across the board, I would say, 'Yep, that was the budget we were going to get. It's not great, it wasn't horrible,'" Kresha said.
For Gazelka, the session can be split into what was stopped and what was worked on with bipartisan efforts to get done.
Among the items that were stopped, were tax increases, bills making Minnesota a sanctuary state for illegal immigrants and new regulations, he said.
"Had it been all democrats, this all would have happened," Gazelka said.
On the other side, Gov. Tim Walz, a member of the DFL, gave support to issues like addressing waste in government, Gazelka said.
"It was very positive in terms of trying to address some of the inefficiencies in government. This governor wants to do that with us," he said.
Mayor Greg Zylka said he appreciated the compromises that were made to get additional local government aid funding and for the work the two did to get funding for the Little Falls wastewater treatment plant project.
"I think you both do a great job of representing this area," Zylka said.
Sheila Watercott, with the StandUp4U Coalition asked the legislators for comment on the new opioid stewardship law passed, which imposes a fee on opioid manufacturers and distributors to be used for combating opioid addiction.
While it was not desired to impose a new fee, there was no better way to get this done, Gazelka said.
Whether the state and/or local governments win lawsuits against pharmaceutical companies, this fee provides funding for efforts that are needed, he said.
"We need to turn the tide on this," Gazelka said.
For Kresha, he was happy to see the bill pass, but he did not want the stewardship fee mechanism.
For him, this will take too long to get funding for projects and was added because lawmakers wanted to punish pharmaceutical companies for political gain.
"That became a political statement as opposed to a solution statement," Kresha said.
Stephen Browning, who ran against Kresha in the 2018 election, thanked the two for making compromises on education funding and keeping the 2 percent provider tax, but he wanted to see Republicans voice opposition to gender conversion therapy.
Conversion therapy is an intervention aimed at altering individuals who are attracted to the same sex to heterosexual, according to the American Academy of Child and Adolescent Psychiatry.
"I think I have two people before me who are understanding and appreciative of this issue. I would love to see you be more forceful on this issue," Browning said.
Gazelka said language in a bill proposed this session would have made it a crime for pastors, counselors and others telling patients they don't have to lean into those attractions, especially if the patient say they do not want to.
He is in favor of putting restrictions banning coercive or intrusive actions from therapists.
"If an adolescent went into a therapist and said, 'I'm gay,' I would hope that the therapist would simply say, 'How can we help you?' If an adolescent went in and said, 'I have unwanted sexual attractions of any kind,' My hope is that the therapist would have the right to say, 'How can I help you?'" Gazelka said.
Browning said part of this has to be acknowledging that there is nothing wrong with homosexuals.
"There is nothing that needs to be fixed," Browning said.
If he thinks there is an undercurrent of not accepting gays and lesbians in the Republican Party, Kresha said Browning is wrong.
Other topics at the forum included housing, funding for a new Minnesota Military Museum building and more.
The Chamber hosts these updates twice a year, once near the beginning of the session and the other after it ends.