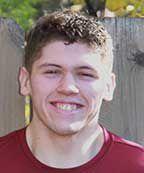 Royalton High School faculty and staff announced Kodi Franks was selected as the March Student of the Month. Franks said his family has taught him that with hard work, anything is possible, and notes that a strong work ethic has been ingrained into him from an early age.
At RHS, Franks was involved with football. He said he loves the game, but injuries forced him to step back and look at what's important in life. During his short time on the team, he met some of his best friends.
Franks is also involved in weight lifting. He said it has become one of the most important aspects of his life. He has gained more mentally than physically through lifting.
"The bar is indiscriminate. It doesn't care who you are or what you do, it's the same for everyone," he said.
His most memorable high school moment is hitting a 1,000 pound total in weight lifting. This is done by adding up your squat, dead lift, and bench weight amounts. He was unsure if he would be able to complete this goal, but he had a friend that kept pushing and cheering him on until he was successful.
"I hit what I needed to and knocked another goal off the wall," he said.
Randy Thielges, Royalton High School science teacher, said, "I admire a young man like Kodi; he's had some breaks (literally) go against him, but he finds a way to persevere and go forward."
Franks will be attending North Dakota State University (NDSU) in the fall, majoring in biology and minoring in exercise science or business. He also plans on attending medical school.
He said he chose this career path because he wants to help people, and notes that the medical field is one of the greatest ways to do that. He sees himself in residency and still taking lifting seriously. He wants to become a doctor and own a gym.
"I love seeing people take charge and want to change aspects of their life they're unhappy with. I want to help them achieve that. I also want to give back to my parents for everything they have done for me," Franks said.
RHS art teacher Carl Halverson, said, "In my design class, Kodi worked on developing a website that involved his interests in athletic training and fitness. He works out continuously to keep himself in top physical condition. Many times, a student may have a desire to pursue a career field. When it comes down to doing whatever it takes to achieve his career goals, Kodi has been doing just that for many years. Anyone who has witnessed his work ethic, not only in the weight room, but also in the classroom, would find it hard to bet against him. I see him one day owning and operating a fitness related center, where he can assist others to become all that they can be, both mentally and physically. He has proven himself to many at Royalton High School."