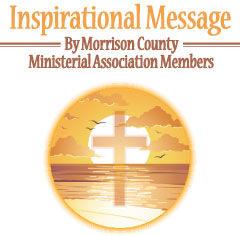 In the Bible, in the book of John, Chapter 10:10 the last half of that verse says, "I have come that they may have life, and that they may have it more abundantly." For a few moments today, I just want you to think about what an abundant life means and how we can obtain an abundant life.
One week ago, I celebrated living 4/5 of a century. As I've seen time pass by more quickly as I have gotten older, I have wondered many times as I reflect on my life if I have lived to the full extent of what I could have lived in my life and so, I'm thinking of what it means to live an abundant life.
As I read in the book of Peter, I see that it says that we have received all that we need to live a full and complete life. I read this in second Peter 1:30, "As his divine power has given to us all things that pertain to life and godliness, through the knowledge of him who called us by glory and virtue, verse four, by which have been given to us exceedingly great and precious promises, that through these you may be partakers of the divine nature, having escaped the corruption that is in the world through lust."
As I meditate on this, in the light of an abundant life, I have to wonder what it takes to feel that I have lived to the full abundance that God has promised for me. As I look at the life of the Apostle Paul and I come to read his account close to the end of his life, he said, "I have fought the good fight, I have kept the faith, and there is laid up for me a crown of righteousness." In first Timothy 6:12, he said, "Fight the good fight of faith, lay hold of eternal life, to which you are also called and have confessed the good confession in the presence of many witnesses."
Even though we try to live victorious in this present world, there are times when in our lives we have not made the right choices. But I thank God that even in these times God extends his mercy and his grace that we may find his forgiveness and his ever-loving kindness to us.
I think when we try to live an abundant life, we have to look not at the past, but look to the future. Take all that was in the past and ask God to forgive us of all the times that we have made mistakes. Then ask God to guide us in the right and the correct paths to follow for the rest of our lives, that we might live an overcoming an abundant life. I don't believe that it's possible to live an abundant life without looking to the one who said that he will give us an abundant life.
On my birthday, I met with someone whom I haven't seen in 25 years. I wondered how this person would look. I wondered if I would recognize him when I saw him. It was a wonderful reunion and I enjoyed coming again to his presence and being able to share that time together. It also caused me to reflect on the many years that had passed without knowledge of his life.
There was a saying that I heard one time that said, "Today is the first day of the rest of your life." And you know, I have found that to be so true when coming to accept the gifts that God has given to us. John 3:16 says, "For God so loved the world that he gave his only begotten son, that whosoever believes in him should not perish but have everlasting life."
I, for one, believe that this everlasting life begins at the very moment we accept Jesus as our Lord and Savior. And this everlasting life is the life that he wants us to receive to live an abundant, overcoming life without error, without mistake, asking him for guidance and direction.
I wonder as you read this and think about what abundant life means to you, if you think you could achieve this abundant life without the one who said, "I've come that you might have life and that more abundantly." I wonder if you could say with Paul, "I have fought the fight, I have kept the faith, I have run the course."
I believe that if you honestly look at the abundant life and the promise that we have to gain this life, that you would say, "I cannot achieve this life without accepting the giver of life."
When I look at the promise that Jesus was given and the gifts that God gave in giving us Jesus, I would ask, "Why would we want to try to live an abundant life without him?"
In the book of Revelation, chapters 2 and 3, we have the messages to the seven churches and the promise that is covered to each church, which says, "To him who overcomes," there is a promise given. The Apostle Paul in his writing tell us that the prize is given to those who finish the race. So, as I look toward the future, my desire is to finish the race. And if I want to see the promises of the overcomer, it has to be said of me, "I have kept the faith, I have run the course and there is a crown of righteousness laid up for me."