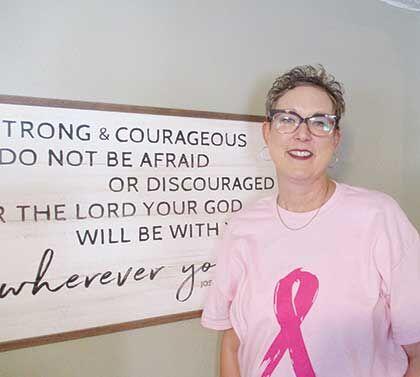 With no family history of breast cancer, and with her mind on the many things she needed to take care of in her life, Janel Yasgar of rural Little Falls was taken quite by surprise when she was hit with a diagnosis of breast cancer in September 2019. It bumped her hard, but didn't knock her down.
"I've been healthy all my life," she said. "But I chose to stand up and fight this."
It was on a Thursday that Yasgar went in for her annual mammogram. The next morning, she got a phone call telling her that she needed to have a repeat mammogram that day. An ultrasound was scheduled following the mammogram, just in case.
When the second mammogram was completed, the tech said she needed to consult with the doctor. When the tech returned, Yasgar was told she was going to have the ultrasound.
After the ultrasound, the radiologist "gave me a hug and told me things looked very suspicious," she said.
The next step included being scheduled for biopsies of her breast and surrounding lymph nodes. After the procedures, she had to wait for a call from the doctor. The call came Wednesday, Oct. 2.
Yasgar's first thought was, "I don't have time for this. I'm a full-time caregiver for a family member who had a stroke. I have to take care of the yard, the snow, the cats, the house – everything. I take care of people – I don't want people to take care of me."
The following week, she met with her oncology team to discuss treatment options. A lumpectomy was scheduled 12 days later. She also had genetic testing. That revealed that Yasgar did not have any of the gene markers associated with breast cancer.
Her first chemotherapy treatment was Nov. 19, at the Coborn Cancer Center in St. Cloud. She received two different types of chemo in four rounds, every three weeks.
At her first chemo treatment, Yasgar was given a backpack from the INDY Foundation, filled with things she would need during chemo – a blanket, lotions, notebook and pen, water bottle, a thermometer, etc.
"There were handmade cards with words of encouragement," she said. "It was amazing to know that total strangers cared and I wasn't alone."
She took the pack to every chemo treatment, and received a great deal of comfort from that. She had by then realized she would need to ask for help, and accepted that. But it turned out that she didn't really have to.
"I never got sick from the chemo. I had a couple of down days, but never got sick," she said.
After each chemo in St. Cloud, she went to St. Gabriel's in Little Falls for a shot of Newlasta. The drug penetrates into the bone marrow and stimulates it to produce white blood cells.
Following chemo, Yasgar had 30 radiation treatments in February and March of this year. The treatments were Monday through Friday for six weeks. The last one was March 24.
From the beginning, Yasgar pointedly avoided a "woe is me" mindset. If anyone cried about what she was going through, she told them to stop.
"There was no reason for that (crying). I'm a positive person," she said. "A positive attitude is the hugest thing – probably the best thing."
Yasgar has gained experience and confidence in public speaking, when she gave a speech at an event for the INDY Foundation in February.
She also loves to give back for all the care she received. Even though she hadn't touched a sewing machine since home economics in high school, she sewed more than 75 hats and donated them to the Cancer Center.
"It gave me something to do," she said.
In September 2020, Yasgar went in for her annual mammogram and lab work. The news was the very best – she is cancer-free. It was a day to celebrate.
She will be on medication for at least five and possibly 10 years to keep the cancer at bay. She will also meet with her oncologist every six months for five years.
Yasgar is a strong believer that things happen for a reason.
"Maybe it's to promote regular mammograms and early detection," she said. "I found out that my cancer was not encapsulated – that it had burst and cells went into the lymph nodes. If I'd waited until I felt a lump, who knows what would have happened."
Yasgar has started doing virtual 5Ks and 10Ks in honor of life on the treadmill in her shed. She is doing a half-marathon for her birthday that is coming up.
"If I can make a difference for even one person, it will be worth my efforts," she said.
The INDY Foundation is a Minnesota-based non-profit organization dedicated to giving support to real-life warriors in the midst of their cancer battle.
For more information, go to www.im-not-done-yet.com.