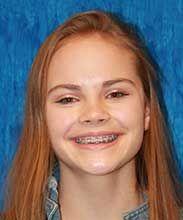 Swanville Public School announced that the October Student of the Month for grades 7-9 is ninth-grader Lexi Hanson. Lexi is the daughter of Cassie and Kyle Hanson.
Hanson is consistently on the A and B Honor Roll. She is also the vice president of the freshman class, plays softball and volleyball, shoots trap and participates in band.
"Lexi is a fun-loving young lady who brightens my day every day. She gets so excited about the little things in life and shares that joy with others," said Mathematics teacher Liza Hasse. "Lexi also works very hard in class to understand the concepts. She asks questions for understanding and really wants to learn and do well. Lexi is respectful to others around her and will go out of her way to do something nice."
Hanson said her favorite thing about school, is learning as she is working to get into a college to become an RN.
Hanson enjoys volleyball, softball, trap shooting, farming, hunting and fishing. She also donates her time by selling raffle tickets for trap shooting and Swanville Athletics.
Hanson's advice for fellow students is to: "Keep trying and keep pushing yourself because hard work pays off."