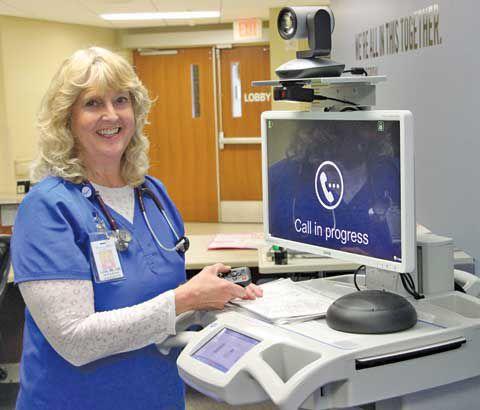 For almost 40 years, Linda Lippert has been working in the field of nursing. She's helped everyone from children to stroke victims to people who are rushed into the emergency room.
Lippert, who was always interested in science and working with people, graduated with a degree in nursing from South Dakota State University Brookings.
After school, she began working as a pediatric nurse in a 400-bed hospital in Sioux Falls, S.D.
"Pediatrics was always my first love," Lippert said.
To this day, she is still involved in pediatrics, teaching advanced pediatric life support to other nurses.
Working with children can be very rewarding and also tough, Lippert said.
It is always heartwarming when children she gives a shot to turn around and say thank you to her.
Lippert still remembers every child who did not survive their illness or injury.
"They and their families are so special," she said.
Lippert said she cries for all her patients who do not make it. If she did not, that would be a sign that it is time to quit.
"The day that I don't care and I don't cry when something bad happens is the day I need to quit," she said.
For Lippert, if a nurse can help a pediatric patient, that medical professional has given the child the ability to live their entire life.
After a couple of years working there, Lippert and her husband, Tom, moved to the Little Falls area and she looked at getting a job at CHI St. Gabriel's Hospital.
Originally, Lippert said she was unsure how she would like working at St. Gabriel's as it was smaller than her prior workplace.
"I said, 'I'll give this place a year,' and that was 30 years ago. I just love it there," Lippert said.
She started in the intensive care unit, where she worked for years.
One thing Lippert liked about intensive care was that she was able to visit patients every day and watch as they progressed in recovery.
Eventually, she decided it was time to pursue a new challenge though.
"That's one nice thing about nursing. I needed a change and a new challenge so I just changed departments," Lippert said.
Now, she works in the emergency room and is also the stroke coordinator.
If someone suffers a stroke, they can be taken right to St. Gabriel's rather than St. Cloud and teams can begin treatment immediately. Lippert coordinates with a neurology expert through a video call on a platform that can be moved to the patient.
While movies and television make it seem like all of the work is done by doctors, often there is only one doctor for a number of patients and nurses work to perform procedures and get information the doctor needs about the patient, Lippert said.
Over the years, treatment of stroke victims has improved to the point where people can recover from what used to be an almost certainly debilitating injury.
"You can survive a stroke and go on to live a pretty fulfilling life," Lippert said.
Working in an emergency room allows Lippert to see and work on a lot of different issues.
One thing an emergency room nurse, and nurses in general, has to be is a people person, she said.
Staying in a small town hospital means the people who come into the emergency room are Lippert's neighbors and friends and that gives her an extra push to make sure they get home all right, she said.
Lippert has also treated people far away from her neighborhood, going on medical missions to Guatemala to provide medical care.
Being able to help people who otherwise do not have access to medical care is very rewarding, Lippert said.
When she isn't being a nurse, Lippert enjoys spending time with her family, being active in Faith Lutheran Church and 4-H.
Lippert still enjoys nursing and plans for retirement are not happening anytime soon.