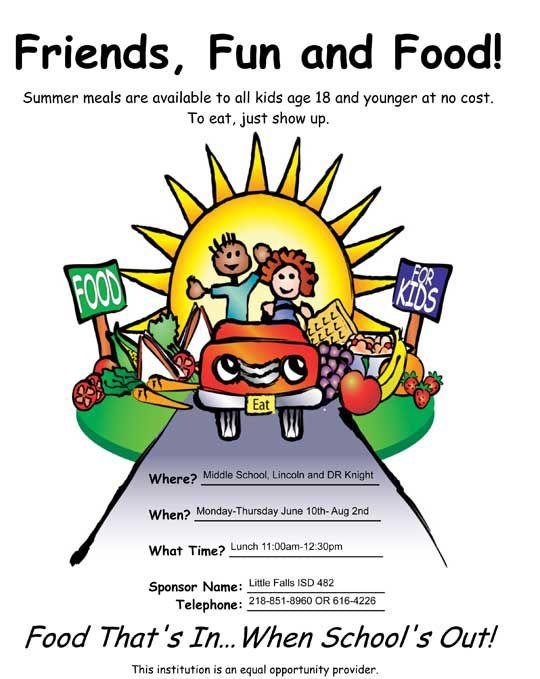 Ask any child what their favorite part of the school day is and many will answer "lunch" and "recess."
    For students in Little Falls, the best part of their day doesn't have to end with the school year — since breakfast and lunch will be served at no charge for students ages 18 and younger.
    Starting Monday, June 10 and running through Friday, Aug. 2, students can enjoy a free breakfast just by stopping by at the Little Falls Community Middle School (LFCMS) between 7:30 a.m. - 8:30 a.m. Monday through Thursday. No need to register, no need to give a name — just come in during that hour.
    Lunch will be served from 11 a.m. – 12:30 p.m. Monday through Thursday at three different schools — the LFCMS, Lincoln Elementary in west Little Falls and Dr. S.G. Knight Elementary School in Randall.
    No need to register, no need to give a name — just come in between 11 a.m. – 12:30 p.m.
    The only break will be Thursday, July 4, due to the holiday.
    Children can eat for free, and parents can come to eat with their children, but will pay a nominal fee — $2 for breakfast, $3.50 for lunch.
    Gail Johnson, director of food services for Little Falls Community Schools said there has been a free lunch program in Little Falls through TCC for a couple of years, and she received word it would be ending.
    "I didn't even know it was there until two months before it ended — it was a very small group doing it," Johnson said.
    When she learned the program was ending, Johnson made some calls and checked with a few people she knew had done it before — that was just two weeks ago.
    "Two weeks wasn't a lot of time to pull it together, but we saw the need immediately," Johnson said.
    The program is similar to food service in schools, and schools cooks will be helping with the program.
    At this point, Johnson said cold meals will be served. Every meal will include milk, two fruit options, vegetables, some type of sandwich and some type side.
    The meals will fit right in with activities that will be going on at the schools during the summer months.
    Johnson said kids can come and eat, then go out and play.
    "They can have a picnic lunch and then go play on the playground," Johnson said. Food and fun, all summer long.
    A grant through the U.S. Department of Agriculture monitored by the Minnesota Department of Education is making the program possible.
    With contacts made so far, Johnson said probably 300 children will take part.
    "I'm hoping it will grow from there — but 300 alone is huge," she said. "That's just with our contacts throughout Little Falls."
    Johnson plans to retire next year.
    "I love my job. ...What a fun way to kind of end my time here," she said.
    Those who would like more information can call (218) 851-8960 or (320) 616-4226.