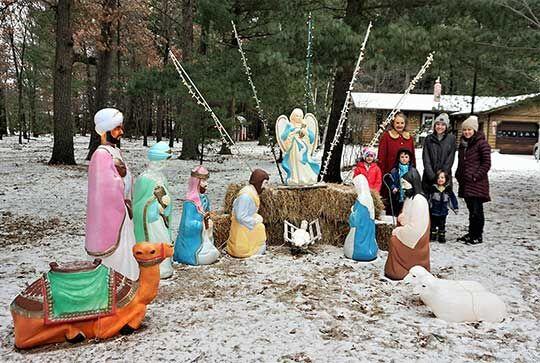 The season of Christmas is considered a time for charity – traditionally defined as love for neighbor. One Little Falls couple increases their year-long giving activities during this time, hoping to provide for others' needs and inspire other people to do the same. Tiffany Threlkeld answered a call for a story idea about someone who enjoyed Christmas and did it up right. She sent in the name of Pam Schilling and her husband, Dean Hodge, because of how much they love Christmas.
"My mother-in-law Pam Schilling is who I immediately thought of (to nominate)," Threlkeld said in an email to the Record. "She just came over to put together Operation Christmas Child boxes together with the kids. She just loves Christmas."
Operation Christmas Child, coordinated by Samaritan's Purse ministry, provides shoeboxes filled with toys and necessities to children all over the world. Many people spend all year making toys and collecting items on sale to fill the boxes prior to collection dates in November.
"We started probably nine years ago," Schilling said. "We do a Thanksgiving craft together at my brother's on the farm, and one year we filled shoeboxes with toys, toiletries and coloring books. This year because of the pandemic, I shopped locally by myself and then the seven grandkids filled the boxes. They think that's pretty cool, to send them to places where kids don't get Christmas presents. It teaches kids to be charitable and kind-hearted."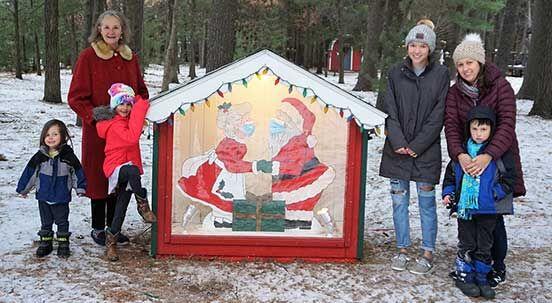 Schilling's daughter, Kara, organized a Christmas gift-giving activity by calling homes in the area, such as Highland Senior Living. She asked the first names and gift ideas for people who don't get many visitors. It was announced on Facebook and she received more than 100 responses.
"She had to look for more recipients," Schilling said. "It was fun to shop for someone who can't see or visit anyone – especially this year."
The Parish Council at Our Lady of Lourdes conducts a cookie-giving at Christmas time. Kara is on the Council and Schilling also participated.
"The nice thing about a little town is that so many people are willing to help out," Schilling said. "One of the things we missed this year was seeing the joy on people's faces when giving the cookies personally. We had to just leave the cookies at places this year."
The best Christmas memory of Schilling's childhood is her dad going out and getting the Christmas tree, then bringing it into the house to decorate. She remembers making Christmas cookies with her mom. She and Hodge go to the woods on a local farm to get their tree each year, putting it up and decorating it together.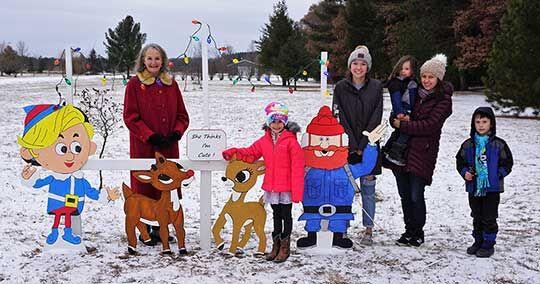 Schilling's love of Christmas shines through all of her treasured Christmas decorations. She has been collecting pieces for a Christmas village. Hodge put an extra board in their bay window, so the entire village fits.
"What's fun is seeing the grandkids enjoy it. It makes all the decorating worth it," she said. "We have framed photos of Christmases past around the house. My mom by her Christmas tree is one of them."
Even the Christmas lights on the house and the decorations throughout the yard are a way to give Christmas cheer to people who drive by.
Hodge built two small houses for the yard. Santa is in one of them, and the other houses Mr. and Mrs. Santa. At a friend's moving sale, Schilling found a life-sized nativity scene.
"This year, because of the pandemic, we added to the display. There is more delight for people driving by," she said.
The yard is filled with bright lights and a wide variety of wood figures that Hodge built and painted. There are penguins, the Grinch with Max the dog and Cindy Lou Who, Rudolph and Clarisse, Hermey and Yukon Cornelius with Bumble and the elves decorated a tree. A little red barn in the yard is lit up and features a wreath.
Schilling had her address put on the Convention and Visitor's Bureau city map of light and there were more cars in 2020 than previous years. Friends let her know that they had driven by with their grandkids.
"Next year, we hope to be singing carols and back to meaningful traditions," said Schilling.
The animals outdoors have also been recipients of the charity and generosity at Schilling's home.
"After the holidays, we put the tree outside with food for the birds," she said.
There is more to the giving in the Schilling/Hodge family. Giving activities continue all year. Although many were changed or eliminated this year because of the pandemic, they will be back again in 2021.
Schilling is part of a group of retirees from the school district who gather about once a year to make tray favors for hospital patients. The favors cover all holidays and seasons, so there is always something bright and cheery on patients' trays.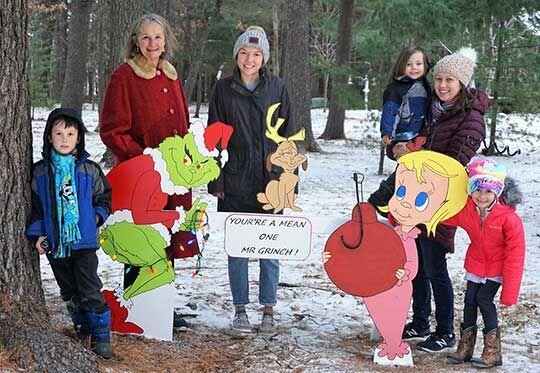 But Schilling is quick to deflect any praise. She hopes that people who read about the things her family does will be inspired and get ideas for ways their families can help others, too.
"There are so many other people who do so much," she said. "It's just so nice to belong to such a giving community as ours."