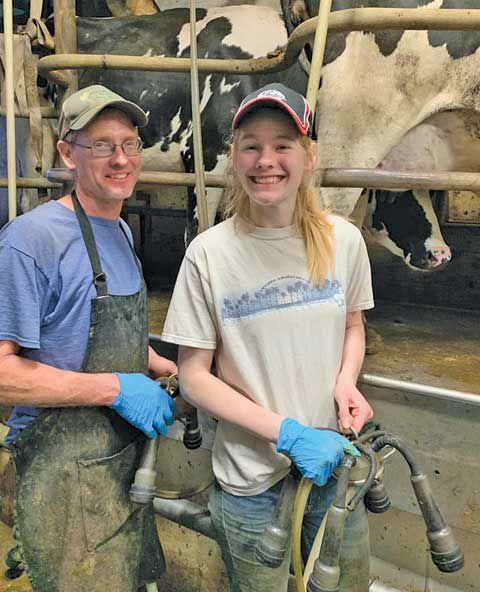 For Morrison County Dairy Princess Megan Borash, dairy farming has been a lifelong family affair.
Growing up on a dairy farm south of Little Falls, Borash remembers when she was young she would help feed the calves with her mother, Joyce.
As she got older, she began helping her father, Wayne, milk cows in the farm's milking parlor.
Before she and her sister were able to milk real cows, their mom would fill a plastic glove with water and poke holes in the finger tips so the two could practice on that.
One of the best parts of growing up on a dairy farm are the lessons learned along the way, Borash said. She realizes that she is not the only one who thinks that way.
"I know there's a lot of cliche things like, 'do a lot of hard work,' or, 'don't stop until it is done,'" Borash said.
Still, for her, another benefit of being on a dairy farm is a lot of time spent with family.
At the farm, if one person has to go outside to work, everyone goes outside to work, Borash said.
"You just work together, really not stopping until the job is done," she said.
With dairy farming being a tight-knit community, the neighboring farmers around the area are like extended family, Borash said.
While growing up, the family would go to local parades, where Borash was inspired to eventually get where she is now.
"I saw the princesses in the parade waving and I always thought that was so cool," she said.
Now, as a dairy princess herself, the part of the job she is most looking forward to is participating in those same parades.
Another draw to the program for Borash was that it was a honor not everyone can get.
While the program has been opened to more girls who maybe did not grow up on a dairy farm in recent years, it is still somewhat of an exclusive group.
"It's a pretty big role and responsibility that you take on to advocate for something you are really passionate about," Borash said.
In high school, the recent graduate of Little Falls Community High School was in cross-country skiing, music and the Link Crew, which guided new students around the school.
In the fall, Borash will be attending the College of St. Benedict to get a degree in accounting.
In addition to Borash, Emily Popp, Annika Gunderson and Alexis Krebs were named 2019 dairy princesses. Stories on each princess will be in the Morrison County Record during June Dairy Month.