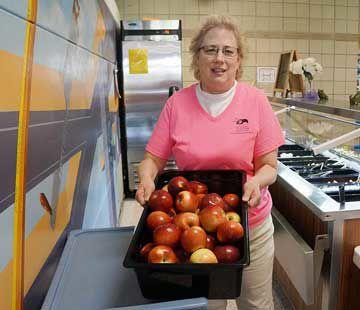 The non-profit Minnesota School Nutrition Association (MSNA) has named Cheryl Pick, director of Child Nutrition Services at Foley Public Schools (FPS), the state Director of the Year. The award recognizes the extraordinary contributions of school nutrition directors in Minnesota who manage successful school meal programs, which provide healthy, appetizing meals to students.
Celebrating 20 years as supervisor at FPS, Pick oversees nutrition at the district's three schools, which serve over 1,900 students. As director, she has worked to grow the nutrition program through additional staff members and increased student meal participation by improving offerings and supporting nutrition education.
In addition to kitchen staff, Pick added two managers to her district team to allow more time to craft homemade soups, sauces and wraps and manage a selection of fresh fruits and vegetables from local farms. These changes have increased student and district staff participation in both the FPS breakfast and lunch programs.
Pick has become a talented grants writer, garnering department funds to add new kitchen equipment and implement a successful school garden program, composting program and summer meal program. Working with the school agriculture teacher, Pick helped organize the construction of five garden boxes outside of the school kitchen, allowing for easy harvest access.
Pick's staff describes her as a champion for school nutrition education and someone who excels in training others. At the start of every school year, she provides developmental and skills training sessions — creating games, bringing in different informational speakers and providing opportunities for career growth. Pick believes in attending local and national conferences and encourages each of her staff to participate in professional development. She has lobbied to have conference costs included in the annual department budget to make it financially feasible for her staff to attend. She has been a vendor chair and co-chair, registration chair and a presenter for SNA Annual National Conferences, even assisting with various skill camps.
"Cheryl Pick goes above and beyond to ensure that her staff members are well prepared and informed so that they can provide her students with nutritious school meals and excellent customer service," said Minnesota School Nutrition Association President Amy Thering. "In addition to her own district, she has become a mentor and a resource for smaller schools in her area – sharing her knowledge of programs that she has experience implementing. She is a fantastic example of what we look for in our Director of the Year."
The Director of the Year Award was created to recognize school nutrition directors who exhibit an extraordinary commitment to their school meal programs. The directors are responsible for maintaining the quality of the program through student interaction, menu planning and a commitment to serving nutritious, tasty and well-balanced school meals.
In August, Pick will be honored during the Awards Ceremony at the 63rd Minnesota School Nutrition Association's Annual State Conference at the River's Edge Convention Center in St. Cloud.