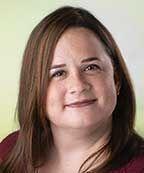 Amanda Redning, nurse practitioner, who specializes in psychiatry is welcoming new patients at the Essentia Health St. Joseph's-Brainerd Clinic.
"While studying to become a nurse, I had a clinical rotation in an inpatient mental health unit. I was impressed by the compassionate care provided to the patients and I immediately knew this was the field I wanted to work in," said Redning. "I witnessed a critical need for more mental health providers which motivated me to step up and continue my education to help fill that need."
Redning earned a doctorate degree in nursing from the College of St. Scholastica in Duluth. She is certified by the American Nurses Credentialing Center.
"I am excited to be joining the Essentia Health team to provide our patients with exceptional mental health care. I am interested in working with patients of all ages and various mental health needs," Redning said.
Psychiatry services require a referral from a patient's primary care provider.