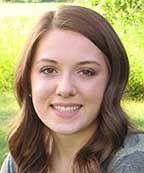 Royalton High School faculty selected Erin Zapzalka as the January Student of the Month. She is the daughter of Danelle and Tim Zapzalka. Zapzalka said she learned about hard work and caring for others from her parents: her dad works on the family farm and her mom is a nurse.
Zapzalka is involved in numerous activities at RHS. She said she enjoys band because of her love of music and learning different instruments. She also volunteers with Minnesota Honor Society, helps the environment in Y.E.S. Club, plans events with student council, as well as participating in softball, volleyball and serving as a wrestling manager.
"Erin is one of the students you can ask anything of her and she will complete the task well and on time," said Randy Thielges, science teacher and basketball coach.
"Erin is a gifted musician. She directs our summer marching band, our concert band and jazz band with her French horn in hand. She is one of our strongest seniors throughout academics, athletics, and the arts," said Director of Bands, Chris Coppicus.
Her musical talents follow her outside of school where Zapzalka plays trumpet at her church for Christmas and Easter masses. She also volunteers at the Little Falls Humane Society and works at Scheel's in St. Cloud. She said at Scheel's she is able to bridge her love of helping people and her knowledge about outdoor activity equipment together. She hopes that the skills acquired in her job will help as a nurse in her future.
One highlight of Zapzalka's high school career was the morning the power went out right before school. She said she and her classmates sat in the Lion's Den while singing songs and talking which, strangely, created a strong bond between them all.
A playoff softball game from her sophomore year stands as one of her greatest sporting memories.
"We were down by two in the top of the ninth inning. There were two outs and I was up to bat while two of my teammates were on second and third base. Although I only had one strike left before the game was over, I felt no pressure," she said. "The next pitch, I hit the ball into the outfield which drove my two teammates home making the score tied. We ended up working as a team and won the game; moving onto the next round of playoffs. Seeing how a team can work together and overcome the challenge of the game has always stayed in my mind. "
After high school, Zapzalka plans to attend the College of St. Scholastica in Duluth, to pursue a career in registered nursing. In 10 years, she hopes to have all of her schooling completed and be working at a job that is "perfect" for her. She also hopes for marriage and a family.
Zapzalka's advice for underclassmen is: "Yes, homework is important, but so is time with friends and having fun. If you use time management and have a good balance between the two, then you will be successful in school and be able to have fun, too."