Range is a hidden jewel on Highway 27 between Pierz and Little Falls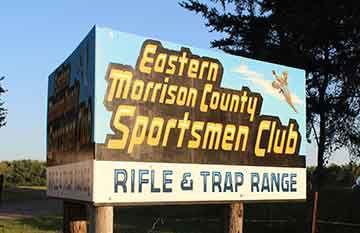 For 50-plus years, a little piece of land on Highway 27 has offered sportsmen a place to practice their shooting skills. In the 1960s, landowner Bumpy (Alcuin) Faust opened a 10-acre piece of his property to people who wanted to shoot trap on Sunday afternoons.
Today, that piece of land, now expanded to 40 acres, is what members call a premier shooting range, due to all of the improvements made to the range over the years.
It was in the late 1970s that four men, Lloyd Boeder, Keith Thielen, Jim Meyer and the late Paul Solinger, started the Eastern Morrison County Sportsmen's Club (EMCSC), going through all of the processes required.
Some of those requirements included getting approval from the Morrison County Planning and Zoning Board for a trap and rifle range on Highway 27. That same year, the Department of the Interior gave its OK for a gun club, as did the Department of the Army and the Minnesota Pollution Control Agency.
In February 1982, Faust agreed to lease 10 acres of his land to the EMCSC with an option to buy the property.
Thanks to Faust's initial offering of acreage, he holds a special place in the hearts of the members of the EMCSC.
In August 1982, articles of incorporation for the EMCSC were recorded with the state, including Boeder as president; Solinger as secretary and Thielen as treasurer.
In May 1983, the club had 18 members and insurance through the National Rifle Association (NRA) at a cost of $100 and property taxes on the 10 acres were $29.32, Boeder said.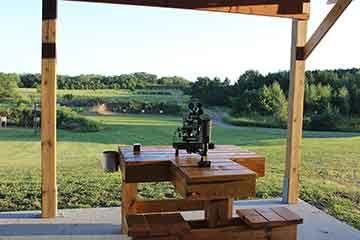 In May 1989, the club purchased the 10 acres of leased land and in 1999, the Club bought an additional 30 acres of land from Faust, for a total of 40 acres.
In July 1999, the Club applied for a $10,000 matching grant from the Minnesota Department of Natural Resources (MNDNR) to improve the rifle and shotgun range.
While much of the finances for the Club come from membership dues, with a $10,000 match needed, Club members started visiting various organizations, looking to build partnerships.
The visits paid off and the Pierz Lions and the Pierz Fire Department each donated $5,000 to match the grant. With that help, in November 1999, the Club learned it had been awarded the grant.
Now, with 150 members and 20 on a waiting list, Club members continue to build community partnerships, making improvements to the range which is being utilized by not only members and their families and friends, but by all local law enforcement and schools.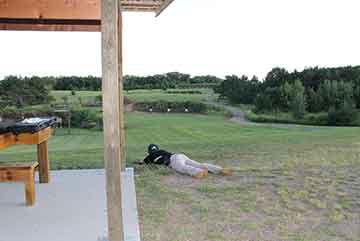 "The grounds here are used by six different law enforcement agencies or their training and five different youth firearms safety groups," said Paul Kuske, MCSC member and retired conservation officer. "Collectively they train anywhere from 150 to 250 hours."
Students on trapshooting teams from Pierz, Royalton and Little Falls school districts also practice at the range.
The training for law enforcement is invaluable, said Sgt. Joel Gross, with the Morrison County Sheriff's Department.
He said it's important that local law enforcement — officers with the Sheriff's Department and all of the police departments in the county – train together.
"It's everything to train together, because we all respond to the same calls together and we all work together," Gross said.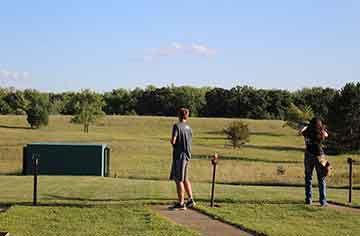 "In this area, this is the nicest facility. If we didn't have this range, we would have to try to utilize Camp Ripley, which is sometimes difficult because troops take precedence, which they should. We practice every month and we need to give Camp 90 days' notice," he said.
He agreed the trap and shooting range is a hidden jewel in Morrison County,
"The word's getting out more, because of the improvements," Gross said. "They have a waiting list for members. It's a premium to be out here and to have the support."
He noted law enforcement is very well supported in the community.
"You hear the crazy stories nationally, but locally, we're very fortunate for the support," he said.
In August, Gross was invited to demonstrate his sharpshooting skills when the Club held an outdoor barbecue for the Pierz Lions.
"It's fun to come to stuff like this, because it reminds me that most people are good," Gross said.
Some of the improvements Gross alluded to came about because of other partnerships.
"When we started planning this and looking at ways to fund this, the MN DNR had a shooting program grant, matching grant, a well as the NRA — grants available for shooting and gun ranges," Kuske said.
The response from organizations was "overwhelming" Kuske said.
"These people said, 'We're a big part of this community and it's an asset to the community, to the city of Pierz and Morrison County to have an asset like this,'" he said. "They were fabulous."
The Club received help from the Hillman Legion, Richardson Lakes Area Lions, the Harding Sportsman Club Little Falls Police Department, Morrison County Sheriff's Department and the city of Pierz
"We had a lot of members, too, that ponied up a few extra bucks," Kuske said.
Boeder said what makes him most proud to be an EMCSC member is that the Club is made up of people who come together for a common goal.
"A group which started with a few, and what it's grown to be and feeling good about what we have done," Boeder said.
One partnership that benefited the Club greatly was with the Pierz School District. When the referendum passed for the construction project, two temporary classrooms had to go.
Kuske and Boeder visited with Pierz Supt. George Weber about one of the classrooms. He took it to the School Board, and the Board voted to donate one of the buildings to the Club. The Club paid to move it to the range and it now serves as a meeting place and classroom.
"It was really neat having that partnership with the school district. With all the gun issues that are being talked about in this country today, what a neat relationship we have with the school and the community to recognize that guns are not evil and have their place in society and when they are used properly and people are trained in the safe use of them, that they have a real asset," Kuske said
One thing Kuske said he really believes, especially with kids, is that if they are given an outlet to use a firearm — trapshooting, target shooting, whatever, as a sport, they really enjoy it.
"It's a sport and that's the way it should be taught to our kids — teach them to respect firearms, give them legitimate, safe opportunities to use them," he said.
Students in Pierz, Royalton and Little Falls can join a trapshooting program as young as seventh grade.
"It's so much fun to see those young kids learn how to do it, and see how excited they get when they have success," Kuske said.
One young trapshooter, Shelby Burton, a sophomore at Royalton High School, has been on the school's trapshooting team since 2016. She can use the EMCSC range outside of school practice because her parents, Mark and April Burton of Rice, are members.
They are pleased with the improvements made over the last couple of years including adding a pavilion as a shelter when shooting at targets, with six individuals able to shoot at the same time, with targets set at 100 yards, 200 yards and 300 yards, a nice trapshooting area, as well as a new pistol only range, set up with a U-shaped berm.
If this range wasn't accessible, the Burton family would have to travel to Del-Tone in St. Cloud, where there's a smaller, public range.
"Maybe Monticello," Mike said.
"This is awesome, most definitely," April said.
Kuske said one of the goals club members have is to become more active with the community.
"Even though we're a membership only club, we're going to try to create more opportunities for the community," he said.
Some of those opportunities may include shooting events. "Like opening it up for a Saturday in the fall for people to sight in their guns," Kuske said. "Maybe a trapshooting event or something like that. We like the idea of being able to cater to groups."
The Eastern Morrison County Sportsmen's Club is alive and well and creating partnerships in the community and wants to continue to improve its facilities.
"We've gone to so many other groups that have given to us, now it's our turn to give back," Kuske said.