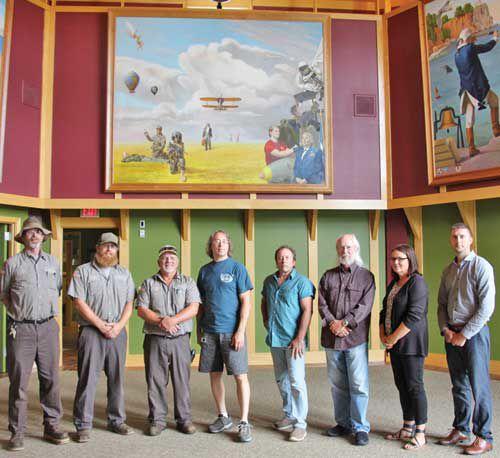 After 10 years of work, the paintings that make up the Veterans Educational Historic Monument at the Minnesota State Veterans Cemetery north of Little Falls are done.
Five paintings, each honoring a branch of the military, now hang around the cemetery's committal hall, painted by world renowned Little Falls artist, Charles Kapsner.
It all began at an art exhibition in 2008, when he was approached by Gordon Gerling of the Minnesota State Veterans Memorial Cemetery Association to do a project for the cemetery.
After a committee was formed and approved of the idea in 2009, Kapsner began working on compositional drawings and the project was underway.
Although he has done larger frescoes, paintings on walls, in terms of oil painting, the five 8-foot by 10-foot paintings were the largest he has ever done.
While a fresco of the same size might take about two weeks to do, the oil paintings each took at least a year, Kapsner said.
In frescoes, the painter is using already mixed paint, while in oil painting, the materials are used very mindfully due to their expense, Kapsner said.
"You want to be very mindful about how much you're using in a given area," he said.
During this project, Kapsner discovered how he could use the palette knife in the painting process to paint water.
"Doing these paintings allowed me to experiment with some things that I probably would have never done, had it not been for something that size," Kapsner said.
As a painter, he felt his style developed and changed through each of the paintings.
During the project, Kapsner was also able to learn more about another passion of his — United States history and to meet a number of veterans and their families.
Each figure in the paintings were models who had Kapsner paint portraits of them to then be repainted into the main paintings.
One experience with the models that stands out to Kapsner was with Ray Stumpf of Little Falls, who was in the Navy painting and passed away from cancer in 2013.
Over 15 sessions, Kapsner and Stumpf became friends and the portrait he painted of Stumpf was used at his wake.
"He went out with the kind of dignity that just is an example for how you live life," Kapsner said.
On Aug. 26, Kapsner, along with a crew from the cemetery and the team that built frames for the paintings hung the fifth and final painting, this one in honor of the Air Force.
After seeing all five paintings around the hall, Kapsner felt it was right.
"It looks like they've always been there," he said. "It certainly was meant to be."
The paintings will honor veterans past, present and future, Kapsner said.
"This monument is there to honor the men and women who have served our country, who are serving, who will serve and their families," Kapsner said.
To be involved in this program was a big honor, he said.
Erik Sogge, administrator of the cemetery, said the paintings will help tell the stories of veterans long into the future.
"These paintings will tell the story of our military's contributions and sacrifices, even when we are no longer here to do so," he said.
To fund the project, organizations and individuals donated $485,000. No taxpayer funds were used for the project.
A celebration for the Air Force painting will be held as part of Camp Ripley's Open House, Sept. 15, at noon at the Minnesota Military Museum at Camp Ripley and will include speakers and an F-16 flyover.
A separate event celebrating the completion of the project as a whole is scheduled for Sept. 22, at 2 p.m. at the Minnesota State Veterans Cemetery.