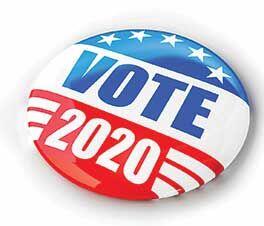 To provide our readers with information to help them in their decision-making at the polls during the Nov. 3 General Election, the Record sent out a questionnaire to each of the candidates who filed for a seat on the Morrison County Board.
Only candidates in races where the candidates outnumbered the seats available were sent questionnaires. This year, those are the candidates for Districts 2 and 3.
The candidates were asked to introduce themselves, to respond to a number of questions and to provide a photo. Each of the candidates was asked to limit their responses to the questions to 100 words.
Following are the questions sent to each of the candidates in contested races:
Question 1: Have you ever served in elected office before and if so, in what capacity?
Question 2: How would you rate the financial condition of Morrison County?
Question 3: What do you feel is the biggest challenge facing the County Board?
Question 4: What qualities do you possess that will make you a good county commissioner?
Question 5: If you are elected, explain a couple of your priorities.
---
COUNTY BOARD DISTRICT 2
Jeffrey Jelinski, Incumbent, District 2

Introduction: I'm Jeff Jelinski, your current District 2, Morrison County commissioner. I live in Belle Prairie Township with my wife, Barb. As a former Morrison County communications supervisor, I'm well aware of the need for a good, positive law enforcement community, which we are blessed to have in Morrison County. I know the importance of the 9-1-1 system, the changes that have happened and the changes that are coming. As an involved commissioner, I sit on many committees, taking a leadership role whenever possible. Experience, the ability to communicate, honesty and the love of community keeps me wanting to represent you.
Question 1: Yes, I have. I am in my second term as your Morrison County, District 2, county commissioner. I look forward to serving the people of District 2 for another term.
Question 2: I am honored and proud to say Morrison County is in good financial shape. County staff, along with your County Board have not, and do not, take finances as a given. Currently, Morrison County does have solid reserves to fall back on, kind of like a savings account. That being said, reserves, to me, are just that. They are a fund that is left untouched, unless it has to be used. Reserves can, and are, often used to help your County Board be fiscally responsible with the tax levy.
Question 3: Although the budget is always front and center, I'd have to say the biggest challenge is the Department of Motor Vehicles, or DMV, as they are often referred to. Everyone has heard of the MNLARS debacle. MNLARS started with the state of Minnesota and trickled down to the local level. MNLARS put extra stress on DMV employees and you, the taxpayers of Morrison County. I sincerely hope and believe that whatever replaces MNLARS will serve us better. Together with that, COVID continues to present challenges which are being addressed daily and will be addressed into the future.
Question 4: My abilities to communicate and listen are qualities that have proven to be very helpful as your current Morrison County commissioner. Along with those, my leadership skills, my willingness to ask questions, and my honesty when presented with questions, have made me the public servant I am — committed to serving you. Over the years, my work experience has allowed me to develop connections with a variety of people, providing valuable resources for all types of concerns.
Question 5: My priorities have never changed. Working hard, communicating openly and honestly with everyone, and treating one another with respect top my list. We must continue to be responsible with the budget, always trying our best to keep a responsible levy. That doesn't mean we will always agree, perhaps we don't, perhaps we won't. Sometimes we have to agree to disagree and not make decisions on the fly. Being up front and being honest and open will forever be my priorities. I will continue to stop to ask questions, look, listen and learn. We're never too old to learn.
Robert Kasper, Candidate District 2

Introduction: My name is Robert (Bobby) Kasper. I am seeking the position of Morrison County commissioner, District 2. I've been married to Carol (Moren) Kasper for 39 years. We have six children and 12 grandchildren. I was raised on a farm in Morrison County, graduated from Pierz High School then attended Wadena Technical College, becoming an electrical lineman. Minnesota Power was my employer for 33 years. From 2001-2007, I served as business manager/financial secretary for our local and afterward returned to Minnesota Power to finish my career. I am currently serving as an elder at FBC of Pierz.
Question 1: Yes. For six years I served as business manager/financial secretary for Local 31 of the International Brotherhood of Electrical Workers. My duties included maintaining and negotiating 21 utility contracts for various jobs such as office personnel, linemen, substation workers and meter crews. The number of men and women I represented was approximately 1,000. I was very fortunate to have great working relationships with both management and field personnel.
Question 2: In order to answer the question concerning the financial condition of Morrison county it seemed best to speak with an expert in the field. I was able to talk to the financial risk manager of the county and they were very helpful to explain the fiduciary responsibilities and the financial condition of the county. Our county is in very good condition fiscally with management keeping the bulk of expenditures in check. I believe there is a fine line to walk between frugality and over spending in any budget whether private or public.
Question 3: Certainly keeping expenses in check is always a challenge while at the same time making every effort to remain on the cutting edge of technology, whether it be computer software in the office or having state of the art road equipment to allow high productivity levels on the job. Another challenge which now looms large is the Novel Coronavirus. The balancing act of keeping the workers safe while at the same time keeping the economy healthy is not an easy task.
Question 4: First, I would say that I greatly enjoy working with people to hear their ideas and to glean understanding of the issues at hand. Difficult decisions to be made are a welcome challenge for me. There is wisdom in an abundance of counselors and I believe being a good listener to board members and the county administrator as well as constituents can yield great results.
Question 5: If I am elected my first order of business would be to attain a deep understanding of the inner workings of the county board as well as establishing good working relationships with all involved. I am convinced that when people are treated with great dignity and respect their possibilities and input are boundless.
---
COUNTY BOARD DISTRICT 3
Randy Winscher, Incumbent District 3

Introduction: My name is Randy H. Winscher and I'm running for re-election as your District 3 Morrison County commissioner. I've been married for 40 years to my best friend, Nancy. We have three children and six grandchildren. I was born and raised on a farm in Morrison County. We live on a small hobby farm near Royalton. I belong to Living Waters Lutheran Church and I'm a member of the Royalton Lions Club. I'm a strong supporter of the 2nd Amendment. I'm an avid motorcycle rider. I love spending time with my family, spoiling my grandchildren and visiting with friends and family.
Question 1: I'm currently in my eighth year as your elected county commissioner and served two years as chairman of the board. I was elected by the Morrison County Board to serve on the Soil and Water Conservation District, currently in my sixth year. Elected to North Pines Mental Health Center and I'm currently vice president. I was elected by the six county area to serve two years as president of the Great River Regional Library. I served six years as an elected Bellevue Township supervisor.
Question 2: The financial condition of Morrison County is solid. This is due to past county boards, present boards, department heads and staff. The budget process takes months to evaluate spending. By evaluating monthly, we're able to keep to our state audits as well as keeping checks and balances within each department. The Board and staff work hard during this process. This results in a favorable tax levy each year, while continuing services that people need.
Question 3: I believe our Department of Motor Vehicles (DMV) is the county's biggest challenge. The staff does a great job, but yet their hands are tied. The state forced MNLARS on all counties without any vetting and spent over $1 million of taxpayers' money. It's now being phased out due to problems. The DMV staff have a difficult time getting training as DMVs are closing or are already closed. Another problem is parents must drive a distance for their children to get licensed as there are only limited places where they offer behind-the-wheel testing.
Question 4: I consider myself approachable as I'm able to put others at ease when issues arise. While sitting on the Board, I'm using common sense, listening intently and using previous experience as a guide. Information that I've already learned at the county level gives me a great advantage. I'm confident that residents can feel assured I'm making informed decisions. My sense of humor also puts people at ease.
Question 5: I have a couple of priorities for Morrison County that will benefit all of us. First, during these challenging times I will make sure local businesses and agricultural producers are well informed about resources available. Second, I have a great plan to streamline the DMV process by creating a drive-thru service. To accomplish this, I would use CARES funds from the federal government rather than using local taxpayer dollars.
Al Doty, Candidate District 3

Introduction: My wife and I live in Royalton, and Morrison County has been my home most of my life. My background includes a lot of training and experience that would help make me a good county commissioner; I have a degree in political science from the University of Minnesota, I've served as a senior advocate for Morrison County, was on the Morrison County Transportation Advisory Board, Morrison County Adult Protection Team, Camp Ripley Citizen's Advisory Committee, Royalton City Council, and served on the Board of Directors for Pine Grove Zoo, Faith Community Church, and Horizon Health, Inc.
Question 1: I was elected to two terms in the Minnesota State Legislature, representing Morrison and Crow Wing counties, and served two years as a member of the Royalton City Council. In addition to those state and local positions, I also gained valuable experience as a congressional field representative for several counties, including Morrison, and was a member of several local boards and committees.
Question 2: Morrison County is currently sound financially, but there are hard times and hard choices coming. Our national and state government tax revenues will be down next year as a result of COVID-related layoffs and business slowdowns and shutdowns. When the state government has a shortfall, they look first to cut local aid to cities, townships, and counties. That means our property taxes go up, or we cut services. I had to help deal with huge shortfalls as a state legislator, and I worked hard to make sure those cuts still protected our people, our farms and our businesses.
Question 3: The biggest challenge facing the County Board will be prioritizing where tax dollars are spent when aid from federal and state sources is cut. This is both a major problem and a major opportunity ... it's a problem that can only be solved with a lot of planning and coordination between county staff and the County Board, but it's an opportunity to review all spending to make sure we're getting the results we want. My experience dealing with local, state and federal funding will help that process greatly.
Question 4: I've always done my homework. I made sure as an educator and coach that I was teaching and coaching what my students and athletes needed. I made sure as a senior advocate that my information and advice to senior citizens was what they needed. I made sure as a state legislator that I voted for what my constituents needed, and I read the bills before I voted! I made sure as congressional field representative that I connected people with programs they needed. I'll continue doing my homework as county commissioner to ensure we make the best choices for Morrison County.
Question 5: As I've said above, my top priority will be to make sure that the tough budget choices that are coming to our County Board will be made with the best interests of Morrison County residents and businesses in mind. Those hard choices are definitely coming. They will not be easy, and they can't be made hastily without considering everyone we represent. I would make those choices only after considering input from each department and from the citizens and businesses that would be affected.