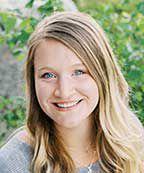 Royalton High School faculty and staff announced that Cierra Gottwalt was named the Student of the Month for April.
Gottwalt credits her family with teaching her to appreciate everything that she has and to enjoy the little things. They have shown her that there is a bigger picture to everything she does and that right now is just the beginning.
In high school, Gottwalt has been involved in volleyball, basketball, Yes Club and Minnesota Honor Society.
She said from all of these activities, she has learned to work well with others, along with how to be a leader. She has also gained friendships that will last forever.
Outside of school, Gottwalt is involved in 4-H and Junior Olympic Volleyball. She also hunts in her spare time. She enjoys 4-H because it is much different from the activities she participates in at school and she gets to be with people that she does not get to see every day. She said JO volleyball is also very important because she spends time with her favorite people while preparing their team for the upcoming volleyball season.
"Cierra has excellent work habits and is extremely dependable, loyal and responsible. She is very approachable and has great problem solving skills. When given instructions or constructive criticism she listens and accepts them and does her best to accomplish the task and always does a great job," said Brad Baumann, Royalton High School social studies teacher. "She does not blame others when something happens to go wrong, she takes responsibility for her actions. She is one of the most positive people that I have taught or coached and I have never seen her put down or say unkind words to her classmates and teammates. Cierra is a great role model for her fellow students and for younger students as well and defines excellence at RHS."
Cierra's favorite class in high school was probably drama her freshman year. She explains that she has never been in anything like that, so it was a unique way for her to get out of her comfort zone and try new things.
Gottwalt's favorite high school memory was finally winning the Homecoming Olympics after losing in "Rock Paper Scissors" for the last two years. She said that the best game she was a part of during high school was when they beat Maple Lake in volleyball last fall. She said she has never been so proud to be part of such an amazing team.
"Cierra has always been a very hardworking, dedicated student. She has excelled in her college math classes. She ranks high in her class with an excellent GPA. She has been a great leader, in the classroom and on the court. Many younger students have looked up to her as a role model; she is smart, kind and caring," said Teacher Jeff Schoenrock.
Next year, Gottwalt plans to attend Arizona State University and pursue a degree in nursing. In 10 years, she hopes to be settled down and living somewhere warm. She hopes to be a nurse practitioner with a husband and a few kids.
Gottwalt offers this advice for high school freshmen: "I would tell them to enjoy the little things. I would also tell them that they need to focus on what is best for them because in five years they will be on their own and will have to learn how to create a life for themselves."