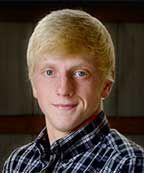 Royalton High School has announced that Christopher Borash, son of Ron and Ann Borash, has been selected as the December 2019 Student of the Month.
Boraswh has numerous role models at home — his siblings and parents. While growing up on a farm, these role models taught Chris that life requires hard work, and all work requires that he apply the best of his ability. His parents also instilled in him a great sense of respect for everyone and everything. With his family, Borash enjoys hunting and playing hockey games.
The encouragement and support from Chris's family and siblings extends beyond competitive activities as they also spend time discussing classes, playing guitar and praying as well as sharing goals they have for the future. In all cases, Borash said he is grateful that his family.
"Chris is one of the most involved students we have here at RHS. Whether in the classroom, the course/track/mat, the stage or the Knowledge Bowl room, Chris is a leader who can quietly get others to follow him," said Jeremy Schaa, social studies teacher. "Chris will no doubt go out in this world and be successful and represent Royalton in a very positive way."
Borash shows his work ethic in his choice of favorite classes. He that he has enjoyed both composition I with Ron Makela and chemistry with Randy Thielges. Both classes provide students with a chance to prove themselves and dive into a deeper understanding of science and English.
Borash said the instructors of these classes are also his favorite teachers.
Borash is also involved in many activities: cross country, wrestling, track and field, Y.E.S. Club, FFA, Knowledge Bowl, Student Council and various play productions.
Borash said that cross country has guided him in character growth, and that he has fallen in love with the challenge, self-motivation and retrospection required to do well in the sport. Being part of this team over the last seven years, Borash said has been one of the best experiences of his high school career.
"Christopher Borash is a hard-working kid. Most people don't realize that he has been up and doing chores well before any of us are out of bed, every day," said Michael Marschel, cross country coach. "He is a testament that if you work hard you will get results. As a natural leader, Christopher has lead our cross-country and track and field teams will grace and humility over the last six years. He will surely be missed next season."
Terry Gorecki, head wrestling coach, said Borash is a one-of-a-kind student-athlete. "He has been a great role model for all wrestlers on and off the mat. He is new to the sport and has earned the role of being a captain to represent his teammates," Gorecki said.
Outside of school, Bofash is active in the Guardian Angels Youth Group, the Two-River Trailblazers 4-H Club and he has participated in poultry and sheep showing, performing arts, and shooting sports. He has competed at both state and national levels.
Borash plans to attend college for a bachelor's degree in environmental biology or criminal justice. His top choice for college is Saint Mary's University in Winona because, three of his brothers went there, he has spent a lot of time on campus, and he has already met numerous faculty members and staff.
Borash said his advice for younger students would be: "Do not be afraid to step out and lead, because it may take you to new heights and grant you friends and experience you never dreamed of."