Another ribbon cutting planned for west side when it is complete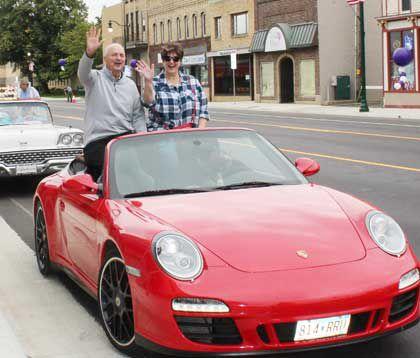 They closed down a block of Highway 27 near Bank Square in Little Falls again Thursday, for a brief ceremony celebrating the completion of the project on the east side.
The $7.5 million project started in April with road closures and detours. The east side was wrapped up the third week in August, in time for the Arts and Crafts Fair as promised. Work continues on the west side, where underground utilities are being completed, before the surface of the road is reconstructed.
Little Falls Mayor Greg Zylka recited a litany of people to thank from city staff, to crews on Knife River, MnDOT, the Big Dig Committee, businesses, residents and various organizations.
"When we recognize and celebrate completion of the east side of the project, we understand the trials and tribulations experienced by many as the west side challenges continue," the mayor said. "We will celebrate the west side portion once it is completed."
The mayor said the short event was about "celebrating working together as a great community and recognizing and thanking all that have participated in promoting Little Falls during the road project."
The mayor closed by saying the final result is a much-needed improvement to the city's infrastructure.
"All you have to do is take a look at it — it's pretty incredible," he said. "I won't say it happened without challenges, but once again, our city, our community, our businesses and our residents came together to bring excitement and positivity to this great community."
Susy Prosapio, owner of Shoppes of Little Falls located at the corner of Bank Square, which houses 50 vendors, said she had a bird's eye view of the entire process.
"A year ago when we were all talking about this, I had real concerns about how the Shoppes would survive all the construction," she said. "We're here today to celebrate and I'm here to tell you we had a better year this year than last."
In addition to thanking the Little Falls Convention and Visitors Bureau, MnDOT and the city, she offered a special thanks to Tim Otremba, project manager and the men and women of Knife River.
"I would wander out and ask them a question, whatever it was, they would answer my question, they were so polite. Watching you guys work, I was just amazed," Prosapio said.
"Keep going — we are a river town and we will not be whole until Highway 27 goes straight through town and the east side and west side are once again one place," Prosapio said.
Alderman-at-Large Brad Hircock and Council Member Jerry Knafla both agreed that while the project isn't done, what has been done is "unbelievable."
"It's not done yet, but it's quite a project. It's all very positive for the citizens," Knafla said.
Little Falls Public Works Director Greg Kimman said in addition to the road construction, utilities, sewer and water — "everything from the bottom up" was reconstructed.
Some underground surprises included several vaults no one knew were there. "They had boards on them inside. We blocked them off so they wouldn't cave in," Kimman said. "There was a lot of interesting stuff — a lot of old pipes we didn't know about. Some were connected up to the river that we had to fight with — but others were just there."
The oldest pipe was from 1903, Kimman said.
The old cast iron pipes were replaced with ductile pipe. "Cast iron is more brittle than ductile — if you hit cast iron with a hammer, it will shatter, but ductile will not shatter," Kimman said.
Tim Otremba and Adam Surma were project managers with Knife River, the main contractor.
Otremba said he went to every business to chat with the owners and give them his business card. He was able to meet with all but two, and of those two, he had a phone conversation with one. Otremba said he spent from 10 minutes to a half an hour with business owners.
He also gave the city permission to give his phone number out to anyone who called about the project.
"Tim and I are a team," Surma said. "We did everything from the bidding and lining up of crews, to working with the town, planning meetings, scheduling, making sure everyone was in compliance, making we had permits, making sure submittals into the state, making sure it's good for them and that MnDOT agrees with it, tracking all quantities, finishing all subcontractors, making sure they're all scheduled and lined up and more."
While the Knife River employees are happy about this part of the project being completed, it's more than that, Surma said.
"It's a matter of pride," he said. "The same couple of crews were doing the majority of the work — this is their summer. They know every inch, every sidewalk — every little bit."
Now, it's on to the west side — slated for completion in mid-October.