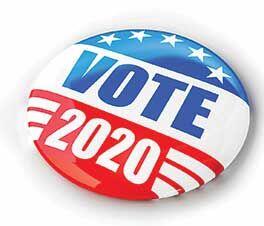 To provide our readers with information to help them in their decision-making at the polls during the Nov. 3 General Election, the Minnesota Newspaper Association sent out a questionnaire to each of the candidates who filed for election in the U.S. Senate and Congress.
Following are the questions MNA sent to each of the candidates:
Top priority: If elected, what is your top priority for the 2021Congress? Why are you running for office?
Economy: How do you grade the federal government's response to the pandemic? Are additional measures necessary to spur the economy? If so, what?
Police reform: Police reform has become center stage since the George Floyd death and has prompted calls for legislative action at all levels of government. What actions do you support at the federal level?
Foreign affairs: How do you grade President Trump's foreign policy record? Which of his initiatives do you support, and which do you oppose? Be specific.
Health care: Do you support the expansion of Association Health Plans?
Education: COVID-19 has had a profound effect on the demands for and delivery of education. What role should the federal government play in ensuring that U.S. graduates can compete in the global economy?
Energy: Is the United States doing enough to reduce carbon emissions? What can the federal government do to promote homegrown energy?
Transportation: What role should the federal government play in funding state and local transportation infrastructure? Be specific.
Immigration: Immigration reform continues to languish at the federal level. What should be the principles of any legislation?
Foreign trade: Do you support the president's actions on international trade? Long term, will they help or hurt the U.S. economy?
Other issues: Are there other issues you want to address?
Briefly summarize your personal background and qualifications.
---
Jason Lewis, U.S. Senate, Candidate

Top priority: Every year, politicians of both parties come to you and say "this is the most important election of our lifetime." I'm running for the United States Senate because 2020 truly is the most important. This election has become a referendum on our American values and way of life. When a mainstream political party and its standard bearers are pushing to defund the police, it's safe to say that something is dangerously wrong and Minnesotans need a voice who will stand up and fight for them and protect them. Not only will I fund the police and punish those who don't, I stand in favor of putting Minnesota and American jobs first, at the expense of globalist policies of the past (like NAFTA) that shipped jobs overseas and hurt our farmers. We must hold China accountable for exporting the coronavirus and ensure American corporations stop outsourcing jobs there. I will also protect the tax cuts I helped enact in the 115th Congress. We must also protect our Constitution and appoint and confirm jurists to our federal courts who will protect the freedom of speech and assembly, the 2nd Amendment and protect against radicals who support late term and even post birth abortion.
Economy: Between the China travel ban (which Democrats opposed and decried as xenophobic) and actions taken to shore up medical supplies and resources to "flatten the curve," the Administration's approach has proven effective. Having seen a drastic reduction in cases and mortality rates, it's time to fully reopen our economy. I was all in on "15 days to slow the spread" and its initial extension so that our health care infrastructure could shore up and "flatten the curve." I have been proposing since April that we lift once and for all this economic lockdown that has plagued and derailed what had previously been the best economy on record, thanks to the tax cuts I helped pass in Congress. Americans indeed need more relief from the fallout surrounding COVID and the lockdown, such as SBA loan forgiveness which I support and my opponent opposes, based on her latest "No" vote on COVID relief bills.
Police reform: I know firsthand from marrying a St. Paul police officer that nobody dislikes a bad cop more than a good cop. But to paint with a broad brush and label an entire profession as "rotten to the root" as Ilhan Omar did (who my opponent enthusiastically endorsed), is not only wrong, it's dangerous. Bad cops must be held accountable — that's why I spoke out in favor of Senator Tim Scott's and Congressman Pete Stauber's reform bill, the "Justice Act" while Senator Tina Smith voted against it. But we owe it to the men and women who risk their lives to keep us safe, to stand behind them and support them and I do. That's why I'm proud to have been endorsed by the Minnesota Fraternal Order of Police and the Minnesota Police and Peace Officers Association.
Foreign affairs: The Trump Doctrine of "America First" is precisely what the American people have been looking for in the post-Cold War era. We protect our allies abroad while disentangling our nation from foreign conflicts that have no direct national security threat to the United States. Trump won in large part by running against globalism and nation building. He has fulfilled that promise and I support that. It's the difference between a republic and an empire.
Health care: I support Association Health Plans which enable small businesses and the self-employed to compete with larger groups by forming their own pools. I also am proud of my efforts in Congress to reform ACA and lower premiums, deductibles and drug costs. We now have two competing visions of what direction health care in America should take. A market-based system of private medicine with a safety net or a heedless slide into a single-payer government run system. Democrats now insist the only way to fix the skyrocketing premiums and deductibles that have been foisted upon us by Obamacare (which conservatives like me warned would happen) is to embrace a single payer style health care system such as "Medicare For All." Plans such as those supported by my opponent Tina Smith could force up to 50 rural Minnesota hospitals to close. Lest you believe that more government is the answer to the issue of health care, ask Canada and Europe how their care rationing and months-long waiting lists are working out for their citizens.
Education: We are leaving an entire generation of kids behind as we continue to keep millions of them out of school with this never-ending, one size fits all lockdown. It's imperative that we get our kids back in school safely and I would fight for that as U.S. Senator. On the other hand, my opponent Tina Smith has blocked COVID relief bills three times. The most recent iteration of COVID relief that she blocked in the Senate contained money to help get kids safely back in school.
Energy: Under President Trump, for the first time, the United States of America is a net energy exporter. In order to promote homegrown energy, we need only continue the pro-growth, pro-energy policies promoted by the President and myself when I served in the 115th Congress. I would hate to see this progress reversed because we gave in to the short-sighted whims of radicals pushing proposals like the Green New Deal. I don't believe in hamstringing our economy and putting us at a competitive disadvantage relative to other nations who have no intention of meaningfully reducing emissions. That's not to say our nation's energy policy should be heedless of concern pertaining to emissions and the environment. We need to continue to foster the surge we've seen in clean fracking. I have been a vocal and forceful advocate for the Enbridge Line 3 replacement pipeline which would create 8,600 jobs in Minnesota and generate more than $19 million in local property tax revenue. And yet, Minnesota Democrats throw hurdle after hurdle in its way, which is surprising considering the pipeline is so old and dilapidated that it can only operate at 50% capacity. Protecting our land, water and air and supporting our job creators and businesses are not mutually exclusive. Take the Minnesota Iron Range for example. Some of the strongest environmentalists I know are also some of the most vocal proponents of new copper and nickel mining. We must lend more trust to businesses and individuals to be good stewards of the land.
Transportation: After serving on the House Infrastructure Committee in the 115th Congress, I understand we need to rebuild our infrastructure, especially the Highway Trust Fund. We also must do it in a way that is fiscally responsible, cutting unnecessary expenditures (such as massive light rail projects) across the country and implementing programs such as an Asset Recycling Fund, which could deliver upwards of $1 trillion of new infrastructure at a fraction of the cost. Under a program like this, with initial funding of just $100 billion, the federal government could incentivize state and local governments to sell off or lease under performing assets by offering a bonus to any unit of government on a first come, first serve basis. The only condition: all revenue from the sale or lease of government property must be used to build new infrastructure, whether roads, sewers or bridges.
Immigration: As Jack Kemp once said, we have to close the back door of illegal immigration to open the front door of legal immigration. And that's why I supported the two Goodlatte bills which fixed the DREAMer situation once and for all, the Flores consent decree and expanded work visas in exchange for controlling immigration. I also support finishing the wall.
Foreign trade: Whether it's China Phase 1 or the USMCA, I was proud to work with the President in Congress on scrapping decades-old bad trade deals that hollowed out the middle class, hurt our farmers, and all but destroyed American manufacturing. Democrats like my opponent needlessly delayed the USMCA's passage and, sadly, Minnesota's middle class families, manufacturers and farmers are paying the price.
Other issues: I still believe there is far more good about America than bad. I believe there is no challenge the United States of America cannot meet and face while still holding true to our values and principles. Senator Smith on the other hand sides with the radical defund the police movement and says the role that police play in society is "dangerously wrong." She would sooner throw her lot in with the Green New Dealers than stand in support of new logging, pipelines and safe/responsible mines in the Northland. I helped President Trump cut taxes and regulations, Tina stands with Joe Biden and Kamala Harris who have pledged to increase our taxes by $4 trillion. I have fought for fairer trade deals that will help our farmers and manufacturers. I will also get tough on China, while Senator Smith continues to raise campaign money from corporations that outsource jobs there. I support confirming judges who believe in life, the Second Amendment and protecting freedom of speech. Senator Smith does not.
Briefly summarize your personal background and qualifications: Senator Smith and I come from very different backgrounds and walks of life. I spent a lot of my early years working for the family business. We owned a machine shop and I spent a lot of time on the road selling automotive after-market parts. When my dad retired I took over the family business, later going into broadcasting and enjoying a long and successful career as a radio host discussing public affairs and hearing folks' concerns each and every day. Senator Smith has spent her career as a corporate executive, a former vice president of Planned Parenthood and has been a politician for the last 14 years. I believe I have more real world experience and therefore a better perspective with which to help govern than Tina Smith does. If we are to use the metric of bills passed by Congress and signed into law by the President, the 115th Congress, of which I was a part, was one of the most productive sessions of Congress in our nation's history. I was proud to have helped pass historic tax cuts through the Tax Cuts and Jobs Act, I authored and sponsored landmark bipartisan juvenile justice reform and I co-sponsored and passed a bill providing historic levels of support to career and technical education. Too many young folks (and their parents) are going into debt to fund four year degrees that sometimes provide little utility. Growing the middle class means we need to provide more resources and encourage people to go into farming and the trades and ensure they are able to thrive doing so. As a husband and the loving father of two daughters who are now all grown up and out of the house, I want to be a force for order and for good in the midst of all the chaos and turmoil that is unfolding in our state and country. I believe that starts with immediately confirming a new Supreme Court justice. I want to leave Minnesota and the United States a better state and nation than I found it, for your kids and grandkids and mine. I would be honored to have your support.
---
Tina Smith, U.S. Senate, Incumbent

Top priority:​ I am running for re-election to continue to fight for all Minnesotans. The rising cost of health care, especially prescription drugs, is the number one issue that I hear about from Minnesotans, which is why the first thing I did when I arrived in the Senate was take on the big pharmaceutical companies. And it's why I passed into law my bipartisan bill to help lower the cost of insulin. But this year has been especially challenging. Between the coronavirus pandemic that has shaken the foundation of many Minnesota families and businesses and the murder of George Floyd right here in Minnesota, we have so much more work to do to build back better and to address the systemic racism in our society.
Economy: In the Senate, I helped pass the ​CARES Act​, a $2.2 trillion stimulus bill that included $1,200 per adult/$500 per child in direct cash payments to individual Americans, enhanced unemployment benefits, the creation of the Paycheck Protection Program (PPP). The package also included nearly $340 billion in aid to state and local governments, billions to hospitals and our health care systems and several other key provisions that helped address the fallout of the economic shutdown. But more must be done. It's time for Mitch McConnell to quit blocking additional relief and bring up the House-passed HEROES Act for a vote. This would include more direct assistance to individual Americans, businesses and state and local governments, as well as much-needed aid for the Postal Service.
Police reform:​ The murders of George Floyd, Breonna Taylor, and so many others have underscored the dire need to systematically reform policing at the local, state and federal levels. All Minnesotans — including Black, Brown and Indigenous Minnesotans — should have the right to feel safe in their communities and that includes when interacting with police. To do this, we must reimagine policing to ensure that de-escalation and community engagement are at the forefront of decisions and training. I helped introduce the ​Justice in Policing Act, which would change the culture of departments by holding police accountable, improving police training and practices, making lynching a federal hate crime and making it a federal crime to conspire to violate existing federal laws. I also wrote the ​Supporting Innovation in Public Safety Act​, which would help state, local and Tribal governments reimagine policing in their communities by funding innovative projects and best practices to transform how we deliver public safety and other social services.
Foreign affairs:​ I am thankful every day for the role that our brave service members play in preserving peace and stability around the world. Over the past four years, President Trump has moved our foreign policy in the wrong direction by withdrawing from the Iran nuclear deal, cozying up to dictators and turning a blind eye to the murder of Jamal Khashoggi and Russia's ongoing interference in our elections. As a result, our credibility on the world stage has been diminished.
Health care:​ I support expanding access to affordable health care by improving on the ​Affordable Care Act​ and by addressing the underlying issues that drive health care costs, such as the exorbitant prices of prescription drugs. I do not support expanding loopholes to make it easier for insurers to sell Americans "plans" that lack many of the consumer protections provided by the ACA like coverage of essential health benefits. We have heard too many stories of Minnesotans rationing their prescriptions due to the astronomical price tags of many life-saving medications. This should be unheard of in America. I have a track record of working across the aisle and one example of this is my bipartisan law that helps lower the price of insulin and brings low-cost insulin products to market.
Education​: We must continue to pass legislation and provide relief to individuals and businesses, ensure accessible COVID-19 testing to keep workplaces safe and work across the aisle to make sure we build back better than before. Graduates are now in the unique position of job searching in a pandemic and it is on us to ensure that businesses get the support they need to continue to hire and grow our economy.
Energy: We are at an inflection point and the science is clear: we must make big and bold steps to address the climate crisis immediately. I believe the U.S. must be a leader in this fight. In the Senate, I wrote legislation to create a federal clean energy standard and set us up to achieve net-zero emissions from the electric sector by 2050. We must continue to support bills like this to ensure that our grandchildren have a safe planet to live on. I've also fought to protect Lake Superior from cuts to the Great Lakes Restoration Initiative, I've pushed back on the Trump Administration's reckless repeal of environmental protections.
Transportation: I support immediate investments at the federal level to rebuild our nation's crumbling roads, bridges, ports and harbors, schools, airports and rural infrastructure. To this end, I've called on Majority Leader Mitch McConnell to allow a vote on the ​Moving Forward Act, which would dramatically increase funding to repair our roads; direct billions to water projects, affordable housing, broadband and schools; and upgrade hospitals and Postal Service trucks.
Immigration: ​Our immigration system is broken and in desperate need of reform. It's long past time we enact comprehensive immigration reform that provides permanent solutions and reflects the values of our nation, like a clear pathway to citizenship and reasonable measures to secure the border. Over the past year and a half, I've worked on several pieces of legislation with those goals in mind. For example, I successfully secured passage of a law, which I helped write, to provide thousands of Liberian immigrants with a pathway to citizenship so they would no longer need to depend on the President to renew their Deferred Enforced Departure (DED) status every few months or years. I will continue to fight back against the harmful policies of the Trump Administration like family separation and detaining children in cages.
Foreign trade: ​We need fair trade policies that help workers, businesses and farmers in Minnesota. That means standing up to countries like China when they violate international trade rules, but President Trump's trade wars lack any apparent strategy and have resulted in chaos and uncertainty for Minnesota's ag producers instead of the stability that they need. I successfully pushed for improvements to the United States-Mexico-Canada Agreement (USMCA), including tougher worker protections and measures to improve our trading relationships and protect Minnesota farmers — especially dairy farmers. We must take a more thoughtful approach to trade policy than that of the current administration.
Briefly summarize your personal background and qualifications: I am proud of the work I've done before being elected to the Senate. I moved to Minnesota and started my own business, became a leader at Planned Parenthood, chief of staff for the mayor of Minneapolis and then chief of staff for Governor Mark Dayton. After serving as chief of staff, I was elected lieutenant governor alongside Governor Dayton. Together, we balanced the state budget, expanded investments in education, raised Minnesota's minimum wage, expanded family medical leave for state employees, invested in agricultural research passed marriage equality in Minnesota and much more. As senator, I have a track record of working across the aisle to get things done, like ​helping pass the bipartisan Farm Bill, securing free COVID-19 diagnostic testing and ensuring rural cooperatives can continue efforts to expand broadband. I am running for re-election to continue working across the aisle to get things done for all Minnesotans.
---
Pete Stauber, 8th Congressional District, Incumbent

Top priority:​ Two years ago, one of the focal points of my campaign as a first-time congressional candidate was to let you, the voters, know who I am. I introduced myself to you and shared my story, what my priorities are, and how I wanted to represent the 8th congressional district. Professional hockey player, small-business owner, police officer: those were the uniforms I wore throughout my life. That uniform changed in 2019, when I took my oath. Whether it's a suit and tie when I'm at the White House meeting with President Trump on criminal-justice reform, slacks and a sport coat when I visit with small-business owners in Cambridge, or jeans and Carhartts when I'm visiting with farmers, loggers or miners, my purpose is resolute. My priority isn't an issue: It's you the people. I am humbled to be your congressman. For the past two years I have been listening to you and learning from you. My focus in Congress is on you. It has been a privilege fighting for our way of life and I would be honored to receive your vote to continue advocating on your behalf.
Economy: Before the global pandemic struck our economy was churning at historic levels. Unemployment was the lowest since before we landed on the moon. I supported a pro-growth economy that got us to record levels and we'll get there again. I was proud to support bipartisan legislation like the CARES Act that provided emergency funding and resources for federal, state and local responses to COVID-19, as well as provide small businesses with emergency relief (Paycheck Protection Program) that saved more than 50 million jobs. One thing the pandemic has shown us is we must become a more self-reliant country. Our miners, manufacturers and others throughout our domestic supply chain eagerly await the chance to serve their nation and responsibly source these resources needed for every sector of our economy.
Police reform: Across our country, once peaceful protests turned into riots, chaos, looting, lawlessness and in some cases, anarchy reined. And now, they are calling to defund our police. We can't allow our country to get held hostage by lawlessness and anarchists. That's not the society we want to be. As we rebuild trust between our police and their communities, I am proud to be working with Sen. Tim Scott on meaningful criminal justice reform, the Justice Act, which includes bipartisan provisions that would rebuild performance, accountability and transparency within police departments nationwide. Instead of defunding the police, we need to build trust between communities and their police.
Foreign affairs: Our nation and allies must stand unified and resolute in the fight against terrorism. Freedom must always triumph over terror. America's decisive action earlier this year eliminated Iraq's top general, Qassem Soleimani, who was a leading sponsor of terrorism, responsible for the deaths of hundreds of thousands including hundreds of American service members. We must root out evil wherever it hides and stand against terroristic and oppressive regimes. Accordingly, we must do all we can to ensure our men and women in uniform have the resources they need to accomplish their missions. Earlier this year, I was proud to support the largest pay raise in decades for our troops who heroically defend our freedom.
Health care: Minnesotans want and Americans need high quality, affordable and accessible health care that is patient-driven and physician-guided, putting individuals in charge of their health care rather than the government. I remain committed to working with Republicans and Democrats on true health care reform that lowers costs and increases access to quality health care by setting up Association Health Plans (AHPs) that allow groups and businesses to band together for better rates, allowing insurance companies to cross state lines and doing all we can to ensure health insurance is portable and affordable.
Education: Every child in every school should receive a quality education. While Washington should play a limited role, we must do what we can to provide parents and school leaders the certainty and flexibility they need to deliver children a great education. Year after year we are not living up to our responsibilities to students with disabilities. Rather than proposing new programs and schemes that divert scarce resources away from classrooms serving these students, Washington should fulfill its promise made to these students. As a parent of a child with Down syndrome, I was especially proud to work with Democrat Rep. Angie Craig on the bipartisan IDEA Full Funding Act, to fully fund special education in our public schools. Additionally, I am honored to receive an "A" rating from the National Education Association (NEA).
Energy: Rising energy prices hurt families, commuters, job seekers, small business owners, miners, loggers and farmers. We need an "all of the above" comprehensive energy plan that creates American jobs and leads us toward energy independence by utilizing environmentally friendly domestic production of energy resources in the near term while we develop the clean alternative energy sources of the future, including nuclear power, wind, solar, biomass, hydrogen, hydro power, among others. We can't afford a $93 trillion Green New Deal embraced by Democrats that would abolish mining and manufacturing and ban everything from cows to cars.
Transportation: As a member of the Transportation and Infrastructure Committee, I remain committed to addressing our growing infrastructure needs, taking on the challenges of providing reliable investment in our transportation network and harnessing innovation to more effectively and safely move goods and people throughout the country. As we work our way back toward economic recovery, rebuilding our infrastructure is more important than ever. We must prioritize our highways, roads and bridges, and I am proud to have helped champion numerous local transportation initiatives important to our communities in the 8th District.
Immigration: America was founded by immigrants and immigrants continue to enrich our nation. In order to continue this legacy we must fix our broken immigration system and establish a strong, functioning immigration system. Securing our borders is the first step toward a workable immigration reform plan. Last year, I visited the U.S. border with Mexico and what I saw was stunning. The amount of human and drug trafficking on our southern border is at epidemic levels. Children are being rented and purchased by drug cartels so adults can get across the border. Sixth-grade boys and girls are getting stopped at the border with drugs duct taped to their arms and legs in an effort to deliver to drug lords on the other side. Women and girls are falling victim to horrific rape and sexual assault during their thousand-mile journeys. Tons of drugs are being seized at the border including fentanyl, heroine and meth — some of which without a doubt end up destroying lives right here in northern Minnesota. I saw with my own eyes how unfenced areas along the southern border are drug trafficking freeways that ultimately lead to death and destruction not only along the border, but right here in our backyards.
Foreign trade: As the member of Congress representing this area, I regularly travel around the 18 counties of Minnesota's 8th Congressional District. I meet regularly with our workers and let me tell you — our workers in this part of Minnesota can compete with anyone in the world so long as there is a level and fair playing field. Whether it's renegotiating NAFTA, or protecting our steel and aluminum industries, we must always put American workers, American companies and American farmers first. I was proud to help champion the trade agreement with Canada and Mexico that opened up new markets for our farmers and manufacturers and level the playing field for American workers. Already, the USMCA is benefiting Minnesota workers in many sectors, including our farmers, miners, manufacturers and those in the medical industry. Fifty-one percent of Minnesota's total agriculture and agri-food exports flow to Canada and Mexico.
Other issues: Just a few short months ago, unemployment was the lowest since we first landed on the moon. Small-business optimism was soaring to an all-time high. Consumer confidence was skyrocketing. Wage growth was steadily climbing. Our economy was chugging and churning at unprecedented levels. Then a global pandemic struck, and the governor shut down our businesses, schools and even our places of worship. Our nation's economy shuddered and our spirit was shaken. Minnesota's main streets were locked down, unemployment skyrocketed, and a billion-dollar state surplus turned upside down into a multi-billion dollar deficit. Our way of life was drastically altered in ways we hadn't experienced before. We will overcome this. I continue working with President Trump and Congress to unleash the economic engine in Minnesota's 8th Congressional District to create jobs and an economic boom for our working families. This means promoting small-business relief and fighting relentlessly for job creators. We are recovering, and our economy is rebuilding — we've added 10.6 million jobs in the past three months, but this is the only beginning. We know how to get our economy moving again, and when we do, we will be a stronger, more resilient, and self-reliant country.
Briefly summarize your personal background and qualifications: From playing hockey all my life to my two-plus decades of committed public service in law enforcement, I am a problem solver. Like so many Minnesotans, I grew up on the rink. After high school, I was the team captain for Lake Superior State University where we won the national championship. I recently retired from the Duluth Police Department after 22 years of service and considered it a privilege to serve. My wife, Jodi, is an Iraq war veteran who retired from the 148th Fighter Wing as the first female command chief in the history of the unit. Jodi and I have four children and a foster baby and they are one of the reasons I am running for re-election to Congress. We have to do all we can to ensure the American dream is within reach for their generation and generations to come so they can enjoy the freedom and prosperity that has made America great.
---
Quinn Nystrom, 8th Congressional District, Candidate

Top priority:​ Living with Type 1 diabetes, I pay nearly $1,000 out of pocket every month for my health care — and that's with good insurance. The price of insulin has gone up nearly 1200% since I was diagnosed as a teenager and I've had enough. It's not just insulin — prescription drug prices are skyrocketing and too many among us can no longer afford their prescriptions or are too afraid of the bill to go to the doctor. It's unacceptable and the COVID-19 pandemic has only made it worse. In Congress, I'll stand up to Big Pharma, fight for more affordable health care and lower prescription drug costs and protect coverage for people with pre-existing conditions.
Economy: The federal government's response to the pandemic has been abysmal. The economy fundamentally will not recover until we beat this virus. We need universal, easy to access, one-day or immediate testing. We need more PPE for our frontline health care workers. We need a coherent plan from the federal government on when certain areas should be closed and when they shouldn't. On the economic side, we need to continue the unemployment benefits with $600 additional per week. We also need support for our cities and states so that they don't have to cut their budgets right in the midst of the greatest economic downturn since the great depression.
Police reform: Reform is needed on all levels of the criminal justice system. We need broad reforms to crack down on departments with a history of racial profiling and officers with high levels of complaints against them. We need to ensure that law enforcement have the right training and make sure that we're sending the right people to handle each situation. We must address the racial disparities in sentencing and reform the bail bond system. Most importantly, those in power have to listen to the communities affected by these issues and realize that we will not get anywhere if we don't try to sit down and work together to make change.
Foreign affairs: My husband, Paul, is a 12-year Army veteran. He served in Iraq and is currently in Army Reserves. So when I think about foreign policy, my first concern is for our troops and our alliances around the globe. America first should not also mean America alone and I'm deeply concerned about how President Trump may have damaged our relationships with our allies.
Health care: I support health care plans that cover everything that patients need to get good, quality care without having to choose between buying groceries and paying for their prescriptions. Association Health Plans do not have to cover basic care like maternity care or offer prescription coverage and can set different premium rates based on age, gender, job and for thousands of Minnesotans like me, pre-existing conditions. The lack of adequate coverage presents a dangerous risk for workers on these plans who would be forced to pay out of pocket for anything not covered and could further destabilize the insurance market by enticing cost-conscious small business owners to offer their employees cheaper plans instead of comprehensive ones. We should be working to make all health care more affordable, not adjusting coverage to fit sky high costs.
Education: Like with the economy, our schools won't go back to normal until we have beaten this virus. Our federal government must ensure that our kids are competing on a level playing field – that everyone has the opportunity to succeed if they work hard and follow the rules. That's the promise of America, and it starts with our kids. I believe strongly that the federal government should fund universal pre-K and provide our schools with the resources they need so our kids can get the education they deserve. In Congress, I'll work to lower the cost of higher education, including community colleges and technical schools-which provide millions of Americans with skills that help them compete in a growing economy.
Energy: Climate change is real, yet we insist on acting like it doesn't exist or doesn't matter. The good news is that we don't need to choose between responding to climate change and helping the economy. There are major improvements we can make, and lots of them will create new jobs here in Minnesota. More funding for wind, solar and energy efficiency improvement programs would create thousands of jobs here while combating climate change.
Transportation: Transportation infrastructure is often costly to build and maintain, yet will pay off long term. Whether it's creating new train lines, funding bus routes or ensuring that our roads and bridges are properly maintained, the federal government should ensure that the state has the funding it needs so that these projects can move forward in a timely manner.
Immigration: We need comprehensive reform with a pathway to citizenship for contributing members of our society. This isn't amnesty — people must pay their fair share. This would be a major economic win for the United States. Almost all economic studies show that if we were to simplify our immigration system and help people come out of the shadows, the U.S. economy would generate billions of dollars in return.
Foreign trade: President Trump's foreign policy record has been mixed. The updated USMCA agreement was an improvement upon NAFTA and helped our dairy farmers. Some steel tariffs have helped support our steel industry. However, we've also seen Trump's foreign policy decimate our farmers' overseas export markets, especially in the soybean area. I've spoken to too many farmers who can't make a living farming any longer. We need to end these trade wars, act like a responsible trading partner, and allow our farmers to regain their market share.
Other issues: Getting dark money out of politics. For two years, I worked with a group of volunteers to pass the Alec Smith Emergency Insulin Act in order to make insulin more affordable and accessible. This is a life or death matter to those who need it to survive. On the Minnesota State Senate floor, we were up against teams of large lobbying firms hired by Big Pharma. These corporate lobbyists had the financial power to block this bill by influencing Senate Republican leadership with over $300,000 in campaign contributions. After the first year, their money was successful in blocking our bill. But we didn't give up the fight. Eventually, with the help of some press and media scrutiny, we were able to put enough pressure on the Senate Republicans to pass the bill. Even though corporate special interest groups like the ones I fought on the Minnesota State Senate floor have given my opponent's campaign hundreds of thousands of dollars, I have pledged to never take contributions from corporate political action committees in my campaign. I've seen firsthand the damage corporate money does to getting things done for people and would make it a top priority in Congress to reform our broken campaign finance system.
Briefly summarize your personal background and qualifications: I'm a fourth generation resident of Crow Wing County. Minnesota is my home. When I was a teenager, my brother Will and I were diagnosed with Type 1 diabetes. I promised Will that I would find a cure and I've been working for people with diabetes ever since. I went door to door raising money for research and advocacy, then became the National Youth Advocate for the American Diabetes Association. I've lobbied Congress and State Legislatures across the country to take action and fought for years to lower the price of insulin and protect people with pre-existing conditions like mine. Most recently I spearheaded the effort to pass the Alec Smith Affordable Insulin Act here in Minnesota. At 28, I became the youngest member of the Baxter City Council. I worked with my conservative colleagues to manage the city budget, worked with the police to combat sex trafficking and worked with our local hospitals to expand mental health care options. In Congress, I'll do the same, working across the aisle to get things done. We must expand access to affordable health care, lower prescription drug costs and make our economy work again for all Minnesotans.