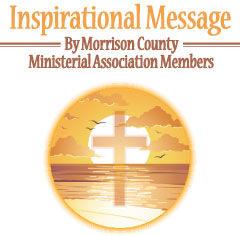 Matthew 7:24 — "Therefore everyone who hears these words of mine and puts them into practice is like a wise man who built his house on the rock. 25 The rain came down, the streams rose, and the winds blew and beat against that house; yet it did not fall, because it had its foundation on the rock. 26 But everyone who hears these words of mine and does not put them into practice is like a foolish man who built his house on sand. 27 The rain came down, the streams rose, and the winds blew and beat against that house, and it fell with a great crash."
28 — "When Jesus had finished saying these things, the crowds were amazed at his teaching," 29 — "because he taught as one who had authority, and not as their teachers of the law."
The crowd noticed something different about Jesus, not just what he was saying, but how he said it.
He had authority, not as they were used to with the teachers of the law.
Jesus' story tells us of two different builders, foolish and wise, both facing incredible storms. The foolish builder constructs his house as though he is merely setting up a tent. He builds his house upon sand, perhaps because of easy access to water in a nearby creek. As long as the weather is steady and the sky remains blue, the occupants of the house have nothing to fear. When the weather changes, the clouds gather, the rain descends, the streams rise, and winds blow, however, then that house comes down with a great crash.
Notice this person still heard the words of Jesus. They had every opportunity to do the right thing. But they chose the easy way out. They didn't put God's Word into practice.
Last October I traveled to India and Nepal. While there I witnessed the aftermath of a hurricane that took place in Nepal on April 25, 2015. It was the worst natural disaster to strike Nepal since 1934. Fortunately, it happened at an hour where many people in rural areas were working outdoors, which decreased the loss of property and human lives. Unfortunately, it triggered an avalanche on Mount Everest, killing 21, making it the deadliest day on this mountain.
I saw buildings that will not be repaired. Eventually, when the new buildings go up in its place, they will meet the current earthquake codes.
Have you noticed the temporary nature of the times we are living in right now?
Things that you thought would never change, are changing in mere moments.
Things you thought would be safe for a long time are filled with doubt and the unknown overnight.
Things are way up and things are way down.
The wise builder selects a site on a rock. Then he will not need to worry about a torrential rain, the sudden rising of a water that can sweep a house away, and the battering winds that will beat against the house.
Being a follower of Jesus doesn't exempt you from facing storms, it does however provide you a strong foundation. A house built upon rock has a foundation that lasts.
The psalmist declared in Psalm 89:26 "My God, the rock of my salvation!"
Don't be afraid of the storms. Do not fear. For your foundation is secure in Jesus today.
Hebrews 6:19 say, "We have this hope as an anchor for the soul, firm and secure."
When the storms come; and friends, the storms do come, that's when the strength of your foundation is revealed.
You can't wait for the storms to come to build your foundation. Don't delay another day!
James 1:22 (NIV) "Do not merely listen to the word, and so deceive yourselves. Do what it says."
Merely listening to Jesus' words is insufficient. You must take Jesus at his word and build your house of faith on him. The wise man who has built his house of faith on Jesus is able to withstand the storms of life. He stands secure, overcomes, and triumphs. The wise man is one who hears the word of Jesus and puts it into practice. Because of this, they will never come to ruin!
Build your life to last. Build your life on the good news of Jesus Christ!