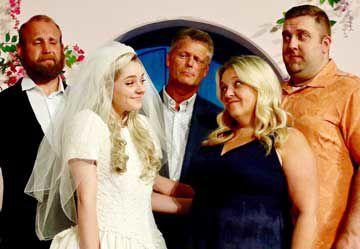 One of Broadway's most enduring and endearing musicals will explode on the Chalberg Theatre stage when Brainerd Community Theatre presents "Mamma Mia!" as the final production of its 50th anniversary Summer Theatre Season.
The musical opens Tuesday, Aug. 27, continuing through Aug. 30, and resumes for a final run of Sept. 4 – 7. All performances are at 7:30 p.m.
"Mamma Mia" is the seventh-longest running musical in London's West End, and the ninth-longest in the history of Broadway musicals. The show draws upon the music of ABBA, the internationally-popular music group that had multiple number one hits between 1972 and 1982.
Sophie dreams of the perfect wedding, but is plagued by one mystery: she doesn't know the identity of her biological father. To have the perfect wedding, Sophie wants her father to give her away. After finding and reading her mother's diaries, she invites to her wedding three men who are the likeliest candidates. The resulting collision of the past with a dreamed-of future challenges the relationship Sophie has with her mother, Donna, and provides the other wedding guests with an unexpected drama.
The musical is directed by Amy Borash, long-time actress in and director of local theatre productions and dance instructor at Music General Dance Studios. Borash is also the choreographer, and plays the role of Donna opposite her real-life daughter Sylvia.
In addition to Borash, the creative team for "Mamma Mia!" includes sets designer Tim Leagjeld, costumes by Sharon Hartley and Deb Binda, lighting by Heidi Eckwall. George Marsolek is technical director for the production, and Ben Kent is master electrician. The production stage manager is Kay Churchill. Show photography is by John Erickson of Art Matters Studio and Gallery.
Tickets can be purchased from the CLC Theatre Box Office at (218) 855-8199 or online at www.clcperformin garts.com.