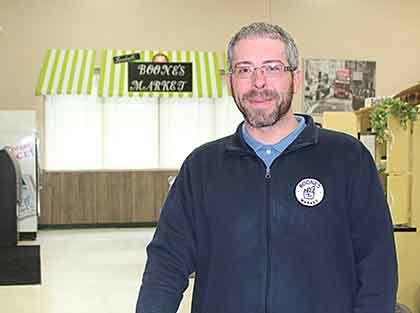 After being hungry for a grocery story for more than a year, Randall residents and those passing through, can have their fill. Adam Boone opened Boone's Market in Randall, Friday, Oct. 25.
In July, Boone purchased Gosch's, the town's grocery and meat market that had been a staple in town since 1902. It had been closed for more than a year.
After a few months of challenges, Boone's Market is finally open for business.
The store has been cleaned from top to bottom and Boone has put his branding everywhere — on the walls, carts and aisle signs. His parents and siblings helped with all of the work — the cleaning and the decorating.
He's organized the store to make it easy to shop — need fixings for a salad? The dressing is next to the salad vegetables. The milk and eggs are where they've always been and Boone's Meat Market will be headed by a veteran — Sarah Knoblach who has experience from Ernie's in Staples and the Foley Meat Locker. She will be aided by Foster Felker.
Knoblach can't wait until she has the meat cases full — including a variety of marinated meats — and the best of the best beef will go into her burger.
"It's a work in progress," she said.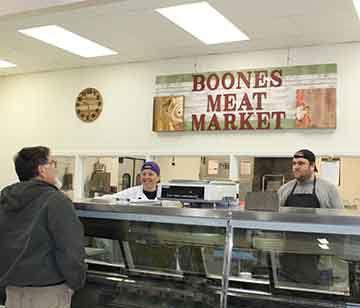 Boone's Market offers bakery items fresh from Little Falls Bakery and Deli — those are the kind of partnerships Boone looks forward to fostering.
"I'm really excited to partner with those two and a lot of other small businesses, like Smude's," he said. "It's great to be partners with them — it's shopping local at its best — supporting each other."
As customers walked in to check out the store, they were greeted with a "Hi, how are you doing?" and Boone heard in response, "We're so happy, thank you!"
"It's humbling," Boone said. "And it's beyond exciting."
A decorative area, a small display of fresh flowers for sale and a table with coffee and a couple of chairs are simple ways Boone helps people feel comfortable.
"I want people to feel welcome when they walk in — to feel like they're at home," he said.
Boone worked to make the store open and easy to get around in.
"I wanted to make it simple, fun to shop," he said. "You come in and have that extra time to chat with your neighbors."
Boone is appreciative of all of the support he's received from the community he was born and baptized in.
He's eager to help as many people as he can — that's what community is.
"It has had it's challenges, but every day is a new day. I'm looking forward to being part of the community," he said.
Boone wants folks to feel free to stop in and say hi.
"Hopefully, we'll be their favorite new store," he said.