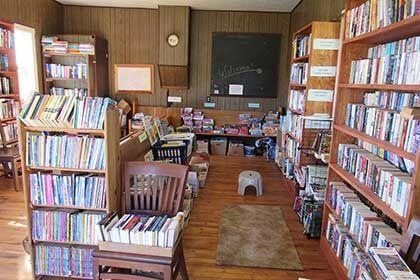 The book exchange library in St. Mathias Township is open. Thousands of books, many puzzles, games, DVDs and CDs are available to take home and enjoy.
The hours are Tuesdays from 3 p.m. – 6 p.m. and Saturdays from 9 a.m. – noon. The book exchange will be open until the end of October, when it closes for the winter. The location is 7015 County Road 2, Ft. Ripley.
Many genres of books are available from fiction, biography, westerns, history, cooking, crafts, children and young adults and better living for all. There are hardcovers and softcovers, series by familiar authors and many one-of-a-kind too numerous to count.
Everything is for the taking, no exchange is necessary, but book donations are accepted. The purpose is to keep America reading by conveniently making available the materials at no cost. And with the social distancing policy asked of all, books are a great entertainment. There is plenty of room for browsing and wearing of masks are at the discretion of the visitor.
For more information, call Mary Sather at (218) 828-1989 and leave a message, or call Carleen Koering at (218) 829-8237.