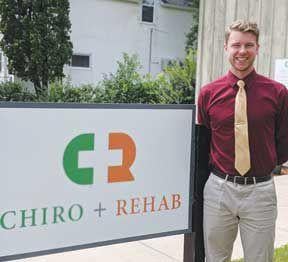 Until recently, Dr. Ben Grams has been the owner and operator of HealthSource Chiropractic, a franchise. That is, until June 1 when he exited the franchise, struck out on his own and started Chiro Plus Rehab.
"It was good while it lasted, but when I had the opportunity to exit, the decision was easy. We know that people are looking for fast, effective pain-relief without medications and surgery," Grams said. "So what excites us is that we can fine-tune our services to fit the needs of our patients and our community far better."
Besides a new name, there are other changes on the horizon for Chiro Plus Rehab.
"We've always been committed to delivering state-of-the-art chiropractic and rehab services, but there are a handful of promising technologies that can help eliminate pain even faster that we'll be implementing in the near future," Grams said.
The clinic's location hasn't changed, still being located in Little Falls at 113 Fourth St. NE, in what was once the Episcopal church. In addition, the clinic remains in network with most major insurers including Medicare. Finally, Grams said that they are still an outpatient center for chiropractic and rehab services for the St. Cloud VA.
Grams came up with the name "Chiro Plus Rehab" because he wanted to keep it simple so that people know exactly what they're getting when they call. But also that its initials would be CPR, a life saving procedure done by hand, which, in a way, is exactly what chiropractic is.
Call (320) 632-9224 to schedule an appointment.