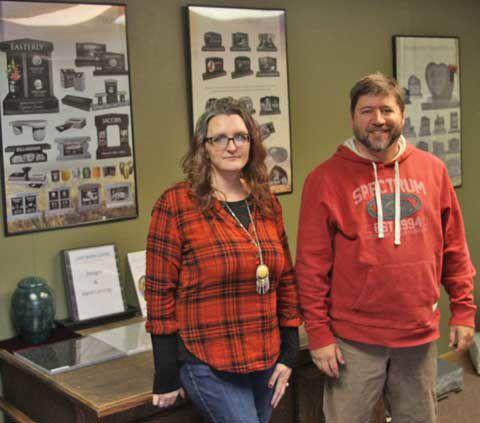 After about four years of working out of their home, Mike and Joy Bellinger have a storefront for their business — Legacy Granite Carving.
After a memorial company the two worked for closed, Mike and Joy decided to open their own business.
"It was definitely stressful going from both of us having a full-time job, to all of a sudden not having it to starting the business," Mike said.
While he had the idea to go into the business, Joy was the one who pushed for it to happen.
For a while, Mike would work a new full-time job while building the business, before Joy eventually joined him.
In January, Mike moved to the business full time.
In the beginning, Legacy Granite Carving made business by doing carving on cemetery stones and restoration work on grave monuments, something other companies did not focus on, Mike said.
"It's something a lot of companies just don't have time to do," he said.
Their work can range from carving in the date of death on existing monuments to cleaning and repairing them.
Getting gravestones restored and cleaned is becoming more and more popular, Mike said.
At least 80-90% of their work deals with grave markers, Joy said.
Because it is incredibly difficult to move a headstone, much of their work is done onsite, Mike said.
Both he and Joy said it is stressful to have their own physical location rather than just doing it out of their home, but it is also a good change.
While they will still drive out to meet with customers, having a location people can come to them to talk about what they would like is very nice, the couple said.
"It's a nice central location. If they're buzzing through town, they can stop in," Joy said.
In addition to having monuments restored, clients can also order pre-cut new ones through the company, which are then personalized by Mike.
He feels having more than one place in town to shop for monuments is important for people.
"Like shopping for cars, you kind of want to look and shop around," Mike said.
For the two of them, personalizing a monument is one of the most important parts of what they do.
"It's the story of their life. They have that little space to put what identified them," Mike said.
With how important these monuments are to people, Mike and Joy take great care to make sure the designs are right before they carve into the monuments.
"You don't want to mess their stone up. They're already going through that pain," Mike said.
For families, having the monument placed at a gravesite is a time for closure, Joy said.
The two make sure not to rush people when they attend the installing of the monument and take photos to send to family members if they were unable to be in the area at the time.
Soon, the Bellingers plan to have a laser for carving items other than granite to mark occasions like weddings or other special events.
Legacy Granite Carving is located at 225 First St. SE in Little Falls.