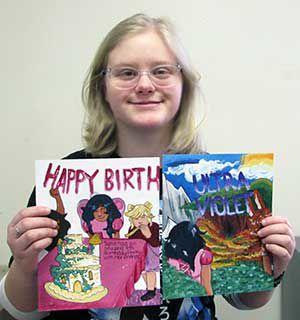 After Christmas break, Royalton High School named Autumn Larson as the Artist of the Month for December 2019. Larson, a junior, is the daughter of Coralynn and Jesse Martin of Rice.
She has been "doodling" characters on lined paper for as long as she can remember, and now is focused on turning these characters into something more than just a hobby.
"As soon as I could pick up a pencil or a brush, everything that I had been thinking about fades away and I focus only on my artwork until I put the pencil down. During this time, it's a weightless feeling of freedom that I've never felt with anything else despite trying to replicate it with other activities," Larson said.
During her year in design class, art instructor Carl Halverson asked students to find an idea that they could really invest themselves into.
"My ultra violet project started in my freshman year with Sophie as the main character. She made her slow journey over the years into a shape-shifting creature with 200 years of fictional history behind the world that she lives in. The plot of the storybook will tell the reader how simply that Sophie went from Earth to Lyvida, the fairy tale world that her story is set in," Larson said.
"While working with at all of the talented, student-artists who take art classes at Royalton High School, it sometimes is a tough task to select just one student who earned the Artist of the Month honor," Halverson said. "December had a few artists who could have been selected. It was clear to me after seeing the time and dedication that Autumn Larson put into her original storybook, that she had clearly earned the honor. It's not just a rendered copy of a subject in which a student showcases their improvement in skills that are practiced in an art class. In this case, it is the development of a character that is totally original, never seen before, that comes to life in the artist's choice of medium.
"I can improve a student's technical abilities through the daily exercise and practice of drawing, painting, sculpture, digital media or photography projects. But I can't teach a student the 'imagination' piece that it takes to create the original work that Autumn has shared with us in her final design project," he said.
Larson said she's grateful for teachers, like Halverson, she's had.
"I'm also very grateful for my mom for believing that my 'doodles' would one day be something so much more," she said.