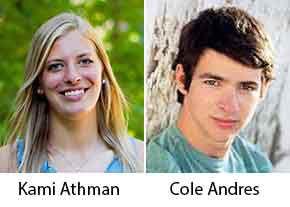 Articulate, talented and intelligent. That's how faculty and friends see Kami Athman and Cole Andres, Students of the Month for October at Pierz Healy High School. And in Andres' case, close associates know him also as somewhat of a jokester, often at his own expense.
The senior classmates are being honored for their high academic standards in the classroom, demonstrated leadership among peers and participation in a host of extracurricular activities.
An accomplished musician, Athman's interests range from jazz band, pit band, pep band and symphonic band to Minnesota Honor Society, Spanish Club, EPIC, Peer Helping, Youth Group, golf and tennis.
As a three-time all-conference designee and captain of the team, golf is a favorite. She not only enjoys the challenge of the game but finds it an entertaining pastime to do with the family, which includes parents, Bill and Lynn Athman, along with siblings Matthew, Laura, Abby and Brooke.
"I like that you can compete individually and as a team at the same time," she said. "It's also a sport you can play your whole life."
When asked to share a most memorable experience inside or outside of school, her thoughts drifted toward music.
"The 2019 band trip to Nashville, Tenn. and Chicago, Ill. with my mom, because it was a great experience and was really fun," she said.
Jessica LeBlanc, high school math teacher and varsity golf coach, said Kami is not only a great role model for fellow students, but for all those around her. "Kami is kind, compassionate, caring and fun," she said. "She is willing to help all people and is always able to stay positive even when things are not going her way. Kami's work ethic and attitude will lead her to be successful in whatever she chooses to do."
The sky appears to be the limit as Athman contemplates the future and makes post-graduation plans.
"I have signed onto the U.S. Air Force and will go to basic training after I graduate," she said.
Until then, she likes nothing better than hanging out with friends and capitalizing on the close-knit ties she has developed over the years with classmates, teammates and family.
"Kami works hard in anything she does and always strives to be the best she can be," LeBlanc said.
Kelly Sauer, Healy High teacher and coach, knows Andres well as his college Composition II instructor and cross-country coach.
"In cross-country, Cole developed leadership skills," she said. "He takes direction well and encourages others to give their full effort. He has become a captain who other runners look up to and confide in. He takes a genuine interest in his teammates and is supportive of their efforts."
As a multiple all-conference winner, cross-country likely is his sport of choice. "While I enjoy competing, my true love for the activity is grounded in the people," Andres said. "Leading this team was one of the most enjoyable experiences of my life as my teammates are an incredible mix of intelligent, goofy, serious and caring personalities. Without these people cross-country is simply just running without purpose."
The twice captain said, "My greatest accomplishment has been qualifying for sections as an individual when I was a sophomore. While it wasn't an accomplishment that impacted other people, it was the best race of my career so far. I wasn't expected to succeed, but I worked hard and moved on."
Ironically, Andres' most memorable experience involves running of another type — track and field. "Pierz formed two separate 4X400 relays last year at a practice meet and the joy we had running against each other is something I will never forget."
Besides sports, Andres captained both the Healy High Speech and Knowledge Bowl teams. Peer Helping and Business Professionals of America round out his list of activities.
Andres couldn't single out anybody in particular as a role model, saying many have guided him to where he is today.
"Whether family, friends or strangers, there is something about each person I meet who makes me think, 'I hope one day I can do what they can.'"
Upon graduation, the son of Carolyn and Michael Andres plans to attend a four-year college, anxious to see where life takes him. Although undecided as yet on a major, he is leaning toward pursuing a degree in business or engineering.
One thing's for sure, Andres is going to miss everybody when the time comes to leave.
"In Pierz especially the students all know each other well and I will miss having that connection to others," he said.
From a large family, he'll also miss seeing siblings Jake, Brenna, Carissa and Eden every day.
As his teacher and coach, Sauer said she is certain Andres is headed toward academic success because of the keen initiative he shows in a variety of interests and his written communication skills.
"His work ethic and perseverance enable him to complete high quality," she said. "By using logic and thinking carefully through situations, Cole brings a maturity to his writing that is not seen in many high school students."
As Students of the Month, Athman and Andres become eligible for scholarships courtesy of Farmers and Merchants State Bank of Pierz, program sponsors.