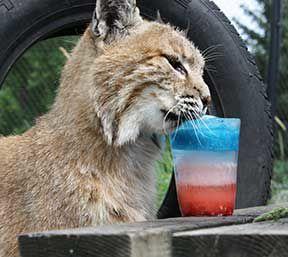 Pine Grove Zoo's annual themed Enrichment Event is on July 4th. Join Pine Grove Zoo's Animals as they enjoy enrichment from 1 p.m. – 3 p.m. Visitors to Pine Grove can enjoy this free event with paid admission.
Enrichment focuses on enhancing the quality of animal care by providing a stimulating environment. In other words, staff at Pine Grove Zoo keep their animals mentally stimulated and interested by giving out toys, special food items, perfumes, changing their exhibit, and much more. This is not only fun for visitors, but it promotes natural behaviors such as foraging and hunting for the animals.
Pine Grove Zoo's mission is to promote environmental conservation and aid in the creation of a superior zoological park through fundraising and educational activities. They encourage guests to explore, encounter and rediscover the wonders of the wild.
For more information about Pine Grove Zoo's 4th of July Event, call (320) 616-5595 or email info@pine grovezoo.com.