Sheriff Shawn Larsen recognized five emergency service responders at the County Board meeting, Tuesday, for their response to a vehicle crash with two small children and a severely injured man in Lastrup, Jan. 28.
Police Chief Eric Hanneken, Sheriff's Deputy Dan Rocheleau and Pierz Firefighters Brian Boser and Scott Saehr were honored with a Life Saving Award for their efforts in saving the life of Greg Hyatt who crashed his car into a snowy ditch due to a medical condition. Chaplain Gregg Valentine was honored as well for his work with Hyatt's two young grandchildren, who were 18 months and 3 years old.
"They were all instrumental on this day," Larsen said. "These heroes showed up and they took care of him and because of their quick response and the actions that they did he's alive today."
A bystander witnessed the accident and called emergency services after finding Hyatt and noticing he was unresponsive, Larsen said. Hanneken responded to the scene minutes after the call, followed by Rocheleau. They assessed Hyatt and found that he was not breathing, his skin was turning purple and he had no pulse
"Hyatt was removed from the driver's seat of the vehicle where lifesaving efforts were immediately applied. Dispatch was alerted that this was going to be full code and CPR was going to be conducted," Larsen said.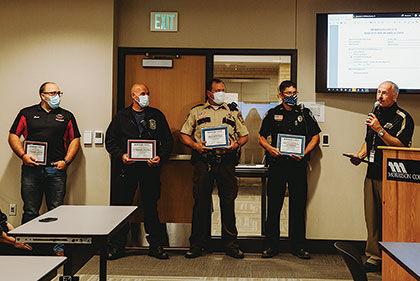 Both Hanneken and Rocheleau requested additional assistance while putting an Automated External Defibrillator (AED) into place. Pierz firefighters Boser and Saehr responded to the scene. The four men rotated rescue efforts with CPR for several minutes. Hyatt was shocked twice with the AED.
"All four of these gentlemen rotated rescue efforts to maintain effective compressions as CPR takes a lot of physical endurance in order to be effective," Larsen said.
A pulse was soon detected, the Mayo Clinic Ambulance arrived and the four men stayed on scene to assist.
"There is no doubt in my mind that because of the selfless acts of these four men, Mr. Hyatt is still alive today," Larsen said. "They took quick action, they remained calm and they worked together as a team. With a call like this, time is critical and of the essence ... we are forever grateful."
While Hyatt was being received, Valentine took custody of his grandchildren.
"On a cold winter day you made sure that you kept them company, ensuring that everything was going to be OK and making sure that they were comfortable inside your squad car," Larsen said.
Valentine made contact with Hyatt's family and helped the small children understand that their grandfather was getting help and would be OK.
"You demonstrated once again your everlasting commitment to our agency and the communities that we serve," Larsen said.
Hyatt attended the recognition ceremony to express his gratitude and appreciation for all the parties involved.
"If I wasn't here today, all of you should still be commended because you are people of good character. You are people that serve our communities, that care to help and give your all and when the call comes out you move and you get things done. I admire that," Hyatt said. "So thank you."