Finding out that she was named December Employee of the Month by the Little Falls Area Chamber of Commerce came as an absolute shock to Faye Santala, production manager at the Morrison County Record.     
    What surprised her even more was the fact that her co-workers had managed to keep it a secret from her. Not only that they had nominated her long time ago, but also for the last few weeks from the time the Chamber set up a day and time to surprise her to the actual day.
    "I just can't believe I didn't find out. I must not be a very good detective. Usually, there aren't too many secrets around here, but that was a good one," she said.
    Santala said the recognition means a lot to her and is one she considers a great honor. Yet at the same time, she is also quite humbled about it and is quick to point out that it is an award any of her co-workers are deserving of.
    "We have a great team at the Record that give their all in getting the Record out to the community every week. We are like a family," she said.
    That Santala is deserving of the recognition comes as no surprise to Sales/General Manager Tena Wensman.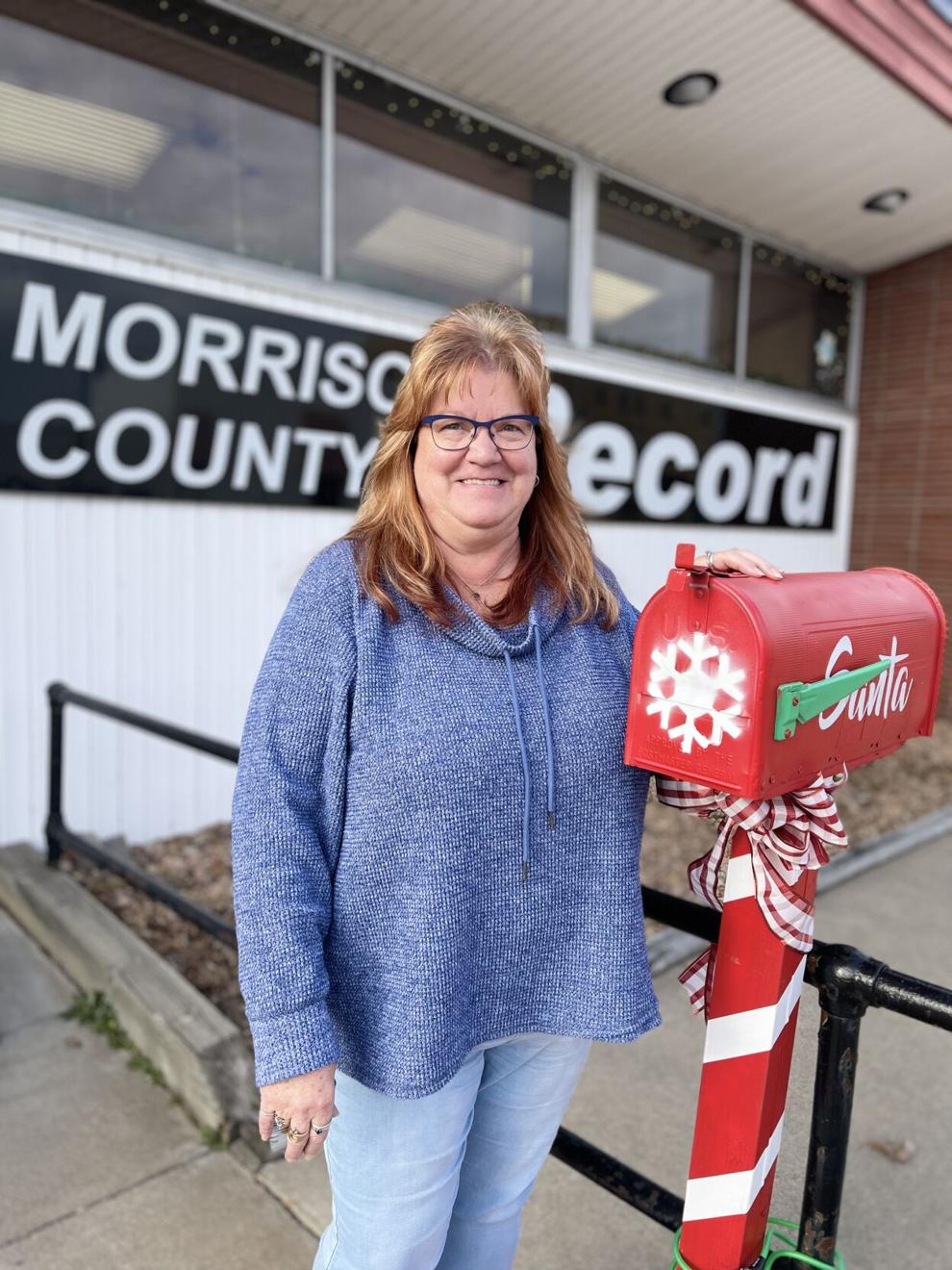 "On behalf of our entire staff at the Morrison County Record, we are super excited to see our own Faye Santala chosen for the Chamber's Employee of the Month. Faye is one of those rare employees whose dedication to her job is unsurpassed," Wensman said.
    Santala's co-workers spoke very highly of her in their nomination. As she has worked at the Record for more than 44 years and the different departments work closely together, all have had the privilege of getting to know her.
    "Faye is one of the most creative, artistic and thoughtful people on Earth. She goes the extra mile in everything she does, and that includes what she does to provide customer service to the area businesses that advertise in the paper. Anyone who has worked with Faye knows she will do what she needs to do to make the client happy. She also brightens up her work environment with jokes, is the go-to person for her co-workers to talk with and her 44-plus years of experience also makes her to go-to person for answers. We are blessed to have Faye Santala as a part of our work family," said Managing Editor Terry Lehrke.
    Graphic Designer Victoria Walters, who works in the same department as Santala, said working with her supervisor has been a great experience.
    "Faye is the perfect person to be our production manager. She knows next to everything about what it takes to get the Record done week after week. Faye knows the answer to most of our production questions because she's performed all the tasks herself and she can always point you in the right direction if you get stuck. Besides being knowledgeable, Faye has always been patient and supportive, doing her best to help fellow employees to develop the skills they need to carry their own weight. It takes a team to get the Record out and Faye helps us be a superior team," Walters said.
    Multi Media Account Executives Kim Plettl and Kerry O'Rourke appreciate Santala's dedication and thoughtfulness in all aspects.
    "She is beyond creative, a total team player in all aspects." Plettl said.
    Santala started working at the Morrison County Record in July 1977. Looking back, Santala had initially planned to pursue a career in nursing after she graduated St. Francis High School in Little Falls in 1975, but after having worked as a nursing assistant for a few years, she decided it wasn't what she wanted to do after all.
    It was ultimately a friend, who was attending Staples Vocational School for photography, who eventually convinced her to pursue graphic arts. To help pay for the tuition, Santala continued to work as a nursing assistant on the weekends as well as cleaned classrooms at the high school in Staples.
    Over the years, Santala has seen many changes in the newspaper industry, particularly in how to paper is produced. When she first started, there were no computers, so one person had to set all the type on a film strip and then all of the lines were cut out by hand.
    "We would use rubber cement or hot wax to stick everything down and you had to make sure it was all straight. If a mistake was done, someone had to go back in and re-type it on the film strip," she said.
    In about 1987 or so, computers were implemented in the making of the newspaper at the Record. The screen itself was extremely small.
    "So if you had a full page ad, you were constantly scrolling to read it. Even so, we thought the computers were great compared to what it was like before," she said.
    Even since then, a lot has evolved technologically with the size of computer screens, the software programs and the use of internet.
    Besides paginating several pages of the Record, along with other staff members, Santala also paginates the classifieds and the legal pages for two other newspapers — the Mille Lacs Messenger and the Aitkin Independent Age.
    Santala said she really enjoys working at the Record. Not only because of the good mentors she has had over the years, especially Carol Hoheisel and Bob Wright, who passed on their hard work ethic to their employees, but also because of the closeknit work family dynamics among the workers.
    Most of the people at the Record is also cross-trained into other areas, so whenever someone is absent for one reason or another, there is someone who can cover that area. Although everyone's job is different, everybody works as a team to accomplish the same goal — to get the paper out, week after week in time for deadline.
    When Santala isn't working, she enjoys spending time with her husband, Chuck, their children, Josh and Benji and wife, Erin and grandchildren, Talon, 3, and Devyn, 11 months. She also likes to go camping, complete different arts and crafts projects and reading.
    As Employee of the Month, Santala received gift certificates from Coborn's Marketplace, Heartland Tire, McDonald's, Melgram Jewelers, Papa Murphy's, Reality Roasters, Subway, West Side Liquor and Vacuum Cleaner Outlet.