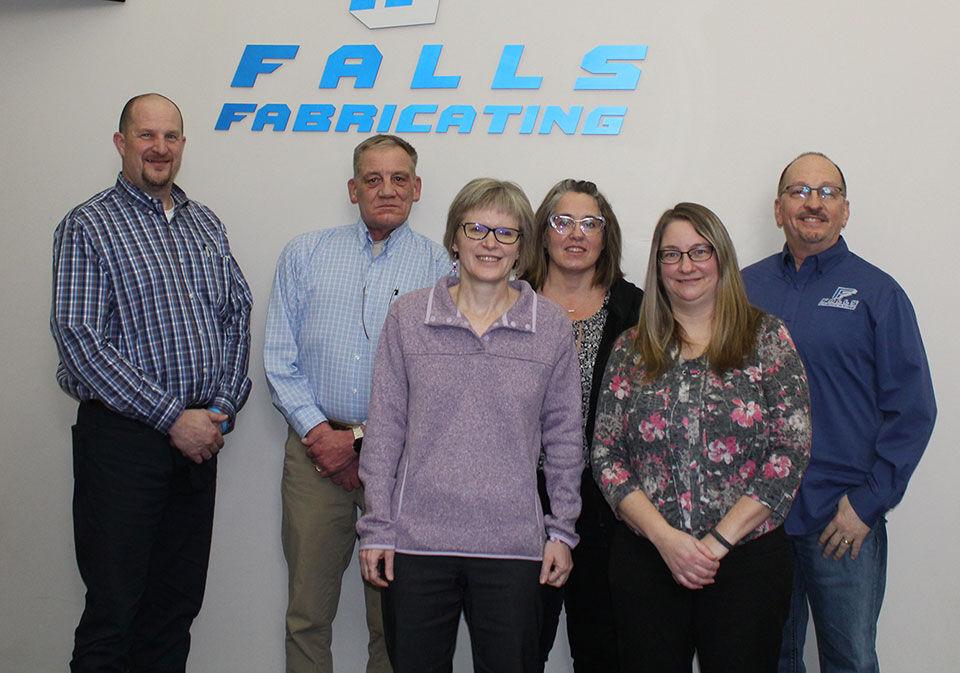 When Falls Fabricating in Little Falls came up for sale and other entities were looking to purchase the business, six employees united to keep the jobs local.
    "The full intent was to keep the business here and not have another entity buy it and move jobs. We are all dedicated to keeping it here, to keep the business running and hire employees back," said President Dan Ortloff.
    Ortloff, along with Executive Vice President Jeff Knosalla, Director of Sales John Sorenson, Director of Quality Sharon Hirschey, Director of Human Resources and Administration Carmen Yasgar and Controller Sue Kramer, purchased the business and the real estate from Bill Spell with Spell Capital Partners, Jan. 5.
    The journey to ownership has been long and vigorous for all involved. Ortloff said Spell approached him about five months ago. As he was retiring, Spell was looking to sell the business and asked Ortloff if he thought the management team would be interested in purchasing the business and its real estate. As the six employees were looking for ways to raise the money, it was also Ortloff's job to entice any other prospective buyers to purchase the business.
    While they don't know for sure if Falls Fabricating would have remained in Little Falls had someone else purchased the business, Ortloff said it is likely several job positions, if not the entire company, would have been moved elsewhere.
    The six are very grateful for the support they have received from the Economic Development Authority of the city of Little Falls, the Initiative Foundation, Community Development of Morrison County and the Morrison County Rural Development Finance Authority.
    "As much as we wanted to do this and we did everything we could personally, it would have never happened without those community organizations. We want to be a positive impact on the community — financially, jobs, economics and all that. It was important to us and it was important for them," Ortloff said.
    At this time, Falls Fabricating has 76 employees.. At one time, the business employed about 140. Yasgar said when COVID-19 hit, the company was forced to lay off several people.
However, the goal for 2021 is to build up the employee base to about 90 employees. Some of the positions Falls Fabricating is hiring for include production team members, press brake operators, welders, utility/cross functional operators, inspection, powder paint, an accounting clerk and more. Those who are interested in applying can do so by visiting www.fallsfab.com, by filling out an application on site and dropping it off in the application box located in the entry or by calling Yasgar at (320) 631-2403.
    In addition to its first shift, which runs Monday through Thursday, from 6 a.m. to 4:30 p.m., Falls Fabricating plans to add a second shift, Monday through Thursday, from 4:30 p.m. to 3 a.m. The company also provides on-the-job training.
    Falls Fabricating was initially founded by Laurel Lohse as a repair and light manufacturing facility in Deer Creek in 1973. The business was relocated to Little Falls in 1987, where it began to expand its manufacturing capabilities in the late 1980s and early 1990s.
    The company was later sold to Al and Susan Williams in 1991, and relocated once more to its current location on the west side of Little Falls in 1996. Falls Fabricating changed owners once again in 2007, when it was acquired by Spell Capital Partners.
    Falls Fabricating manufactures a wide variety of metal products, such as tanks, reservoirs, enclosures, panels, structural frames, machining, painting, special packaging and assemblies. The process begins with a customer requesting the company to manufacture a specific design.
    "We have a full service shop, so we can do everything from start to finish in this building," Sorenson said.
    One thing the new owners believe will benefit the company is their experience as well as their expertise in the different departments. For Sorenson, who has worked at Falls Fabricating for more than 33 years, he has in particular enjoyed the interaction with both customers and employees.
    "We are not in this to just make a sale. We're in this make partners. We want to partner with other companies and build long-term relationships that we develop over time and we are their go-to people. We want to be the place people seek out," he said.
    Some of their customers have been with the company for 15 to 25 years. For Knosalla and the other employees at Falls Fabricating, their customers are their number one focus. It is the customer they think of when they manufacture a product as not only does the customer have to be pleased with their work, but they recognize that they are part of something bigger.
    "It's looking at it as something more than just a piece of metal you're working on. You're working on a piece that goes on something. We're in fire, sanitation and industrial equipment and those are important to our society out there. You care about the product you're making," Knosalla said.
    The last three years, the management team and other employees have worked hard on changing the culture and general working environment at Falls Fabricating, one where people want to work at, Ortloff said. They continue to strive to improve the work environment and hope to one day become known as the place where people want to work because they have heard good things.
    Hirschey, who has worked at Falls Fabricating for five years said she has experienced the change over the years. It is one that she welcomes wholeheartedly.
    "It's a very different place from when I walked through the door five years ago, so just seeing the change and the improvement has been great," she said.
    It is an environment Kramer has embraced since she started about a year ago.
    "I walked in and everyone was so welcoming. Everybody has been willing to talk things through to give you a learning opportunity.  To brainstorm ideas how to make improvements if there is a problem coming up and figuring out how to work together has been great," she said.
    Thrilled about their new adventure, the six new owners are happy that the company will remain in Little Falls and to be able to offer people secure, local jobs with competitive pay.