Two months after a May 24 accident where a young boy was hit with a boat propeller swimming in Round Lake near Randall, Sheriff Shawn Larsen recognized all those involved in saving the boy's life.
"Basically Dalton, age 9, was run over by a boat propeller and he had some serious injuries and he was airlifted to Hennepin County Medical Center (HCMC) and he's here with us today," said Larsen. "And so are a lot of the first responders and emergency personnel who were at the scene, so it's really a great day to be able to recognize some of these heroes with us."
Larsen announced the recognition Tuesday at the County Board meeting.
Lead Dispatcher Jane Holman, with 19 years of experience, was highlighted first for her efforts in saving Dalton's life.
"Everybody knows that the call for help starts with our dispatch center," Larsen said.
In listening to the recorded phone call to dispatch, Larsen said he heard excited and frantic yelling in the background, bringing a sense of chaos to the situation. But Holman remained calm, used her knowledge of Deputy Jason McDonald's close proximity to the scene, and alerted him immediately. Holman next called the Mayo Clinic Ambulance and a registered air medevac to respond.
Holman worked to communicate with all response teams to create a seamless emergency response.
"This was a chaotic call involving a child who was seriously injured and had life threatening injuries," Larsen said to Holman. "You stayed calm and professional which led to the positive response of the life saving efforts that occurred. Jane, I'm proud of you and your actions and I truly believe your efforts led to this child being saved."
Dispatcher Heather Ray, with nearly 30 years of experience, also worked on the call and was recognized, but not able to be present.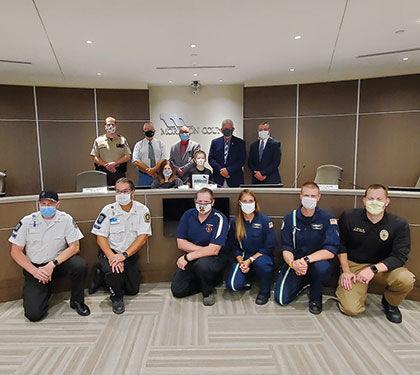 "This was a collaborative effort by all emergency personnel to include the Mayo Clinic Ambulance Service, Life Link III personnel, Minnesota state patrol, Randall Fire Department, HCMC medical staff as well as the Morrison County Sheriff's Office personnel," Larsen said.
Deputy McDonald, the first on the scene, found Dalton Northway with several traumatic injuries to both legs and his left arm, Larsen said. With his 17 1/2 years of work at the sheriff's office and 25 experience in EMS, McDonald immediately addressed the severe wounds, first treating a large laceration behind the child's knee.
"You immediately applied a trauma pressure dressing to this area. The next wound that you worked on was a large laceration with an avulsion of fatty tissue in the muscle of the left groin area. Due to the size of the wound you packed it with gauze and applied an emergency trauma pressure dressing to it," Larsen said.
McDonald treated several other wounds and lacerations on the 9-year-old's arm and legs. One wound required a tourniquet.
Soon the first response team arrived and Larsen said McDonald stayed with Dalton and continued treating his wounds as well as assisting with transporting him from the ambulance onto the emergency helicopter.
Larsen said that Dalton's mother informed him that HCMC medical staff weren't sure if they could save the child's leg, but after three surgeries they were successful in saving Dalton's leg.
"The trauma surgeon advised Dalton's mother that the fast action and appropriate care in field was amazing and ultimately saved Dalton's life. Dalton's leg was saved and he's now walking which is a miracle in itself," Larsen said.
Doctor Nick Simpson, an emergency room doctor who treated Dalton, attended the ceremony to express his appreciation for the response team involved.
"You could not ask for a better outcome or better actions taken every step along the way with this case and with young Dalton who sits here before us today," he said.
Simpson said everything from the call to dispatch, the first response personnel, and the transport to HCMC was seamless and played a role in saving Dalton's life.
"I'm really impressed and proud of everyone that was involved and so I think this is a testament to the Minnesota trauma system as it exists, I think this is a testament to the coordinated EMS care and certainly a testament to deputy McDonald's actions that day," Simpson said.
The entire citation was a team effort, said McDonald, who wanted to say words of appreciation for the recognition and those who played a role in saving a child in need.
"I appreciate this. This was a humbling experience. I've been doing this a long time. I was just doing my job that day, but it's the collaborative effort," he said.
Dalton is the son of Kara Sjol and Ray Northway.