After 36 years of providing care for children and adults at CHI St. Gabriel's Health, Dr. Tom Stoy will retire, June 30. At the same time as he is looking forward to spending more time with his wife, Brigid Fitzgerald, their family, traveling and more, retiring is still somewhat bittersweet, he said.
    Stoy said that there are several reasons why he decided to retire this year, one being that he recently had his second knee replacement.
    Stoy started working at CHI St. Gabriel's Health in Little Falls, July 1, 1985. As he grew up in the city by the Mississippi River, it was nice to return to his roots. By then, he was married to Brigid, whom he had met during a Christmas party when he was still in residency and she was clerking for a judge.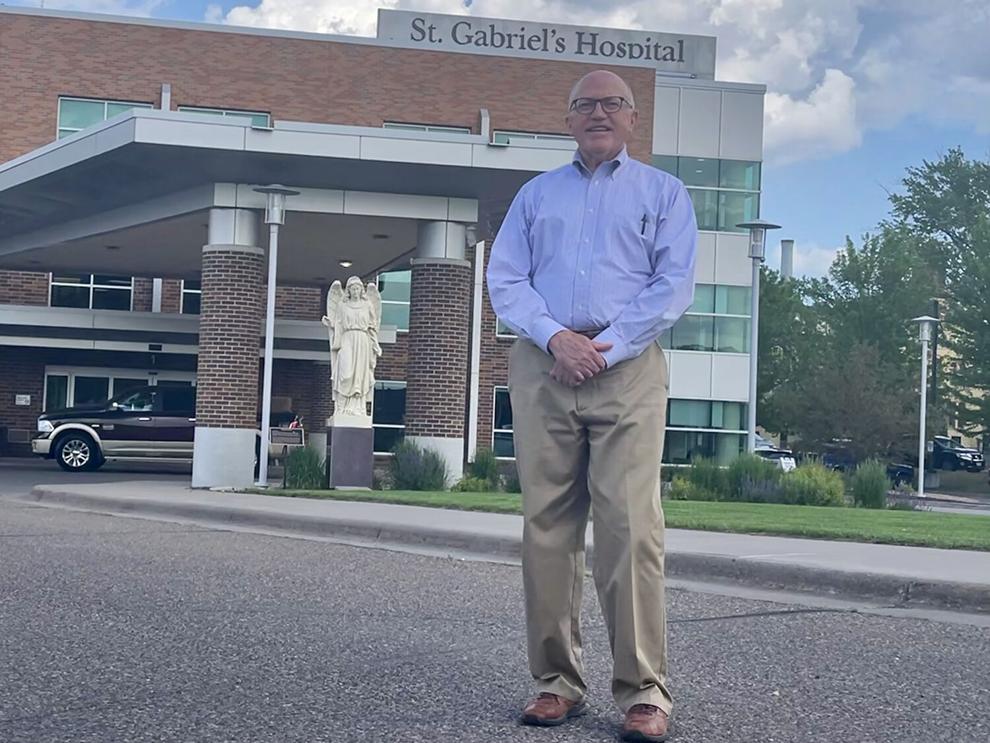 Dr. Tom Stoy retires after 36 years
After serving the community as a medical doctor for more than three decades. Dr. Tom Stoy plans to retire, June 30.
    "I was considering taking a position at Northfield in the cities, but my father called me, April 1, 1985, and told me not to put in an application because Dr. Hugh Scanlon, whom I replaced, had announced he was moving," Stoy said.
    Reminiscing, Stoy said that it was his father, Dr. Robert A. Stoy, who inspired him to become a doctor. Although they rarely saw their father at home because of the long hours he worked, they were nevertheless proud of the difference he was making in the community.
    "Back in the day when my father was on a call, my mother would handle the telephone messages and then take directions to the farm houses where he was doing house calls," Stoy said.
    Several of the six children Robert and his wife, Doretta "Dody" had, joined the health care field. While his older brothers, Dr. Patrick Stoy and Dr. Robert J. Stoy, became medical doctors, his sister, Ann, became a psychologist, he said.
    Growing up, Stoy said it was his dream to become a doctor one day. After he graduated from Saint John's Preparatory School in Collegeville in 1973, he studied at University of Notre Dame in South Bend, Ind. He graduated four years later in 1977, with a bachelor's degree in pre-medical studies. From there, his journey to becoming a medical doctor brought him to Loyola University, Stritch School of Medicine in Chicago, Ill.
    Studying to become a medical doctor was very challenging, Stoy said.
    "It has been described by some as trying to drink water out of a fire hose. There is so much information," he said.
    Stoy graduated from Loyola-Stritch in 1982 and started practicing family medicine at the Hennepin County Medical Center in Minneapolis for the next three years before returning to Little Falls.
    Looking back at his career as a family medical doctor, Stoy said he has had a very rewarding career. One of the most cherished moments are connected to delivering seven babies in two different families.
    "That doesn't happen much anymore with families having that many babies. Each of those two families had seven babies each and I got to be present for all of them," he said.
    His niece, Dr. Marie Nelson, who specializes in obstetrics and gynecology. Stoy said it has been great to see her continuing caring for mothers and babies. While only figuratively, in one way, he said, it is like he has passed on the torch to her.
    "It makes us all humbled and proud to see her continue," he said.     
    Besides delivering babies, Stoy has treated a variety of patients, from those being diagnosed with a disease to those with a broken leg or needing to transition into a nursing home.
    While transitioning into a senior care facility can be difficult for the patient, Stoy said he is very glad of the fact that there are several good health care facilities in Morrison County, which makes it easier for all involved.
    "There are many very good nurses. I give them an applaud," he said.
    Over the years, Stoy has worked with many different nurses. Some he has worked with longer than others.
    "My first nurse had started working with me the day I came to Little Falls. I worked with her for over 29 years," he said.
    A lot has also changed over the years in the medical field since Stoy started working as a medical doctor. He, as well as the others, have had to adapt. One example is how patients' records are kept. When Stoy first started, many of a patient's medical records were written on a 3-by-5-inch card.
    "It had a chicken scratch writing for every visit. It was hard to read sometimes, you know, with it being a doctor's handwriting and it wasn't always my handwriting," he said.
    Later on, patient records progressed to charts and were written on 8 1/2-by-11-inch papers. Over time, the charts became quite thick until recordkeeping was done by electronic means. Stoy, who by his own admission can't type very fast, said the progression to electronics has been challenging.
    "I know people who can type like the wind, but I am not one of them," he said.
    Another challenge Stoy experienced more in the earlier days of his career was the lack of sleep. When he first started, it was customary for the doctor to take calls for the entire weekend, which included the emergency room, delivering babies, making rounds in intensive care, visiting nursing homes and answering the phone when patients called.
    "In residency you have to take a break after working so many hours, but in the real world, no. Monday morning would come and you could hardly see straight because you hadn't slept for three days," he said.
    Some of the traveling Stoy and Fitzgerald have on the horizon includes attending their son, Paedric's wedding in Montana this fall. They are also planning a trip to visit their other son, Fr. Gilbrian Stoy, in England sometime during spring in 2022.
    In addition, they hope to plan a family reunion sometime this summer.
    Stoy said he is very thankful for Brigid's unconditional support.
    "I owe a lot of credit to my wife who has been by my side to help throughout the years," he said.