For as long as she can remember, Dr. Patricia Segler at Essentia Health Clinic in Pierz, has been interested in women's health.
    "I'm not really sure where the interest came from. Maybe it's because I have two sisters and six aunts on both sides of the family and there weren't many men in my life. My dad was it. Maybe I just understood women better. Of course, I also liked the idea of delivering babies" she said.
    Segler, who has worked at the Essentia Health Clinic in Baxter for the last six years, recently started offering her obstetrics and gynecology services at the clinic in Pierz. As women in the area otherwise would need to travel a significant distance for women's health services, Segler said she is excited to make it more convenient for women.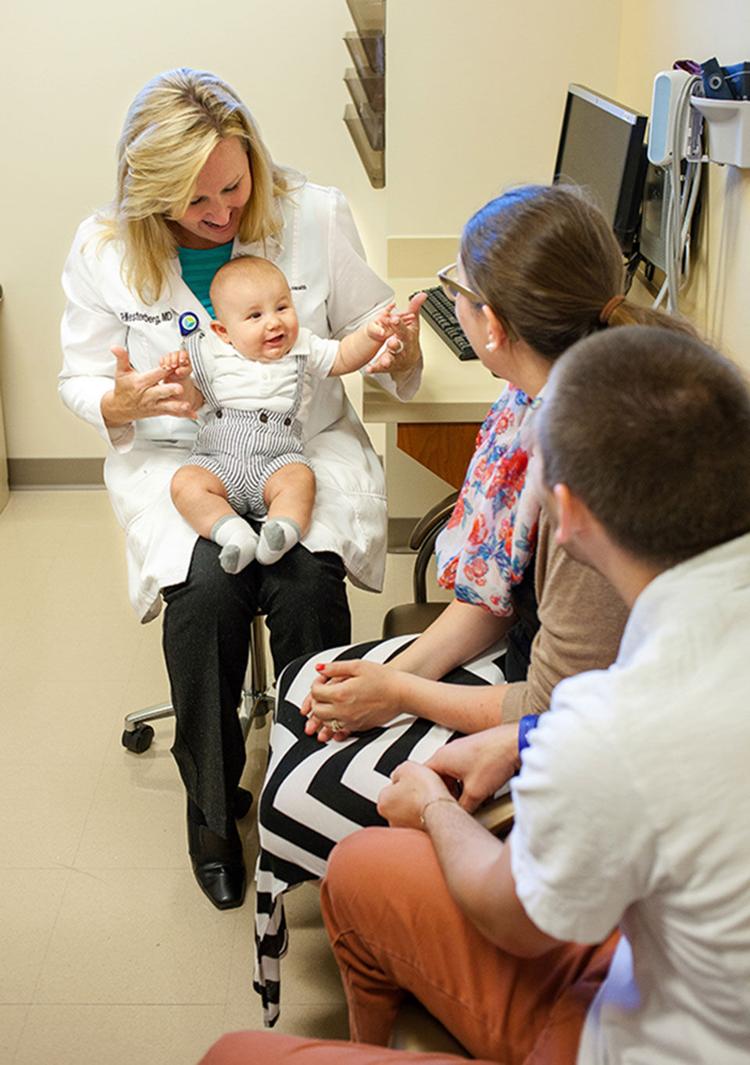 "I think so many women don't take the time to take care of themselves. It seems to be a tendency for women to put everybody else before themselves and it is so important to get that regular care," she said.
    Segler encourages women to take the time to get checked regularly. That way, any potential issues or medical conditions can be taken care of early on rather than addressed by the time it has progressed to something far worse. One example would be to get a Pap smear done, which is a procedure to test for cervical cancer in women. Another example would be to seek help early on when they have symptoms of a pelvic organ prolapse, which occurs when the muscles and tissues that support the pelvic organs (the uterus, bladder or rectum) become weak or loose.
    "They wait and they wait because they think nobody else has this problem and they are embarrassed. By the time they come in, it is so extreme they have been miserable for years and they could have helped themselves a lot sooner," she said.
    Segler said when women come to see her, they can expect her to be honest and forthright in a friendly way without stringing anyone along.  
    "I tell them what I think, what is true based on studies and what their situation is. I'll go through their history, symptoms, imagining, whatever they need and will explain with diagrams. I am very thorough," she said.
    Segler believes it's important for women to become a part of their own care rather than the object of it. That's why she makes sure that her patients understand any condition they have, what their options are and what the next step is. While she is confident she can help most, Segler said that if she doesn't think she can help someone, she will help them get on the right path to someone who can. As she has been in practice for 19 years, excluding her four years of residency, she has developed many contacts over the years that if she couldn't help someone, she would be able to send them somewhere to get what they need if she can't do it, she said.
    Since Segler became a doctor, she has seen women for a variety of reasons    
    "I do the entire scope of obstetrics and gynecology, The patients I see range from their teens until their 90s for different issues, like their menstrual cycle, sometimes unfortunately cancer, oftentimes pregnancy that sometimes extends into the operating room and when it is necessary, for gynecological issues, as well," she said.
    At this time, Segler will offer her women's health services at the clinic in Pierz once a month. However, as the demand grows, the number of days will increase.
    Remembering her roots and early desire to pursue a medical career, Segler said the road to becoming a doctor wasn't straight. Although she knew it was something she wanted to do, it didn't seem like a possibility given the enormous cost of medical school.
    "I don't come from wealthy means and the cost of medical school was astronomical, so I assumed I couldn't do it and started out on a path of business," she said.
    When she was 19, she started working as a medical secretary at North Memorial Health Hospital in Robbinsdale to help save money for college. It was there she met gynecologist, Dr. Kathryn Flory.
    "Meeting her reignited my fire to pursue women's health," she said.
    Afterward, Segler sent a letter to Flory, told her about her passion for women's health asked Flory if she could help her learn more about it. Flory suggested Segler shadow her.
    "I shadowed her for a summer and following that experience I never looked back, just took out a ton of loans and marched forward until I got where I needed to be," she said.
    Twelve years later after Segler finished her training, Flory hired her as her partner She worked with her for two years, but after realizing the life in the big city was not quite for her, Segler moved to Grand Rapids where she practiced for 11 years.
    Just like Segler encourages people to pursue their dreams and to be persistent in their quest to their goal, she tells the same to her patients.
    "If you don't feel like you are being listened to or heard, don't give up because somebody out there will hear you and it's important to pursue whatever path you're on, whether it is to solve a medical issue or to achieve a goal. Don't give up," she said.
    When she isn't working, Segler enjoys spending time with her husband, Rick and their children. She also enjoys completing different projects around the home as well as walking.
    To scheduled an appointment with Segler at the Essentia Health Clinic in Pierz, call (320) 468-2587.