If there is one message Amber Mielke of Sobieski has for dog owners, it is to keep their dog leashed, especially in areas where they are required to, such as state parks. It doesn't matter how well trained the handler may think their dog is.
    At the end of August, Mielke, her two children, Whyatt and Adalynn, their friend, Elayna Harsh of Bloomer, Wis., her three young children, Beau, Ayna and Amora and another friend, 12-year-old Maddy New of Clearwater, visited the Little Missouri State Park in Killdeer, N.D.
    Trail riding in different state parks and locations was nothing new to Mielke and the rest. It's a fun way to get together, enjoy nature and give the horses a different kind of scenery.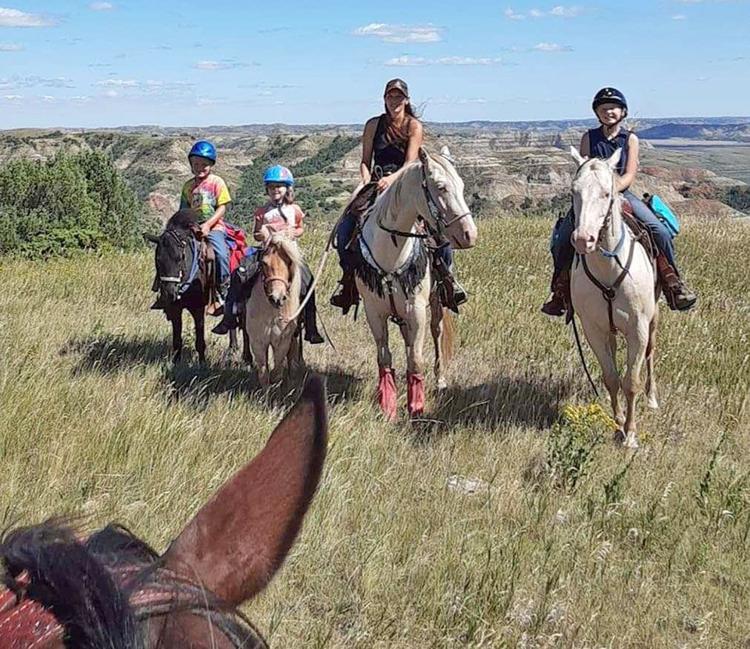 Both Mielke and Harsh rode with a tandem saddle, which allowed for more than one person to ride the horse. Adalynn rode behind Mielke on the horse, Ivy, and Beau behind Harsh.
    What was supposed to be a relaxing and fun adventure riding along the different trails in the state park quickly turned into a nightmare no one had foreseen.
    Mielke said as they were coming up on a small hill, New who was riding the horse, Lady, decided to take the lead in front of Mielke. They spotted some people and dogs running by a herd of cattle.
    "At first, we thought they were farmers moving the cows to a different pasture and that they were cattle dogs working the cattle. The kids were actually kind of excited to see the cows," Mielke said.
    However, as they came over the hill, they realized the people were not farmers, but hikers, and their unleashed dogs were chasing the cattle.
    At first, Mielke wasn't too concerned, since the horses, all owned by her, are used to dogs running around them. However, when one of the dogs, a Husky, attacked the lead horse and bit her in the muzzle, she spun around in panic as horses are flight animals. Whenever they sense danger, their wild instinct to flee takes over.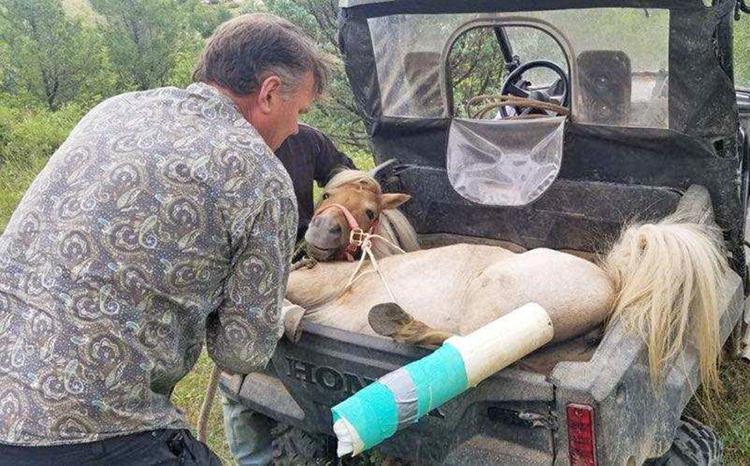 With New holding on for dear life, the Husky continued to chase Lady, biting her in the back heels. Eventually she fell over on top of her rider.
    "I had to hang onto my horse who was running and couldn't help her with anything. All I could hear was Adalynn screaming on the ground behind me because she had fallen off when we jumped down that big hill," Mielke said.
    As Harsh and her children had fallen off, Mielke said she was terrified her horse would run over Beau, who had fallen off in the middle of the trail. Once horses panic, they don't pay attention to what's on the ground. They simply run over anything and everything out of pure fear, Mielke said.
    "I probably got her to move over a foot from him. My horse was running super fast down the trail. It was so lucky she didn't step on him," she said.
    Once Mielke was able to quickly dismount Ivy, she moved Beau out of the way and onto higher ground.
    In the panic to get away from the dogs, the black pony, Whyatt rode, Bubbles, had jumped up and rolled over him. His helmet was broken and his face was bruised.
    Once New was no longer pinned underneath her horse, she ran after the other horses. The dog owner went after the dogs.
    "What really got me is that he never even checked to make sure the kids were OK, even though they went flying," Mielke said.
    The dogs continued to chase the horses for about a mile, including through a barbwire fence. While the horses received several cuts on their chests and legs from the barbwire, along the way the ligaments in one of Poppy's legs tore completely.
    Mielke said she is thankful that they were on one of the easier trails. Earlier in the day, they had ridden on trails that were far more dangerous. Some trails are so narrow among cliffs that a rider wouldn't be able to even turn his or horse around.
    Because they were on flatter ground and the trail was accessible by ATVs, they were able to get an emergency veterinarian out to subdue Poppy so she could be transported out of the area in the back of an ATV. Normally, if it's a large horse and there is no way of getting it out, the option given then is to shoot the horse and leave it behind right where it is at, Mielke said.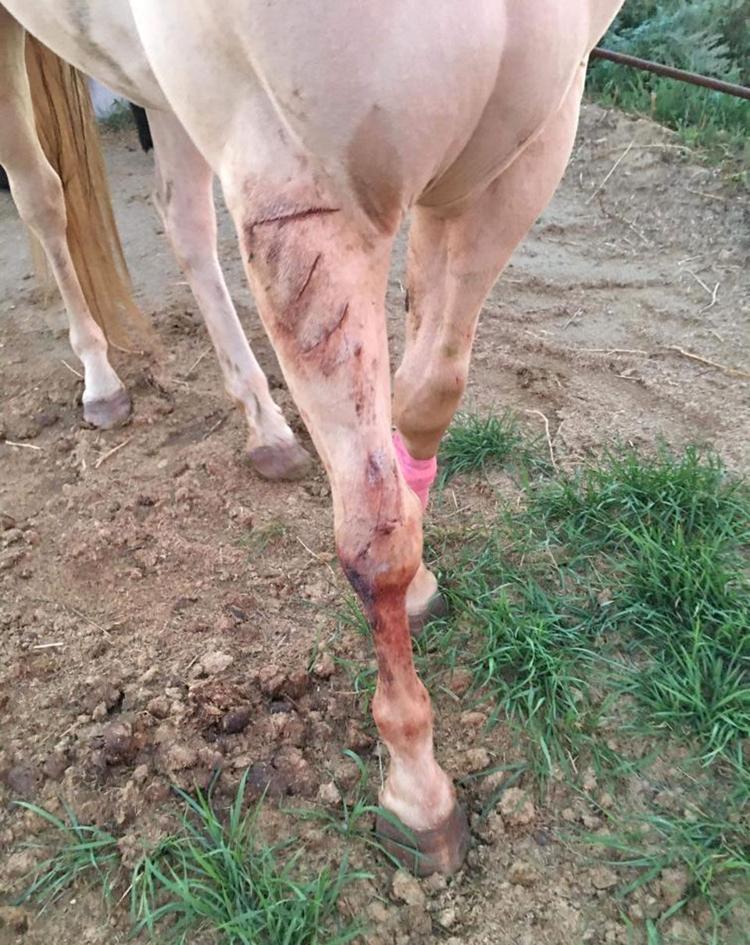 While the park rangers transported Harsh with the children back to the campground, Mielke and New were able to walk the other horses back. However, because Poppy was unable to walk, they had to leave her behind until they could get the emergency veterinarian to the location.
    "You just hoped that no predatory animal would find her," she said.
    Harsh was later transported to the hospital by ambulance after she started vomiting due to the concussion. Her shoulder was also separated.
    Initially, Mielke said, the dog owner, who was hiking the area with his teenage son and his son's friend, said he would help pay for any veterinary costs. However, since then, he has not responded to her.
    Looking back at the accident and although the dog owner apologized, Mielke feels he was unable to fully grasp the seriousness of the accident and the extreme danger he put the children in by keeping his dogs unleashed.
    "I told him, 'This is no joke,'" she said.
    Poppy, who has been Whyatt's pony for many years is back home in Sobieski and is on stall rest. Every so often, she is transported to the veterinary clinic in Anoka, for further care. Whether she will be able to walk or even be able to be ridden again remains unknown. She'd be a pasture pony, Mielke said.
    The last few years, Poppy has been Whyatt's gaming pony and the two have done quite well. Last year, they qualified for and competed at the Minnesota State Fair.
    As Whyatt has started to outgrow Poppy, Mielke said the plan was to pass her on to Adalynn so she could compete with her. Now that won't happen because one dog owner decided to keep his dogs unleashed.
    Because the dog owner endangered six minors, he may face criminal charges, Mielke said.