Last year, Shayne and Louise Johnson, owners of Grampa G's Farm in Pillager, received some good news that took their gardening business to a new level.
    Louise said after they expressed their interest in building a Deep Winter Greenhouse (DWG), they were approached by the University of Minnesota Extension about building a prototype of a newly designed DWG. They jumped at the opportunity.
    There are currently only five DWG prototypes built in Minnesota. Besides the Johnsons,' the others are located in Bemidji, Finland, Lake City and Madelia.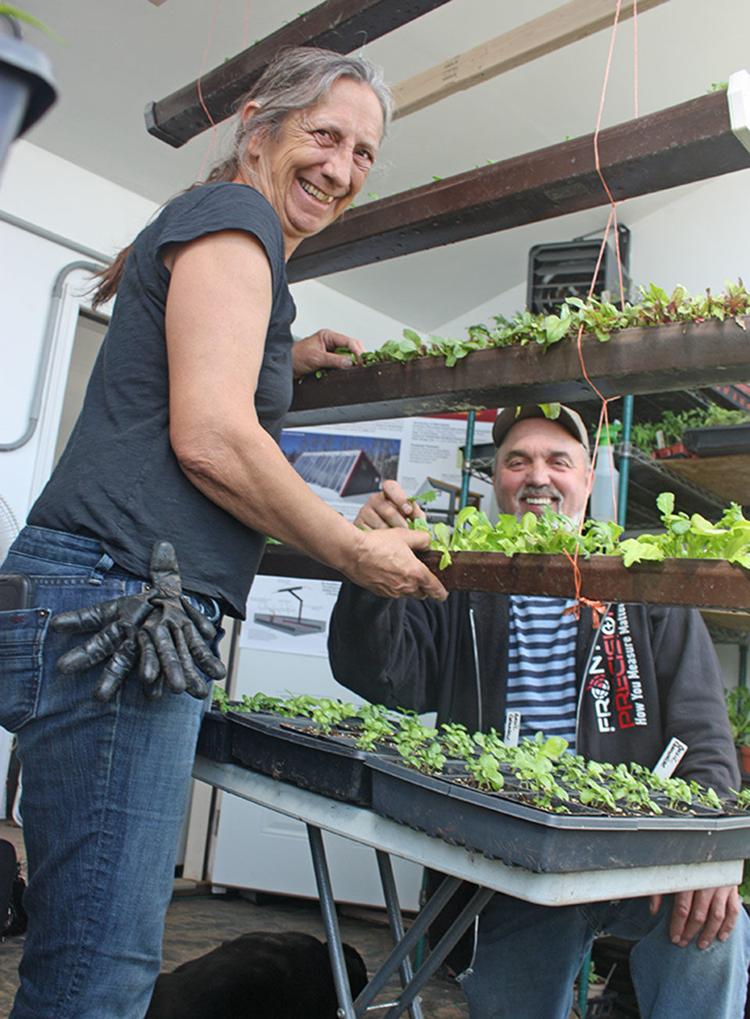 What makes growers like the Johnsons thrilled about DWGs is that the uniquely designed green house allows small farmers to grow vegetable crops year round.
    The steeply sloped glazing wall facing south enables a maximum amount of solar radiation into the greenhouse, even on the coldest day in winter.
    "It is wonderful. You come in on a sunny day, it's 28 (Fahrenheit) below outside and it is 60 to 70 degrees in here," said Louise.
    As she isn't a fan of cold temperatures, Louise sometimes jokes with her husband that the only thing left now is for him to build her a breezeway from the house to the greenhouse.
    Once the heat from solar radiation enters the greenhouse, the hot air is "drawn underground into a heavily insulated bed of crushed rock where it remains available for use to heat the growing space at night."
    "We have one fan and then we do have one heater, but I only heard it kick on once this winter and it is set at about 50 (degrees Fahrenheit)," Louise said.
    To maximize the space, the Johnsons grow a variety of lettuces and greens in rain gutters that are hung vertically.
    "We grow all sorts of plants, a lot of Asian greens," Shayne said.
    The couple also plants different kinds of vegetables, such as carrots, cucumbers, tomatoes, broccoli, beets, cabbage, kale, squash, watermelon and more. While some are used for their own consumption, they sell the majority.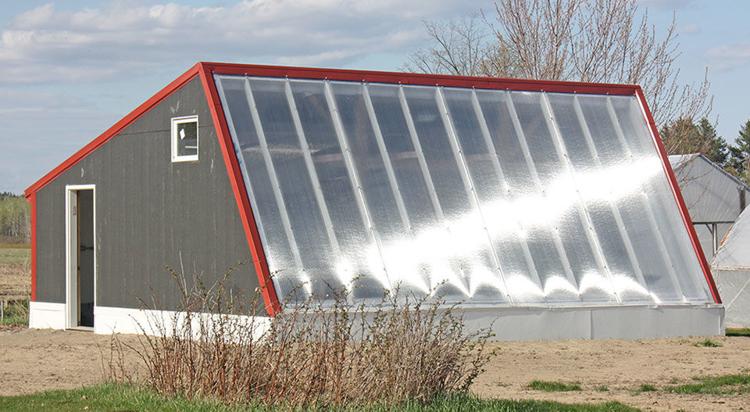 They plant different herbs as well, such as basil, thyme rosemary, lemon grass and more.
    Shayne said Bob, their 16-year-old grey long-haired cat, favors the catnip they plant outside.
    "That cat will roll and do figure eights in the cat nip. After a while, he'll just be mellow and laying down with his tongue hanging out," Shayne said.
    Since the Johnsons built the DWG, they have been asked by several people, stores, restaurants and co-ops to supply them with vegetables during the winter months.
    Inspired by the community shared agriculture (CSA) shares Master Gardener Carol Ford, owner of the Garden Goddess Greenhouse in Milan, offers her customers during winter, Louise said they hope to be able to provide the same at their farm.
    "So hopefully we'll have a little more experience under our belt and can offer the same time thing," she said.
    Although Grampa G's Farm isn't certified organic, Shayne and Louise follow the same principles of being organic, they said.
    The farm is named after Shayne's grandpa, George Gerrels and his father, Grant. Louise teases Shayne sometimes that he is the apostrophe S in the name, "Grampa G's."
    Louise, who grew up in Souris, N.D. near the Canadian border, said it was the rural farm life that inspired her to become a grower. She also attended North Dakota State University (NDSU) and graduated with a bachelor's degree in landscape design and horticulture.
    Shayne studied at NDSU as well and graduated with a degree in landscape architecture. He currently works at the Department of Natural Resources in Baxter.
    Louise and Shayne encourage people to garden. Even those who don't have land can do it.
    "It's really simple to get started with things like this. They do have kits online and you can hang them in your window and grow microgens," she said.
    Next, the Johnsons are looking to see what success they might find with possibly planting sweet potatoes. After all, they do like it very warm, she said.