The Department of Motor Vehicles (DMV) in the Morrison County Government Center added a new feature to its office, Monday.
A queuing kiosk is just one of the changes the office is making in 2020.
"What this queuing system does is a benefit to our individual transaction time and standing in line is no longer required to hold a spot," said Auditor/Treasurer Chelsey Robinson.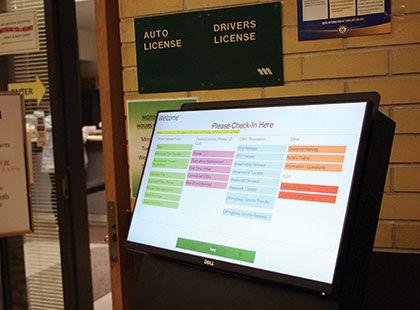 The office made 57,349 transactions in 2019, compared to 52,461 in 2016, making efficiency a priority for staff and customers.
Now, before entering the office, a customer can select their transaction type, or more than one if necessary, and print out a ticket with their queue number and brief instructions if any documents are required for their service.
Right now, Robinson said that numbers are called out verbally, but after they move into the new DMV office, there will be multiple screens listing the queue order and displaying who is currently being served.
The DMV will be changing locations to the west side of the Government Center in the former public health wing, in April. County Administrator Deb Gruber said the new space will give customers the option to park in the west side parking lot and enter a DMV designated door. There will also be a "lobby style" waiting area for people to wait in.
Other changes to the DMV include a computer system change to MNDRIVE, a database that will contain all driver and vehicle services information in one system, a feature the existing system does not have.
Residents may also see a fee increase to driver's license and motor vehicle transactions, which would come from new legislation not yet determined.
Last year, Robinson said there was a fee increase of $1 to motor vehicle transactions, which offset a lot of costs to the DMV. The DMV budget actually had roll-over funds due to the combination of that fee increase and opening hour changes, which meant the department did not have to use grant funding, which can be saved for the future.