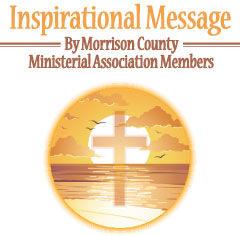 A few weeks ago during a "Breaking News" story it was reported that a boy was lost and more than 600 friends and neighbors and concerned citizens had gone out looking for him. As more details were shared, we were told that the boy had started playing with his dog after school before he disappeared.
Nine hours later he was found, a mile and a half from his home, in the middle of a corn field, with his dog, who had stayed with him and kept him warm, by a man who used a drone equipped with infrared cameras. (They detect body heat that show images in the middle of the night.)
Searchers had walked right by the boy and had not seen or heard him or his dog, however this drone technology was able to spot the boy and his dog as they were lying in a field of corn. We praise God for his recovery.
What drives hundreds of people to sacrifice a good night's sleep to go out and look for a lost boy? Is it fear of what might happen if they don't? Is it love for the child or his parents? Is it community and what we do when we feel we are part of a caring community? Is it future guilt avoidance – the guilt one would expect to have if they had not done anything and the child's body would have been found later – too late? Is it an emotional response fueled by adrenaline and the desire to be part of a big event in a small town? Or, is it out of response to God's saving grace?
Jesus spoke about leaving the 99 and going out in search of the one that was lost. That would be me … "… for I once was lost and now have been found …"
I was all turned around and wandering away from God, like the boy in the corn field who couldn't find his way back home in the dark. God used others to find me and bring me back into the safety of his home, the Christian church.
News of lost boys or girls creates urgency. Community members spring into action. Yet, in our community there are many who are spiritually lost and wandering. They are groping around, stumbling in the dark, traveling down paths that lead them away from God.
Are we seeking to find them? Do we care about their salvation? We might see someone in physical need and stop to help them, but when we see someone in spiritual need, do we have the same level of compassion? Does their condition cause us to have an emotional response and a burst of adrenaline with a sense of urgency? Does our heart ache for those who are wandering away from God?
We, who believe in Jesus, are the church, and we are the members of his body here on earth. We have a responsibility to reach out to those who are spiritually lost and to walk with them on the path back to God. We are to use the light of God's Word as a tool to bring them into the shelter of God's loving arms where they will find acceptance, forgiveness and rest.
Ask yourself, "Am I willing to risk losing a good night's sleep, or maybe miss a football game, or some other activity, for the sake of finding one of God's children who are lost? Do I care about the salvation of my friends and neighbors?
The place to begin is in prayer … pray that God would fill your heart with compassion and a sense of urgency to reach out to the spiritually wandering and lost in our community.
Pray that God would help you to care as much about their spiritual well-being as you already do about their physical well-being. Pray that God would give you opportunities to engage in conversations that would allow you to build a relationship where you could help others discover God's plan of salvation for them. And ask God to give you the right words to speak at the right time, so that your new friend may come to know Jesus as their Lord and Savior.