Asian street food meets Minnesota farmers market at the Sprout Growers and Makers Holiday Market. Culinary artist and promoter of a "plant-centric diet," Chef Paul Ruszat of St. Cloud frequently uses mushrooms as a protein substitute in his dishes.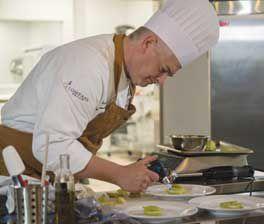 As a nod of respect to Minnesota mushroom growers, Ruszat will not only feature locally grown shiitake mushrooms, he will also bring the producer himself into the kitchen at the upcoming cooking demonstration during the Sprout Holiday Market Saturday, Dec. 8, 10 a.m. - 3 p.m.
Matt Ratliff of Ready-2-Fruit Mushrooms and Fruits Nuts and Vegetable Farms of Pine River, produces a wide array of mushrooms, including eight different types of shiitake, 14 different types of oyster mushrooms, lion's mane mushrooms, maitake mushrooms and three different varieties of morels. Together, Ruszat and Ratliff will create a Shiitake Bao Bun with quick pickled vegetables, inspired by the Asian street food which uses a steamed bun and pork belly to make this popular sandwich.
The cooking demonstration begins at noon and is free to watch and taste the samples. The cooking demonstration is a regular feature at the monthly Sprout markets to draw customers to local vendors. Ratliff will also be selling his mushrooms varieties as one of over 35 vendors at the holiday market.
The market entertainment includes live music performance by Bruce Archer who plays Americana, roots and blues infused originals and covers from 10 a.m. - noon. The Pillager High School Chamber Singers, a 16-voice mixed ensemble, will perform from 1 p.m. - 3 p.m.
Due to a partnership with Hunger Solutions Minnesota, families and individuals eligible for the Supplemental Nutrition Assistance Program (SNAP) can also double their dollar at the Sprout Growers and Makers Marketplace.
Sprout Growers and Makers Marketplace is located at 609 13th Ave. NE, Door 8, Little Falls.