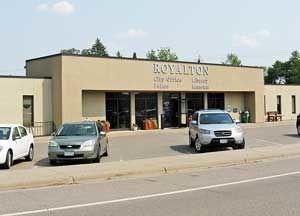 A sample assessments schedule was distributed to residents who attended Royalton's Cedar/Driftwood Street project preliminary assessment hearing, held Monday.
The cost of the project, expected to be constructed this summer, has been estimated at $2.934 million. This will include upgrading Cedar Street, curb and gutter, need utilities and drainage issues on Driftwood.
Les Mateffy, city engineer, said the Minnesota Department of Transportation (MnDOT) has committed verbally to investing $150,000 toward the project. Assessments would be at 21% generating approximately $584,640 and the city would pick up the rest of the cost.
It was stressed that this was a preliminary assessment list that was distributed to the approximately 15-20 people in attendance. The numbers could change.
"I am against putting in curb and gutter. I don't think it is needed," said resident Bill Gutzkow.
Other concerns were on the cost of the assessments and questions on the scope of the project.
Mateffy concluded that he still needed to get firm numbers from MnDOT and was expecting to put the project out for the bidding process in mid-March.
After the firm numbers are received there will be another public hearing where residents will be allowed to give input.
Royalton City Council Briefs
In other business Tuesday, the Royalton City Council:
• Set its 2020 meeting dates for Feb. 4, March 10, April 7, May 5, June 2, July 7, Aug. 4, Sept. 8, Oct. 6, Nov. 10 and Dec. 8;
• Approved election judges for the three election dates.. The judges include head judge Penny Zimny, Connie Anderson, Audrey Goedderz, Pat Libke, Donna Bloch, Bernie Haldenwanger, Mary Snyder and Joanne DuRose;
• Mayor Andrea Lauer reported that a judge has ruled that the former police chief is not entitled to sick pay he accumulated; former police officer Tom Franklin is entitled to unemployment and that Franklin's workman's comp claim is still to be determined;
• Heard the Board of Appeal and Equalization will meet April 20 at 1 p.m;
• Set the mileage for persons doing business for the city at 46.5 cents;
• Passed a motion to allow up to three council members to attend the upcoming Leaders Institute;
• Set a public hearing on the changes to the tobacco ordinance for Feb. 4 at 7:30 p.m.;
• Approved spending $4,117 to make the computer compatible and usable in the police vehicles; and
• Approved the contact for fire protection for sections of Langola Township;
The next regular meeting of the Royalton City Council will be Tuesday, Feb. 4, at 7 p.m.