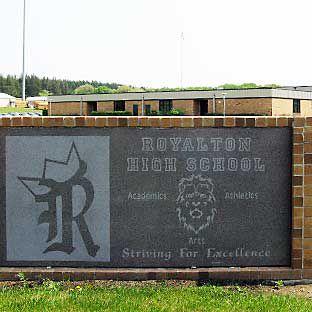 A contract with Royalton Supt. John Phelps was renewed following Monday's Royalton School Board organizational meeting. However, the length of time, salary and benefits are to be negotiated.
Prior to the meeting on the renewal of the superintendent's contract, which was to start at 7 p.m., Randy Hackett was nominated and selected to assume the position of Board chair during an organizational meeting. He replaces Noel Guerard, who will serve as vice chair for 2020.
Guerard conducted the organizational meeting before Hackett assumed his duties at the meeting during which the Board renewed hiring superintendent John Phelps.
Although the meeting on the superintendent's contract was posted to start at 7 p.m., it began at 6:45 p.m., when the Board's organizational meeting had been completed.
Discussion followed a motion by Director Mark Petron, seconded by Director Russ Gerads to hire Phelps.
"I've been told if we opened the position in January or February we should get 15 - 20 applications," Guerard said. "You know we hired him when it was not the best of conditions."
Director Ellie Holm suggested more time and conversation and an evaluation be held before a decision was made.
"We as a Board owe it to the superintendent at this time to let him know," Hackett said. "We as a Board have failed to get this done in a timely manner."
Holm said, "That is not the way I took it."
Director Mary Lange agreed with Hackett.
A motion to table a decision failed on a 3-3 vote. Directors Guerard, Holm and Gerads voted to table with Directors Lange, Petron and Hackett voting not to.
The vote to extend a contract to Phelps carried 5-1, with Guerard being the only dissenting vote.
At approximately 7 p.m. while the discussion was being held, district employees Dawn Hofstad, Shelley Gurbada and Shari Bishop entered the meeting unaware the meeting had started early. They were not recognized or asked for comments.
Following the meeting they said, "We were all there to make a comment on the agenda item, but did not have a chance."
Royalton School Board Briefs
    In other business during the organizational meeting Monday, the Royalton School Board:  
    •    Appointed Director Ellie Holm to serve as The Board's clerk and Russ Gerads as treasurer;
    •    Set the regular Royalton School Board meetings for Jan. 27, Feb. 24, March 23, April 27, May 18, June 22, July 27, Aug. 24, Sept. 28, Oct. 26, Nov. 23 and Dec 14. Work sessions will be scheduled as needed;
    •    Designated the Morrison County Record as the District's official newspaper;
    •    Set board members' salaries at $50 per meeting with the chair receiving an additional $300 annually;
    Named the Pine Country Bank, Minnesota School District Liquid Asset Fund and Minnesota Trust  as official depositories for district funds;
    •    Authorized Business Manager Dawn Duevel to make investments and electronic fund transfers on behalf of the District; and
    •    Appointed board members to various committees.
    The next regular meeting of the Royalton School Board will be held Monday, Jan. 27, at 6 p.m.