Looking back at her life, Marjorie DeRosier, 84, of Little Falls, said it has overall been good. Being a realist has also helped her to accept some things as just part of life, like the death of her husband, Roy DeRosier, and other lifelong friends.
"It's hard to see them pass away, but it's like with everything else, it is a part of life. First you go to all the weddings and then the baby showers. Now you go to funerals," she said.
DeRosier grew up in Little Falls for the majority of her childhood. She also lived in Cincinnati, Ohio with her aunt for three years and attended school for sixth, seventh and eighth grades there.
DeRosier said her mother's sister, Minerva Tengquist, had been quite ill and had multiple sclerosis. Initially, the plan was for DeRosier's older sister to go to Cincinnati to help their aunt, but since she didn't want to, DeRosier said she would.
"They had no children of their own. But I thoroughly enjoyed staying there. It was a total different lifestyle. It was inner city, you took street cars," she said.
Later she returned to Little Falls. She met Roy while they both attended the Little Falls Community High School.
"We were high school sweethearts," she said.
After they married Dec. 18, 1953, at Bethel Lutheran Church in Little Falls, they stayed in the area. While their tree farm with about 70,000 trees kept Roy occupied, DeRosier worked at a medical clinic that was once located near the Little Falls Police Department.
"I was mainly the receptionist, then I did insurance. It was a very nice place to work," she said.
She worked there on and off for 30 years. Whenever they had a child, she stayed home and cared for the children while they were young. Once the children started school, she returned to work. But once it became evident that it wasn't going to work during the summers when they had their summer break, Dr. Rosier was ready to quit.
Rather than see his employee go, DeRosier said the doctor suggested she take the summers off and just return to work once school started again.
"He was very proactive and it was back in the 1960s then. But I did that for a lot of years," she said.
As time went by, Roy became severely ill as a result of severe rheumatoid arthritis and several heart attacks. Knowing he would eventually die and that she was way too young to retire, she woke one morning at the age of 55 and decided she was going to beauty school to become a hair stylist.
DeRosier said she applied to the St. Cloud Beauty College and was initially somewhat discouraged by the admission personnel because of her age.
"They said, 'You do realize you are going to stand on your feet all day.' I told them not to worry about me. Then they said, 'You know you are going to be with 18-year-olds basically.' I said I didn't care," she said.
Becoming a hair stylist wasn't necessary something she had dreamed of. Rather it was an idea that came to her mind. She would also be able to set her own hours and be independent. It would also allow her to work in a positive environment since people in general are happy about getting their hair done, she said.
The only experience she had with styling hair was cutting hair for others. Back then, going to the beauty salon wasn't something they could afford very often.
After attending beauty school, she started working at Wendy's Salon in Little Falls where she worked for 17 years. It was refreshing to work with younger people. At age 62, she was also a bridesmaid for one of them.
DeRosier recalls a phone call she received several years later from Roy's doctor.
"The doctor said Roy wouldn't give him my phone number because he didn't want him to disturb me at work," she said.
Although the doctor told her Roy wasn't doing well, DeRosier said she could tell there was something else he wasn't telling her. After pressing him, he told her Roy had about three months left to live. Three months later, he died Sept. 18, 1995.
While she grieved for him, DeRosier said after watching him suffer and just deteriorate for so long, his death was almost a relief as well.
DeRosier continued working at Wendy's Salon after Roy died and after a while, she started taking some time off from time to time to travel the world.
"A friend of my sister and her husband, we went to a lot of places for about three years," she said.
Some of the countries she visited were China, Singapore, the Baltic states (Estonia, Latvia and Lithuania), Russia, Ireland, England, Germany, France and more. She also traveled in the United States.
Although DeRosier retired several years ago, she remains active. She's glad and grateful that she has good health and is able to move around with ease.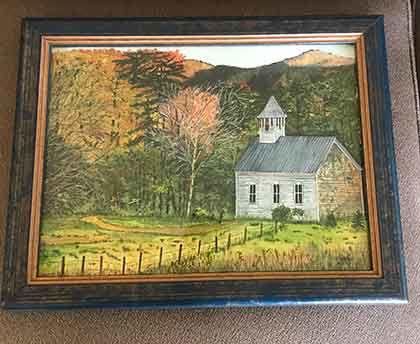 She enjoys visiting with friends and together they often play cards, whether it is whist, 500 or anything else. She is also a substitute player for some local bridge clubs.
"I am not good at any of them because I don't take cards seriously. I do it for the social interaction," she said.
DeRosier and her friend, Camille Warzecha, whom she has been friends with for 55 years, venture out of town on day adventures from time to time.
"We go down to the Twin Cities and just pick something to do," she said.
She also likes to try new things. A few years ago, she attended an art class in Texas where she painted an old country church building with the Great Smoky Mountains in the background.
"She gave us a stack of postcards and told us to pick one that we wanted to paint," she said.
DeRosier said as it turned out she picked the hardest one as the leaves required tiny little brush strokes, a whole lot of patience and time.
"I wasn't able to finish it there, so I took it home and completed it," she said.
DeRosier also enjoys spending time with her children, Robert, Brian and Renee, grandchildren Sara, Ryan and Conner and great-grandchildren, Cascara and Oren.