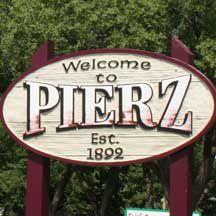 or more than a year, the Pierz City Council has been looking at restructuring how it bills out electricity to city residents. That restructuring takes place this year, originally set for Jan. 1.
Before the restructuring began, the Council joined 12 other municipal utilities under the umbrella of the Northeastern Minnesota Municipal Power Agency, to renegotiate a contract for wholesale electricity with Minnesota Power, to go into effect Jan. 1, 2022.
The Council waited until that contract negotiation and a rate study by Dave Berg Consulting LLC were completed to enact the restructure. The restructuring more closely aligns with how the city is billed for electricity by Minnesota Power.
The restructuring not only calculates energy used, but also peak demand usage. While some residential homes and small commercial businesses may see a decrease in their energy billing, large commercial customers will see an increase, as they will be billed for kilowatt hours and on peak demand for kilowatts.
At its Dec. 27, 2021 meeting, the Pierz Council heard from Berg an explanation of the restructure.
Berg said the city basically charges everyone the same, so different kinds of customers don't get charged in different ways.
"I understand that in the scheme of things, you're a smaller utility as compared to even larger communities and certainly as compared to Minnesota Power," Berg said. "Typically what you see in the industry, across 99-plus percent of the utilities is that the way that different kinds of customers are billed will vary by the customer types — and the reasons for that are all around fairness."
He said when looking at electric rates, to do a cost of service analysis, it's all about what is a fair amount for different kinds of customers to pay for their usage.
"You primarily billed just based on the amount of energy that customers used — and that's normal, if you will, for residential and particularly small commercial customers, because of the things particular about residential customers — because you have inherent usage; some use 300 kilowatts some use a 1,000; some use 1,500," he said.
But, even if total kilowatt hours are different, the way they use energy and the further requirements they put on the system are often very similar in what is called the "load factor," Berg said.
"Load factor is really important relative to what the cost is to serve different kinds of customers," he said.
As an example, he said two customers, both putting 100 kilowatts of demand on the system in a month, so for both of them, their maximum in any given hour during the month is 100 kilowatts.
"So, when you think about serving folks like that, you need 100 kilowatts of system — of substations, of distribution lines of the transformer that serves that customer and so on — so all of those fixed assets and including also the demand portion of your bill from Minnesota Power, which is a fairly significant portion, is based on the maximum amount of demand put on the system during a short period of time during the month," he said.
"So, you could have two customers who both put a 100 kilowatts demand on the system. But, let's say one of them uses 73,000 kilowatt hours, in order to do that, just so you know there's about 730 hours in the average month, so if you have 100 kilowatts of demand but you had it every hour of the month, it never varied, you're just always at your maximum and it's flat, you'd need a 73,000 kilowatt hours ... that's called a 100% load factor, the maximum energy you can have," Berg said.
One of the benefits of a customer like that, Berg said, is that all of that fixed investment gets spread over lots of kilowatt hours.
He used the analogy of owning a 100-car parking lot with a car in each space, making the average fixed cost of the parking lot per car parked less.
However, a customer using 100 kilowatts of energy, uses 10 times less energy — instead of 73,000, they use only 7,300, meaning they are at 100 kilowatts, but use a 10% load factor.
"So, what happens is all those fixed costs associated with that 100 kilowatts of demand get spread over 10 times less energy," he said.
Like the parking lot analogy, when spaces are only filled 10% of the time, the fixed costs of the parking are spread over fewer cars so the average cost for cars parked is more, because there are fewer cars to spread the cost over.
Berg, who said he'd been involved with rates for 35 years, said the common way to bill larger customers is to have a demand component and an energy component to the billing.
He said the reason it is done with larger customers, rather than residential, is because of the monthly load factor of residential customers.
He said the vast majority will be between 15 and 20%, so that the average per kilowatt hour is very similar amongst all the customers.
With large customers, he said, there can be a very significant range in load factors.
"In fact, for your largest customers, your monthly load factors range from like 20% to like 75%, so you can see the range of variation in how they use energy is a big variation from some of the others," Berg said. "So what's been happening in the past, when you billed on energy use, the customers with the low load factor, who use less energy per unit of demand, have been paying less than their fair share. They've been getting a subsidy from the higher load factor customers — the ones who use a lot of energy per unit of demand."
Unfortunately, he said, "When you make this change, some people's bills go up and some people's bills go down. The people whose bills go down always think it's fair; the people whose bills go up obviously have a different view of that."
He said these customers would be paying more if they were billed by the city of Brainerd, by Crow Wing Power or Minnesota Power.
"Even for the ones whose bills go up the most, their bill is still less, or very close to, what it would be on either Brainerd or Crow Wing and in some cases a little bit higher or a little bit lower than Minnesota Power," he said.
"It doesn't make them feel better, but the harsh reality is for the last 25-plus years, those folks have been getting a bargain because of the way the rates were designed," Berg said.
He recommended the city "right the reins" and get businesses more in line of where they should be just to be fair.
The Council also heard from a couple of business owners who learned how their rates would be impacted with the new structure. The letter they received had been sent just the week prior to the meeting. They felt it wasn't enough time to adjust to the new rates.
Nick and Crystal Ratke, who purchased the Pierz Ballroom and Lanes, effective Jan. 1, noted they had their 2022 contracts already signed and no way to recoup the increase they would see, beginning the same day they were to take over the business.
Nick said he calculated their rate increase would be 57% in a ninth-month window, with the 12-month window at a 67% increase.
"That seems pretty excessive in a change of one bill to the next cycle. I don't know how you could justify that in one billing cycle," Nick said.
"I understand that this has been going through for the last 12 months, but this seems, I don't know, almost kind of ridiculous to expect the knowledge of this coming out, when did we receive the letter (Dec. 22) and now to expect the next billing cycle or even the billing cycle after that — you're going to be paying $250 to $350 or $400 a month on your electric bill for a business that's pretty tied into what their contract commitments are.
"I don't understand how we're supposed to pivot with this change of 57% to 67% just like that — that's kind of hard to envision," Nick said.
Sharon Bell, Pierz Ballroom and Lanes owner selling to the Ratkes, talked about the business and that for five months of the year, April through August, it is open just about four days a week, when the air conditioning is running.
"We're not even a seven-day-a-week business. We run Saturdays, from 10 a.m. to 11:30 p.m., approximately three times per month for those five months," Bell said.
"So, are we being penalized because we carry a high load for that one day or three days out of the month?" she asked.
Berg said, while he understood her point of view. The difficulty is that the system that has to be put in place to serve a business — it doesn't matter if there is one hour a month or 500 hours a month, because there has to be that amount of capacity to serve the business, even if only for short periods of time.
"That's one of the unfortunate realities of the way that electric systems are built, because the vast majority of expenses in an electric system are fixed expenses associated with the demand charges you get from Minnesota Power and the transmission charges you get passed from ISO, literally all of the local expenses in the city of Pierz are all pretty much fixed expenses based on your maximum amount that you put on the system, regardless of how often that it is," Berg said.
Crystal Ratke said she understood the concept, and that it wasn't just as a business being charged more they were complaining
"It's just that we're trying to figure out a fairer way to do this — can we get to that point, but not in a week — is there a way not so much to as to recant your guys' statements or recant the letters sent out, but to help the people whose percentages are skyrocketing with a little more time," she said.
Tom Smude, owner of Midwest Sales and Construction, said he would have liked more time — more than a weekend over Christmas, to check it out, to see what he could do to lower his electricity use and demand. He said he figured his would go up 24%.
He wanted time to figure out when the electric loads are up at their place.
The Council agreed to discuss the matter it at its Jan. 3 workshop.
Monday, the Council voted to phase in the restructuring of the electric billing, starting July 1.
At that time, a residential customer charge per month will be $9 (down from $12), and $0.1013 per kilowatt.
A small commercial business will be charged $12 per month (same), with 0.1070 per kilowatt, also the same as in the past.
However, large commercial businesses will pay a $35 per month customer charge, up from $12. For kilowatt hour, starting July 1, they will pay $0.0877 per kilowatt hour, down from $0.1070, but in addition, will pay $5.50 per kilowatt, something they have never had to pay before.
On Jan. 1, 2023, residential and small customers' rates will remain the same. Large businesses will be charged $0.0705 per kilowatt hour and $11 per kilowatt.
Mayor Dave Fischer noted with the rate structure, the city's revenues will not increase, but remain flat.
Pierz City Council Briefs
In other business Monday, the Pierz City Council:
• Approved a $100 donation to the Pine Grove Zoo;
• Appointed Lynn Egan as mayor pro-tem;
• Approved annual designations and appointments, which will remain unchanged from the previous year, as appointees were agreeable to staying on;
• Approved the city's fee schedule with a change to charge $45 dollars for rental of the Pierz Senior Center for up to four hours and $95 for more than four hours;
• Designated the Morrison County Record as the city's legal notice publication;
• Designated Farmers and Merchants Bank and Unity Bank as the city's depositories;
• Noted the local Board of Appeals and Equalization had been set for April 14, at 1 p.m. at City Hall;
• Scheduled a Council workshop for 5:30 p.m. Monday, Jan. 24, prior to the Council's regular meeting. During the workshop, Hometown Fiber will give a presentation and the Council will discuss the 2024 street improvement project and capital finance plan.
The next meeting of the Pierz City Council is Monday, Jan. 24, at 7 p.m. at the Pierz Dining Center.