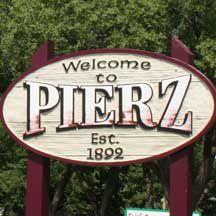 Following a public hearing with several residents in attendance, the Pierz City Council approved rezoning a 45-acre piece of property from R-4 to R-2. The rezone allows for Roach Development LLC to construct Pierz Townhomes, which consists of 20 two-unit buildings to accommodate 40 renters.
The property is located on Park Avenue (west side). The Roaches purchased the property in 2017, with the intention of building rental townhomes.
Each unit will have two bathrooms, an attached two-car garage, and rent will include heat, sewer/water and garbage, as well as all maintenance, mowing and plowing. The property will be managed by Roach Development.
Matt and Terry Roach, representing Roach Development, said the time frame to do the project included beginning in April 2022 with all units to be open by July 1, 2023. There won't be a phasing in of units, all of the construction will be done between April 2022 and July 2023, they said.
Historically, the Roaches said with the units all opening at the same time, they anticipate a half to two-thirds of the occupants will move in that first month.
During the public hearing, Todd Preimesberger voiced concerns over the 22-foot wide roadways through the development. He questioned whether that was wide enough to accommodate emergency vehicles. The city requires 20-foot wide roadways.
Jake Huebsch, a representative from Sourcewell, working with the city on the project, said one of the conditions for the conditional use permit (CUP), was to verify the ability of fire truck movement and fire hydrant location with Pierz Fire Department.
"The intent is to make sure emergency vehicles would be able to navigate efficiently through there," he said.
Other concerns voiced were regarding parking, landscaping and the proximity to other homes.
Resident Ken Terhaar asked, "Why are you seeking out rental properties and not letting it zone for people to zone and develop their own homes on it?"
Mayor Dave Fischer said the people who own the land requested townhomes be built.
"The city does not own the property," Fischer said. "If the city owned the property, we could potentially do that, but the city does not own it.
"I would prefer single family homes, probably," Fischer said. "If anybody wants to build single family homes, there's lots of land around town."
Huebsch said while there is no detailed landscaping plan, landscaping and irrigation are part of the development — and it would be maintained.
A 20-acre portion in the middle of the development wouldn't be mowed as often as the yards around the houses, the Roaches said.
They said that center area is allowed to remain somewhat like a field. Sod and irrigation would be put in within about a 50-foot radius of each building. A few trees will remain on site where possible. Generally, the Roaches said, two trees are planted per unit, amounting to 80 or more trees.
The units would be built 50 feet from property lines, allowing for a 50-foot setback.
Parking for two vehicles as well as guest vehicles is included with each townhome, but the Roaches said including additional parking would not be a problem.
Huebsch noted that as far as parking, a need for more vegetation or plantings, could be considered conditions for the conditional use permit.
Terhaar also questioned the tax situation with this property.
"Will the property owner pay full taxes?" Terhaar asked.
Huebsch said he believed the owner applied for tax increment financing (TIF).
"So TIF is developers don't pay what people would pay if they owned homes there," said Terhaar. "If those were all residential houses, like down Park Avenue, everybody has to pay their fair share of taxes. With a TIF, they don't pay nothing for 10-15 years. The city isn't realizing income from those 40 people in that development, so others are paying for police and fire, etc."
Huebsch encouraged Terhaar to wait for the public hearing on TIF.
The Council approved a CUP, provided conditions are met. A preliminary plat was also approved, with a vote on the final plat to be held at a later date.
A resolution calling for a TIF district on the property would be ready in late February. A public hearing regarding a TIF was tentatively set for Feb. 28, 2022.
Pierz City Council Briefs
In other business Monday, the Pierz City Council:
• Approved a $100 donation to Habitat for Humanity;
• Approved moving forward with the 10-year contract for police body-worn cameras for the city's officers, using Axon, the same system as the county, as well as Little Falls, Motley and possibly Royalton. The city's cost is $5,600 for each of the 10 years;
• Approved the city's 2022 levy at a 3% increase, or $11,371.25, on a 4-1 vote, with Council Member Lynn Egan voting against. A public hearing resulted in no public comment;
• Approved a contract with Minnesota Power for wholesale electricity, bargained for through the Northeastern Minnesota Municipal Power Agency, which includes 12 other municipalities. The Council tabled a vote on a new electric rate billing structure until City Administrator Bob Otremba had a chance to speak with commercial electrical customers; and
• Learned Pierz Ballroom and Lanes had been sold, effective Jan. 1, 2022, and approved refunding $1,100 (half) of the liquor license fee to Joe and Sharon Bell, current owners. The Council also approved new owners Nick and Crystal Ratke to pay half of the liquor license fee at $1,100. Liquor licenses are renewed in July.
The next meeting of the Pierz City Council is Monday, Dec. 27, at 7 p.m. at the Pierz Dining Center.