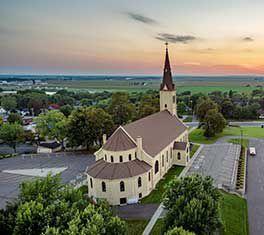 St. Joseph's Catholic Church in Pierz has been undergoing an outdoor facelift over the past several years. With a little more work needed, so are more funds.
To raise funds for landscaping work and to repair plaster on the inside, the German Catholic parish will host an authentic German dinner, including the "Haptspiesen" (main course) of sausage with mashed potatoes and cucumber salad and sauerkraut with pork or hunter's cutlet with onion and mushroom gravy and tangy green beans with bacon.
For "Nachspeisen" (dessert), guests will enjoy apple cake with hot vanilla sauce.
And to drink, beer, coffee, water and wine.
The meal will be held at the Pierz Ballroom Friday, April 17. A social hour runs from 5 p.m. – 6:30 p.m., with dinner served at 6:30 p.m.
The building and maintenance fund raffle drawing will follow the dinner.
Only 350 dinner tickets will be sold and only until Palm Sunday (April 5), so a meal count can be taken.
A limited number of raffle tickets are available with the prizes including a grand prize of $10,000, two $5,000 prizes, five $1,000 prizes and 45 $100 prizes.
In addition, $500 will be awarded to the person who sold the winning grand prize ticket.
Tickets are available for sale after weekend Masses at St. Joseph's Church on Main Street in Pierz — 4:30 p.m. Saturdays and 8 a.m., Sundays.
Tickets are also available from the parish office and at both Farmers and Merchants State Bank and Unity Bank, as well as other businesses that are displaying the poster.